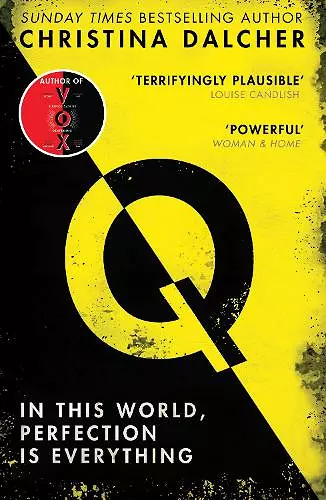 An explosive thriller from the bestselling author of VOX
**CHRISTINA DALCHER'S GRIPPING NEW THRILLER FEMLANDIA IS AVAILABLE TO PRE-ORDER NOW!**
'Terrifyingly plausible' Louise Candlish
'Devastating and brilliant' Woman & Home
'Thought-provoking' Alice Feeney
'Shocking . . . A powerful tale' Cosmopolitan
'Timely' Kia Abdullah
IN THIS WORLD, PERFECTION IS EVERYTHING.
It begins as a way to make things fairer. An education system that will benefit everyone. It's all in the name of progress.
This is what Elena Fairchild believes. As a teacher in one of the government's elite schools for children with high 'Q' scores, she witnesses the advantages first-hand.
But when Elena's own daughter scores lower than expected, she is taken away. Elena follows her to her new home. A government institute.
What she finds there makes Elena question everything. Because this world is about perfection – and that comes at a terrible price.
What readers are saying about Q
'To everyone that loved Vox and wants to read another like it this is just for you!!'
'I love Dalcher's books, they grip me from the beginning and I find them impossible to put down'
'I read this book in 24 hours! I loved it.'
'An amazing read . . . thought provoking and made me eager to know what is coming next from this brilliant author.'
'This book had me hooked from start to finish.
'Both timely and chilling. Q is a thrilling read'
'It's hard to tell if this book is truly a work of fiction or a horrific glance at reality' Prima
'Like all the best dystopian fiction, Q takes the reader just a pace or two beyond where we're already at. This is a sharply written and terrifyingly plausible tale of an education system where less than perfect is a life-threatening condition… I devoured it in a single day.' Louise Candlish
'Shocking…a powerful tale exploring themes of survival and superficiality.' Cosmopolitan
'Christina Dalcher is fast becoming one of my favourite authors. It's a master class in dark dystopian fiction, clever, thought-provoking, beautifully written, and terrifyingly believable.' Alice Feeney
''Powerful, devastating, shocking brilliant.' Woman & Home
'WHAT A BOOK. 'Shockingly, terrifyingly real – Christina Dalcher has got another bestseller on her hands.' Lisa Hall
'Orwell meets Atwood in Christina Dalcher's Q, a chilling look at how polite society can sleepwalk its way into horrifying atrocities. Timely, tense and frighteningly plausible, Q is an urgent clarion call against complacency.' Kia Abdullah
'Dalcher conjures an America informed by tragic elements of its past and present where science and humanity are both abused in ways that are all-too familiar and plausible. Her heroic women and tough yet elegant prose suggest Margaret Atwood updated for this moment.' Michael D'Antonio
ISBN: 9780008440602
Dimensions: 198mm x 129mm x 25mm
Weight: 220g
384 pages