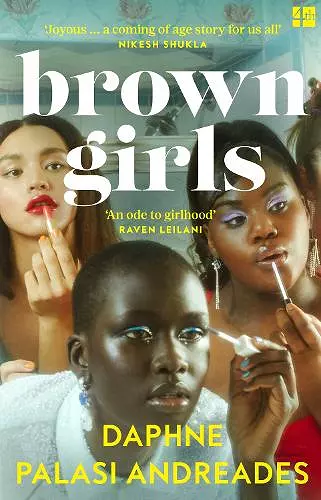 The sweeping literary debut novel, and Pandora Sykes' Book Club pick
'Brown Girls flows like a late night FM-radio dedication to the crew, the block, and the mission. This book's a gift' Paul Beatty, author of The Sellout 'An ode to girlhood' Raven Leilani, author of Luster
A fiercely poetic coming-of-age novel following a group of young women of colour in Queens, New York.
Brown Girls dives deep into the lives of a group of young women of colour growing up in Queens, New York. Here, streets echo with many languages, subways rumble above dollar stores and the briny scent of the ocean wafts in from Rockaway Beach. Here, girls like Nadira, Gabby, Naz, Trish, Angelique, and many others, struggle to reconcile their immigrant backgrounds with the American culture they come of age in. Here, they become friends for life. Or so they vow.
Brown Girls is a blazingly original, sweeping debut novel told by an unforgettable chorus of voices.
'Joyous, bittersweet, hilarious … a coming of age story for us all' Nikesh Shukla, author of Brown Baby
'Infectious … holds worlds within its pages' Guardian
'Gorgeous … incredibly moving' Independent
'If you liked LUSTER try BROWN GIRLS' Sunday Times Style
'A cracker of a first novel' Glamour
'Transporting … not to be missed' Stylist
'A daring debut … fearless' New York Times
SHORTLISTED FOR THE CENTRE FOR FICTION 2022 FIRST NOVEL PRIZE
ONE OF THE MOST ANTICIPATED BOOKS OF 2022 IN THE NEW YORK TIMES, GUARDIAN, INDEPENDENT, GLAMOUR, STYLIST, INEWS, SUNDAY TIMES STYLE, LITERARY FRICTION PODCAST AND MORE.
'Brown Girls achieves immediate lift-off … [at] times, audaciously, it's as if she's talking about every brown girl alive during the past century … Fearless' New York Times
'Strikingly exuberant … The book certainly has spiky, thought-provoking things to say … but it is most memorable in its gorgeous depictions of friendship. It is also an incredibly moving meditation on growing up … This gives a novel set in Queens a powerful universality' Independent
'Attracting huge amounts of buzz … a fierce examination of race, class and marginalisation in America today' ipaper
'Brown Girls flows like a late night FM-radio dedication to the crew, the block, and the mission … This book is a gift' Paul Beatty, author of The Sellout
'Transporting and energising … it's not to be missed' Stylist
'Glorious … While there is much that many brown girls will relate to—including experiences that feel stolen straight from my memories—Andreades succeeds in making the stories feel specific beyond a singular experience … breadth, depth and enormous richness' New York Times Book Review
'An acute study of those tender moments of becoming. An ode to girlhood, inheritance, and the good trouble the body yields' Raven Leilani, author of Luster
'Brown Girls is filled with an unforgettable cast of characters …Precise and powerful, this is a coming-of-age story for us all' Nikesh Shukla, author of Brown Baby
'A heady, poetic exploration of growing up … It left me speechless' Huma Qureshi, author of Things We Do Not Tell the People We Love
'Brown Girls is a song—of celebration, of mourning, of rage, of fierce living' Rowan Hisayo Buchanan, author of Starling Days
'Seething with raw, exuberant life … It's hard to think of another book with more spirit or a keener eye' Alexandra Kleeman, author of Something New Under the Sun
ISBN: 9780008478094
Dimensions: 198mm x 129mm x 14mm
Weight: 150g
224 pages