The Night Circus
An enchanting read to escape with this Christmas
Format:Paperback
Publisher:Vintage Publishing
Published:24th May '12
£9.99
Available for immediate dispatch.
This paperback is available in another edition too: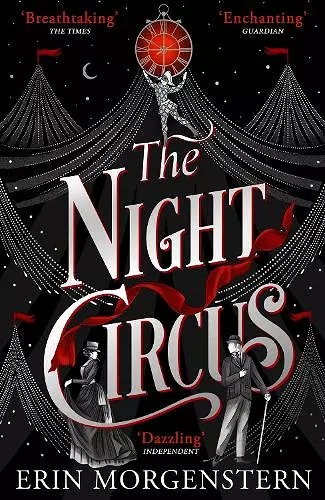 Longlisted for the Orange Prize for Fiction 2012 - a feast for the senses, a fantasia of magic, mischief and love, The Night Circus is an extraordinary blend of fantasy and reality that will dazzle readers young and old.
The circus arrives without warning. It is simply there, when yesterday it was not. The black sign, painted in white letters that hangs upon the gates, reads: Opens at Nightfall Closes at Dawn. When the tents are all aglow, the sign appears. Le Cirque des Reves The Circus of Dreams. Now the circus is open. Now you may enter.
THE TIKTOK SENSATION

Discover the million-copy bestselling fantasy read.

The circus arrives without warning. It is simply there, when yesterday it was not.

Against the grey sky the towering tents are striped black and white. A sign hanging upon an iron gates reads:

Opens at Nightfall
Closes at Dawn

Full of breath-taking amazements and open only at night, Le Cirque des Rêves seems to cast a spell over all who wander its circular paths. But behind the glittering acrobats, fortune-tellers and contortionists a fierce competition is underway.

Celia and Marco are two young magicians who have been trained since childhood for a deadly duel. With the lives of everyone at the Circus of Dreams at stake, they must test the very limits of the imagination, and of their love.

Complete your collection with The Starless Sea, the second novel from the author of the The Night Circus, out now.

'The only response to this novel is simply: wow. It is a breath-taking feat of imagination, a flight of fancy that pulls you in and wraps you up in its spell' The Times
The Night Circus made me happy. Playful and intensely imaginative, Erin Morgenstern has created the circus I have always longed for. This is a marvelous book
Enchanting, and affecting... A strikingly beautiful world, in spite of its darkness * Guardian *
Dazzling * Marie Claire *
Deliciously inventive... Don't imagine this is a light, frothy tale. For all her humorous touches, Morgernstern...has produced something darker than night * Scotsman *
The only response to this novel is simply: wow. It is a breathtaking feat of imagination, a flight of fancy that pulls you in and wraps you up in its spell * The Times *
Charming, magical, mysterious, enthralling * Daily Mirror *
Lushly imagined, extremely charming and very, very readable * Scotland on Sunday *
Morgenstern displays a conjurer's dexterity as she develops her tale, and you'd need a heart of stone not to melt at the melodramatic denouement * Daily Mail *
The Night Circus pulls you into a world as dark as it is dazzling, fully-realized but still something out of a dream. You will not want to leave it
Pure pleasure... Erin Morgenstern is a gifted, classic storyteller, a tale-teller, a spinner of the charmed and mesmerizing - I had many other things I was supposed to be doing, but the book kept drawing me back in and I tore through it. You can be certain this riveting debut will create a group of rêveurs all its own
ISBN: 9780099554790
Dimensions: 196mm x 128mm x 38mm
Weight: 400g
512 pages