Oranges Are Not The Only Fruit
Format:Paperback
Publisher:Vintage Publishing
Published:4th Sep '14
£9.99
Available for immediate dispatch.
This paperback is available in another edition too: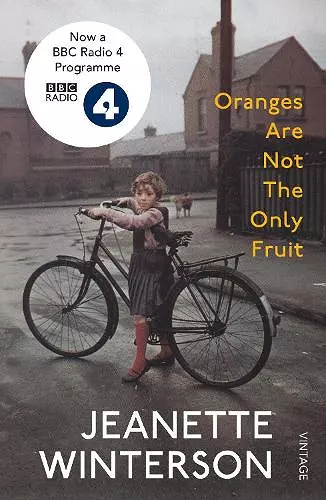 'Like most people I lived for a long time with my mother and father. My father liked to watch the wrestling, my mother liked to wrestle; it didn't matter what' Oranges Are Not the Only Fruit
Tells the story of Jeanette, adopted and brought up by her mother as one of God's elect. Zealous and passionate, she seems destined for life as a missionary, but then she falls for one of her converts. At sixteen, Jeanette decides to leave the church, her home and her family, for the young woman she loves.
'Like most people I lived for a long time with my mother and father. My father liked to watch the wrestling, my mother liked to wrestle; it didn't matter what'

This is the story of Jeanette, adopted and brought up by her mother as one of God's elect. Zealous and passionate, she seems destined for life as a missionary, but then she falls for one of her converts.

At sixteen, Jeanette decides to leave the church, her home and her family, for the young woman she loves. Innovative, punchy and tender, Oranges Are Not the Only Fruit is a few days ride into the bizarre outposts of religious excess and human obsession.

'Witty… extraordinary and exhilarating' The Times

'She is a master of her material, a writer in whom great talent abides' Vanity Fair

'Many consider her to be the best living writer in this language... In her hands, words are fluid, radiant, humming' Evening Standard

'A novel that deserves revisiting' Observer

'A wonderful rites-of-passage novel' Mariella Frostrup
She is a master of her material, a writer in whom great talent abides * Vanity Fair *
Many consider her to be the best living writer in this language... In her hands, words are fluid, radiant, humming * Evening Standard *
A novel that deserves revisiting...Winterson maintains a balance of tone, a trueness of voice... It remains one of the finest things Winterson has written * Observer *
Still extraordinary, still brilliant * Metro *
Even at a time when so many good and interesting novels are coming out, hers stand out as performances of real originality and extraordinary promise -- John Bayley
Wonderful rites-of-passage novel... where the author's blossoming Sapphic nature leads her to eschew her mothers proffered favourite -- Mariella Frostrup
It is very funny, with an Alan Bennett sort of humour, beautifully written, quirky and likely to cause much tuttutting in conservative quarters * Daily Mail *
This lesbian coming of age story set in northern England doesn't seem to have aged a bit * The Independent *
An instant classic -- Rosemary Goring * Herald *
You'll find everything you need to know about mustering the courage to embrace your true self and live life without fear in Winterson's hugely engaging semi-autobiographical novel -- Mariella Frostrup * Sunday Times *
ISBN: 9780099598183
Dimensions: 196mm x 128mm x 24mm
Weight: 180g
240 pages