The Emperor's Babe
From the Booker prize-winning author of Girl, Woman, Other
Format: Paperback
Publisher: Penguin Books Ltd
Published: 25th Apr '02
£8.99
Available, normally delivered within 3-6 days.
This paperback is available in another edition too: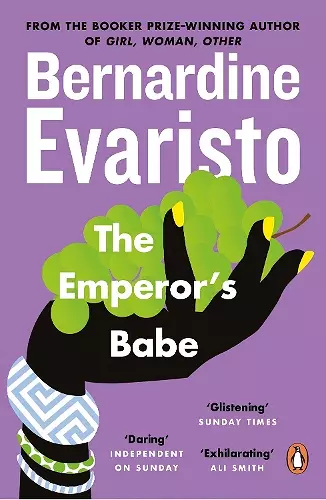 Through bustling, hustling city, its slum tenements and sumptuous villas, this book follows Zuleika the daughter of Sudanese immigrants. Married to a fat, rich absent Roman, she is stranded in luxurious neglect, until, one day, Septimus Severus, Emperor himself, comes to town, bringing with him not just love - but danger...
FROM THE BOOKER PRIZE-WINNING AUTHOR OF GIRL, WOMAN, OTHER

WINNER OF THE NESTA FELLOWSHIP AWARD 2003

'Wildly entertaining, deeply affecting' Ali Smith, author of How to be both and Autumn

A coming-of-age tale to make the muses themselves roar with laughter and weep for pity -- sassy, razor-sharp and transformative.

Londinium, AD 211. Zuleika is a modern girl living in an ancient world. She's a back-alley firecracker, a scruffy Nubian babe with tangled hair and bare feet - and she's just been married off a fat old Roman. Life as a teenage bride is no joke but Zeeks is a born survivor. She knows this city like the back of her hand: its slave girls and drag queens, its shining villas and rotting slums. She knows how to get by. Until one day she catches the eye of the most powerful man on earth, the Roman Emperor, and her trouble really starts . . .

Silver-tongued and merry-eyed, this is a story in song and verse, a joyful mash-up of today and yesterday. Kaleidoscoping distant past and vivid present, The Emperor's Babe asks what it means to be a woman and to survive in this thrilling, brutal, breathless world.
ISBN: 9780140297812
Dimensions: 198mm x 129mm x 17mm
Weight: 193g
272 pages