The Sinner and the Saint
Dostoevsky, a Crime and Its Punishment
Format:Paperback
Publisher:Penguin Books Ltd
Published:3rd Nov '22
£10.99
Available for immediate dispatch.
This paperback is available in another edition too: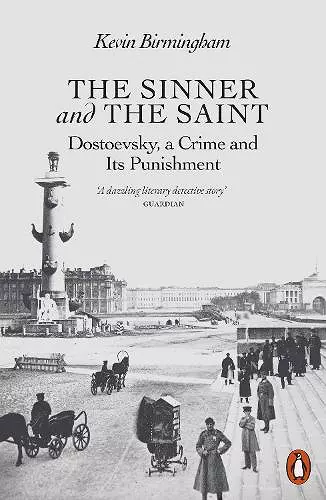 The incredible true story behind the creation of a masterpiece of world literature, Fyodor Dostoevsky's Crime and Punishment

'A dazzling literary detective story' Guardian

In the summer of 1865, the former exile Dostoevsky found himself trapped in a cheap hotel in Wiesbaden, unable to leave until he'd paid the bill. Having lost the last of his money at the roulette table, his debts hung heavy over his head, his epileptic seizures were worsening, and his wife and beloved brother were dead. Desperate, a story came to him, a way to write himself out of his predicament: the murderer Raskolnikov, the hot, disorienting swirl of St Petersburg, the axe, the terrible crime, and the murderer's paranoia. The book was Crime and Punishment, and from the moment it was published it was a sensation. But how did this haunting tale of guilt come to be, and why does it still hold such a sway over us all these years later?

The Sinner and the Saint gives us the story of the creation of a work of literature that has bewitched readers for over a century, and of the two men so central to it: Dostoevsky himself, and Pierre François Lacenaire, a notorious murderer and glamorous egoist who charmed and outraged Paris in the 1830s and whose sensational story provided the germ of the novel. As reports of his trial tore through Europe, readers asked themselves: could the instincts of nihilism, the philosophy inspiring a new generation of Russian revolutionaries, also drive a man to murder? Showing how both men's lives were directed by the intoxicating new ideas swirling around Europe in the nineteenth century, The Sinner and the Saint also reveals why they still appal and entice us today. Thrilling and definitive, this is the story of a masterpiece.
I never imagined anyone could make Dostoevsky richer--deeper--knottier--than he already was. But by revealing the secret background behind Crime and Punishment, Kevin Birmingham reveals a depth of thought and feeling that makes this most shocking of novels even more shocking yet. After all, it's easy enough to say what makes a murderer bad. It's far harder to say what makes him good. -- Benjamin Moser
Birmingham'simpressive research combined with a flair for characterising the teeming intellectual debates of the day give absorbing insights into the origins of one of the world's great novels. -- Sue Prideaux
A page turner about turning pages, The Sinner and the Saint: Dostoevsky and the Gentleman Murderer Who Inspired A Masterpiece not only brings us back into the fevered panic of Raskolnikov as he murders an old woman, his motives a mystery even to his own sputtering mind, but also to real-life characters, most vividly a Parisian dandy (we might now call him 'gay'), whose nihilism and thrill killings set Dostoevsky's imagination ticking. Compulsively readable, tautly drawn, and richly researched, here is the brilliant study Dostoevsky and his staggering Crime and Punishment-filled, we now find, with intimations of him-so deserves -- Brad Gooch, New York Times Bestselling author of Flannery: A Life of Flannery O'Connor
Dostoevsky didn't have any choice about misery-the Siberian exile and the epilepsy, the despair and debts and the deaths of those he loved. All that just fell upon him, and none of us would want to be him, not even for the sake of those books. But wanting to know what it was like to be him-well, that's different, and I can't imagine a better guide than Kevin Birmingham. Dostoevsky was both sinner and saint, and this wonderfully pungent book presents his extraordinary life in the most vivid detail imaginable. Birmingham puts you in the room when Raskolnikov brings down the axe; and he puts you there too when the novelist discovers the face of redemptive love. -- Michael Gorra, author of The Saddest Words: William Faulkner's Civil War
With The Sinner and the Saint, Kevin Birmingham has scored a hat trick, delivering three biographies in one book-expertly chronicling the lives of the man who wrote Crime and Punishment and the murderer who inspired the tale, and the fascinating evolution of the novel itself. Birmingham's ingenious braided narrative offers an inspired new reading to those who already know and love Dostoevsky's masterpiece, and serves as an indispensable guide for first time readers. -- Megan Marshall, Pulitzer Prize-winning author of Margaret Fuller: A New American Life and Elizabeth Bishop: A Miracle for Breakfast
The Sinner and the Saint is a gripping murder mystery - a dazzling literary "howdunnit" that meticulously reconstructs the political ferment that inspired Dostoevsky's most famous novel. At the heart of it all is Raskolnikov's real-life double, a charming gentleman murderer whose trial set Parisian society ablaze. -- Alex Christofi, author of Dostoevsky in Love
An absorbing, thickly textured biography of Crime and Punishment that develops through fragments and shards... Kevin Birmingham has written a bold and rewarding book that will allow readers, whatever their own predispositions, to return to Dostoevsky's first masterpiece with a renewed and more capacious perspective. -- Oliver Ready * Literary Review *
[an] inspired account of the genesis-philosophical and neurological-of Crime and Punishment...Birmingham is superb, in The Sinner and the Saint, on the intellectual environment, the vibrational stew -- James Parker * The Atlantic *
[an] excellent biographical study... In pungent, well-researched pages, Birmingham reveals the "secret" background behind Dostoevsky's great murder novel ... a model of luminous exposition and literary detection, The Sinner and the Saint can be recommended to anyone interested in the dark twisted genius of "Dusty", as Nabokov (with a touch of mockery) nicknamed the ill-fated Russian maestro. -- Ian Thomson * The Observer *
Birmingham has alchemized scholarship into a magisterially immersive, novelistic account of the author's life... Birmingham's book sometimes improves on even fiction like J. M. Coetzee's Dostoyevsky novel... The Sinner and the Saint is a magnificent and fitting tribute. -- Boris Fishman * The New York Times *
Meticulously piecing together the debates that fired Dostoevsky's imagination, The Sinner and the Saintis filled with arresting details that bring the turbulence of the 1860s to life...The Sinner and the Saintis not just a fitting tribute to one of the great works of world literature, but a dazzling literary detective story in its own right. * Guardian, Book of the Day *
ISBN: 9780141981710
Dimensions: 198mm x 129mm x 24mm
Weight: 326g
432 pages