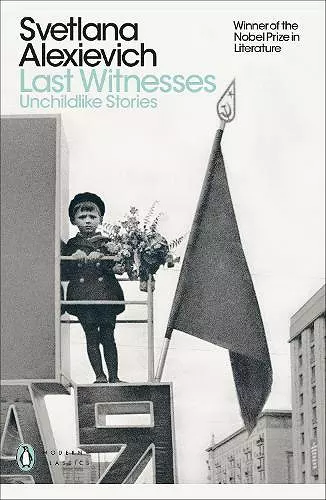 Extraordinary stories about Soviet children's experiences in the Second World War, from Nobel laureate Svetlana Alexievich.
Selected as a Book of the Year 2019 by The Times and Telegraph

'Astonishing. . . Like the great Russian novels, these testimonials ring with emotional truth' - Caroline Moorehead, Guardian

Extraordinary stories about what it was like to be a Soviet child during the upheaval and horror of the Second World War, from Nobel Laureate Svetlana Alexievich

What did it mean to grow up in the Soviet Union during the Second World War? In the late 1970s, Svetlana Alexievich started interviewing people who had experienced war as children, the generation that survived and had to live with the trauma that would forever change the course of the Russian nation. With remarkable care and empathy, Alexievich gives voice to those whose stories are lost in the official narratives, uncovering a powerful, hidden history of one of the most important events of the twentieth century.Published to great acclaim in the USSR in 1985 and now available in English for the first time, this masterpiece offers a kaleidoscopic portrait of the human consequences of the war - and an extraordinary chronicle of the Russian soul.
A masterpiece of clear-eyed humility. . . Alexievich is the most inspired and inspiring of all Nobel prize winners, a genuine bearer of witness -- Tim Adams * Observer *
Astonishing. . . Like the great Russian novels, these testimonials ring with emotional truth. . . Few people have ever conjured better the pain of loss -- Caroline Moorehead * Guardian *
An antidote to nostalgic World War II narratives. . . Breathtaking, occasionally unbearably sad. Svetlana Alexievich is in a class of her own -- Paula Hawkins
A major work by one of our greatest living historians. . . a profound, revelatory book. Through an artfully crafted and sincerely empathetic technique of enticing, soothing, and teasing out - gentle, unobtrusive, knowing when to encourage and when to let a pause run its course - Alexievich uncovers some of the most evocative war stories ever published -- Jane Graham * Big Issue *
These stories demand to be read -- Gerard DeGroot * The Times *
If God existed, or had an ear, she might listen the way Svetlana Alexievich does to the stories of her fellow ex-Soviets. . . These stories have a hallucinatory clarity, like visions or nightmares-except they are made simply from the stuff of life -- John Freeman * Lit Hub *
The experience of reading these thousands of human confessions has an astonishingly powerful impact -- Gaby Wood * Daily Telegraph *
A masterly and potent reminder that the memory of loss belongs to individuals and communities, and not to the states that turn its psychic energy to other ends -- Kevin Platt * TLS *
An important historical document. . . offers a harrowing picture of the lives of Russian children caught up in Hitler's invasion on the Eastern Front -- Ian Thomson * Evening Standard *
Svetlana Alexievich's books go as deep as the soul of woman can go. And now she investigates the soul in the agonized process of historical formation -- Geoff Dyer
This new translation will no doubt leave another huge impression on this new generation of readers * Bustle *
ISBN: 9780141983561
Dimensions: 198mm x 128mm x 17mm
Weight: 235g
320 pages