Edward IV (Penguin Monarchs)
The Summer King
Format:Paperback
Publisher:Penguin Books Ltd
Published:4th Jul '19
£7.99
Available to order, but very limited on stock - if we have issues obtaining a copy, we will let you know.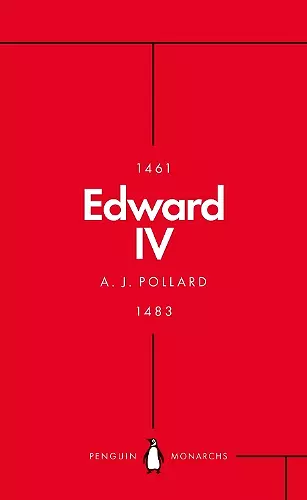 Part of the Penguin Monarchs series- short, fresh, expert accounts of England's rulers - now in paperback.
'Edward was a man of considerable charm, who perhaps relied too much upon that charm to keep tensions within his entourage at bay'

In 1461 Edward earl of March, a handsome, charismatic eighteen-year old, usurped the English throne during the first and most fierce of the Wars of the Roses. The years that followed witnessed a period that has been described as a golden age. Yet, argues A. J. Pollard, Edward was a man of limited vision, who squandered his talents and failed to secure his own dynasty.
ISBN: 9780141989907
Dimensions: 181mm x 111mm x 9mm
Weight: 98g
160 pages