Caste
The International Bestseller
Format:Paperback
Publisher:Penguin Books Ltd
Published:14th Feb '23
£12.99
Available for immediate dispatch.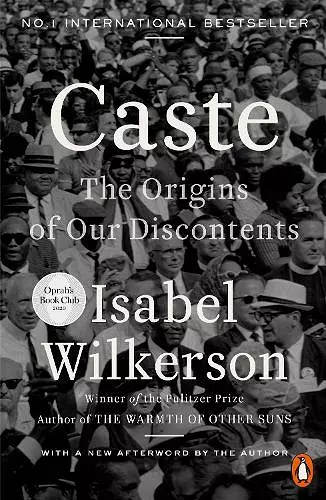 THE TIME NONFICTION BOOK OF THE YEAR | #1 NEW YORK TIMES BESTSELLER

"Powerful and timely ... I cannot recommend it strongly enough" - Barack Obama

Beyond race or class, our lives are defined by a powerful, unspoken system of divisions. In Caste, Pulitzer Prize-winning author Isabel Wilkerson provides a profound, eye-opening portrait of this hidden phenomenon. This is the story of how our world was shaped by caste, and how its rigid, arbitrary hierarchies still divide us today.

Linking the caste systems of America, India, and Nazi Germany, Wilkerson explores eight pillars that underlie caste systems across civilizations, including divine will, bloodlines, stigma, and more. Using riveting stories about people--including Martin Luther King, Jr., baseball's Satchel Paige, a single father and his toddler son, Wilkerson herself, and many others--she shows the ways that the insidious undertow of caste is experienced every day. She documents how the Nazis studied the racial systems in America to plan their out-cast of the Jews; she discusses why the cruel logic of caste requires that there be a bottom rung for those in the middle to measure themselves against; she writes about the surprising health costs of caste, in depression and life expectancy, and the effects of this hierarchy on our culture and politics. Finally, she points forward to ways we can move beyond the artificial and destructive separations of human divisions, toward hope in our common humanity.

'Required reading for all of humanity' Oprah Winfrey

"If you haven't read it yet, you absolutely must." - Edward Enninful, Vogue

'An instant American classic' Dwight Garner, The New York Times
If you haven't read Caste yet, you absolutely must -- Edward Enninful * Vogue *
Powerful and timely... I cannot recommend it strongly enough -- Barack Obama
Such is Wilkerson's gift as a writer that she leaves you looking at the world differently -- Afua Hirsch * Vogue *
Elegant and persuasive... Caste will spur readers to think and to feel in equal measure -- Kwame Anthony Appiah * New York Times Book Review *
Probably the most important piece of non-fiction published thisyear -- Sarah Hughes * i News *
A surprising and arresting wide-angle reframing... Her epilogue feels like a prayer for a country in pain, offering new directions through prophetic new language -- Bilal Qureshi * Washington Post *
An expansive interrogation of racism, institutionalised inequality and injustice... This is an American reckoning and so it should be... It is a painfully resonant book and could not have come at a more urgent time -- Fatima Bhutto * Guardian *
Persuasive and unsettling... The case Wilkerson puts forward is inspiring and hopeful... caste can be dismantled, setting everyone free -- Ashish Ghadiali * Observer *
Important and timely... If repudiation of past assumptions is the first step towards healing, Wilkerson's book offers a powerful frame for this. It is essential reading for anybody who feels angry, guilty or threatened by the tangled issue of "race" in America today -- Gillian Tett * Financial Times *
Magisterial... [Wilkerson's] reporting is nimble and her sentences exquisite. But the real power of Caste lies tucked within the stories she strings together like pearls... Caste is a luminous read, bearing its own torch of righteous wrath in a diamond-hard prose that will be admired and studied by future generations of journalists -- Hamilton Cain * Star Tribune *
Wilkerson's book is a powerful, illuminating and heartfelt account of how hierarchy reproduces itself, as well as a call to action for the difficult work of undoing it -- Kenneth W. Mack * Washington Post *
Wilkerson unearths bone-chilling parallels in systems of oppressive regimes that otherwise seem radically dissimilar to explain caste and how it predated and helped define racism in America... Caste offers a forward-facing vision. Bursting with insight and love, this book may well help save us -- Emily Bernard * O: The Oprah Magazine *
Wilkerson's genius as a writer is her ability to connect the macro and the micro, to tell you the big story of what happened but to make that story matter by linking it to the lives of those who survived it... What in the hands of another writer would feel like an abstraction attains, in her work, the vividness and emotional power of lived experience -- Ezra Klein * Vox *
Haunting yet strangely consoling, in a world defined by its divides, Caste connects. It reveals the 'unseen skeleton' embedded in heinous acts of power but, in evocative prose that is full of poise, reminds us what's possible when people come together.I closed the book feeling enlightened and energised, ready to roll up my sleeves and get on with the good work -- Johny Pitts
Should be required reading for generations to come and is as propulsive a reading experience as her debut... A significant work of social science, journalism, and history, Caste removes the tenuous language of racial animus and replaces it with a sturdier lexicon based on power relationships -- Joshunda Sanders * Boston Globe *
A transformative new framework through which to understand identity and injustice in America -- Justin Worland * TIME *
Wonderful ... Prepare to have your mind expanded, your heart break and your head slowly shake by Wilkerson's sublime combination of skilful, analytical dissection and raw, emotional testimony -- Allen Sleith * Belfast Telegraph *
Caste makes a convincing, often scorching case that caste was there at the birth of the nation, and we wrestle every day with that legacy. It upsets the already rickety national myth that anyone in the United States can be anything -albeit, without entirely abandoning that hope -- Christopher Borrelli * Chicago Tribune *
Vital, brilliant and necessary -- Kae Tempest
Similar to her previous book, the latest by Wilkerson is destined to become a classic, and is urgent, essential reading for all -- Stephanie Sendaula * Library Journal (starred review) *
This enthralling exposé deserves a wide and impassioned readership * Publishers Weekly (starred review) *
This is a brilliant book, well timed in the face of a pandemic and police brutality that cleave along the lines of a caste system... The Warmth of Other Suns topped group read lists everywhere, and Caste will be the book to read in light of current discussions about systemic racism -- Vanessa Bush * Booklist (starred review) *
Wilkerson's book arrives at a key inflection point, an opening for us to imagine, and then create, a system that's better than the one we've inherited -- Jordyn Holman * Bloomberg *
An instant American classic and almost certainly the keynote nonfiction book of the American century thus far... It made the back of my neck prickle from its first pages, and that feeling never went away. I told more than one person, as I moved through my days... that I was reading one of the most powerful nonfiction books I'd ever encountered... This book has the reverberating and patriotic slap of the best American prose writing... [Isabel] Wilkerson has written a closely argued book that largely avoids the word 'racism,' yet stares it down with more humanity and rigor than nearly all but a few books in our literature... It's a book that changes the weather inside a reader -- Dwight Garner * The New York Times *
Caste is the most important book I've ever selected for my book club. Should be required reading for humanity -- Oprah Winfrey
It literally changed the way I thought about the world and deepened my understanding of it more than any book I've read in a long time. It is worthy of a lifetime of study. It is a magnificent gift to our country and to people all across the world -- Bill Clinton
Absolutely extraordinary -- Bryan Stevenson
The superlatives people use to describe Caste are all accurate. This is an astonishing book with a bold premise-that race in America is a caste system like those in India and Nazi Germany. [Caste is] well written, well argued and provocative. Wilkerson made me think and taught me so much. You think you know the history of racism and then a book like this reveals that it's so much worse than you could have also imagined. Also she quotes me in the book! I dropped it when I saw that. So unexpected. A lil ego boost. But really that's just a small vanity. The book is amazing for what it accomplished and how -- Roxane Gay
Caste is rearranging my molecules right now. Isabel is one of my heroes -- Ken Burns
Yet another masterpiece -- Trevor Noah
Wilkerson is unmatched in her ability to take colossal, weighty concepts like race, class and caste and distill them into smooth, accessible prose. These 496 pages fly by, even as you savor each paradigm-shifting idea * BookPage (Best Books of 2020: Nonfiction) *
It should be at the top of every American's reading list -- Jennifer Day * Chicago Tribune *
Isabel Wilkerson's study surpasses many books on institutional racism by reframing the problem as something more vast and more concrete than that. We suffer under a caste system, with a dominant, shrinking group fighting for continued supremacy and the lower caste fighting, still, for full human rights * Los Angeles Times *
To read Isabel Wilkerson is to revel in the pleasure of reading-to relax into the virtuosic performance of thought and form one is about to encounter, safe and secure that the structures will not collapse beneath you... Caste is a masterwork of writing- a profound achievement of scholarship and research that stands also as a triumph of both visceral storytelling and cogent analysis... Wilkerson's use of a poetic focus on imagery and detailed characterization allows us an intimate and personal relationship with the lives of those she chronicles; when this empathic closeness is juxtaposed with the harsh brutality of the historical record the contrast is resonant and haunting, becoming a towering memorial to those violated by the violence of caste -- Hope Wabuke * National Public Radio *
Caste mingles comparison, history, sociology and a string of shattering stories... More than appropriately, Wilkerson likens the situation of India's Dalits to that of America's Blacks... India needs mind-shaking books like Caste that unveil for India's top layers (including for the willfully blind) the realities being endured in the thick bottom -- Rajmohan Gandhi * India Today *
A big book about our biggest problem... Wilkerson looks at structural inequality and bigotries in Germany, India, and the United States, identifying the insidious nature all forms of caste divisions share -- Kate Tuttle * The Boston Globe (Best Books of 2020) *
[Wilkerson's] aim is as ambitious as it sounds, which makes Caste's success as both a work of historical analysis and a tremendously engaging read all the more gratifying. Part of the accessibility and richness of the text come from the multiple points of entry Wilkerson offers to the idea of caste: Theatrical analogies... sit side-by-side with comparisons to the natural world... It's clear that Wilkerson has tremendous belief in humanity-its capacity for warmth and ingenuity, as well as for cruelty and intentional ignorance-and that lends Caste a certain moral clarity and directive -- Rosalind Faires * The Austin Chronicle *
Some may argue that linking race relations in America to Nazi atrocities and the Indian caste system is tenuous but [Wilkerson] strongly argues her case with a powerful document that holds lessons for aggressors and their victims all over the world... A painful exploration of what human beings are capable of doing to each other -- Sudipta Datta * The Hindu *
A superbly written and impeccably researched study of a phenomenon that is rarely discussed in American culture... Brave, clear and shatteringly honest in both approach and delivery... A book that cuts to the marrow of our caste system, exposes the rotten core within, and deconstructs the beginning of it to expose its flaws and why it shouldn't be used anymore... Extrapolating Wilkerson's ideas to contemporary America becomes an unsettling exercise that proves how right she is and how profoundly embedded into society the caste system is... Her quest for answers frames everything and acts as the perfect delivery method for every explanation -- Gabino Iglesias * San Francisco Chronicle *
A consummate storyteller... Isabel Wilkerson has written an important book that reminds us of a comradeship of interwoven histories -- Anupama Rao * Los Angeles Review of Books *
A landmark new study of the power of racial distinctions in America... Wilkerson argues with staggering precision, clarity, and conviction that caste cuts far deeper than any local or federal law, prevailing attitude, or temporary cultural drift... Caste draws heavily on the powerful mingling of narrative, research, and visionary, sweeping insight that made Wilkerson's The Warmth of Other Suns the definitive contemporary study of African Americans' twentieth-century Great Migration from the Jim Crow South to northern, midwestern, and western cities. It deepens the resonance of that book (a seemingly impossible feat) by digging more explicitly into the pervasive racial hierarchy that transcends region and time... It provides a new and more nuanced diagnosis of an ancient and chronic disease, a template for recognizing its symptoms-even among those who only distantly feel their effects-and a springboard to action in mitigating its impact in the absence of a miracle cure or a panacea of absolution -- Steve Nathans-Kelly * New York Journal of Books *
Isabel Wilkerson's latest is an immersive, unflinching taxonomy of the unspoken social order underpinning all of American society * Harpers Bazaar *
Full of uncovered stories and persuasive writing... Opening up a new bank of language in a time of emboldened white supremacism may provide her readers with a new way of thinking and talking about social injustice... A useful reminder to India's many upper-caste cosmopolitans... that dreams of resistance are just one part of the shared inheritance of the world's oldest democracy and the world's largest -- Supriya Nair * Mumbai Mirror *
Caste-beautifully written, original, and revealing-is an eye-opening story of people and history, and a reexamination of what lies under the surface of ordinary lives and of American life today * Arab News (Saudi Arabia) *
Persuasive and unsettling... The case Wilkerson puts forward is inspiring and hopeful. Her writing incorporates and reflects the anti-racist traditions embodied by figures such as African-American liberationist W.E.B. Du Bois and the trailblazer of India's Dalit movement, Bhimrao Ambedkar, who wrote: 'Caste is [just] a notion; it is a state of the mind.' Like him, Wilkerson wants us to recognise that caste can be dismantled, setting everyone free -- Ashish Ghadiali * Guardian *
Caste seeks nothing less than to reframe our understanding of America's original sin -- Leonard Pitts Jr. * Miami Herald *
A small cohort of historians and intellectuals has been referring to America's racial caste system for years, feeling that term is more effective than racism, which many Americans prefer to regard as a personal failing rather than an institutional force. Wilkerson brings to bear the formidable interviewing and storytelling talents she displayed in 2010's The Warmth of Other Suns to popularize this reframing of race, a social construction with no biological validity. It's a move that places American racism in the context of other heritable hierarchies around the globe, especially the Indian caste system, although Wilkerson is careful not to conflate the two. This important book wrenches our established way of thinking about race out of its rut and encourages us to see it anew, with a fresh understanding of the damage it has done and the potential for change -- Laura Miller * Slate *
A free...
ISBN: 9780141995465
Dimensions: 198mm x 129mm x 22mm
Weight: 362g
528 pages