The Astronomy Book
Big Ideas Simply Explained
Format:Hardback
Publisher:Dorling Kindersley Ltd
Published:7th Sep '17
£19.99
Available for immediate dispatch.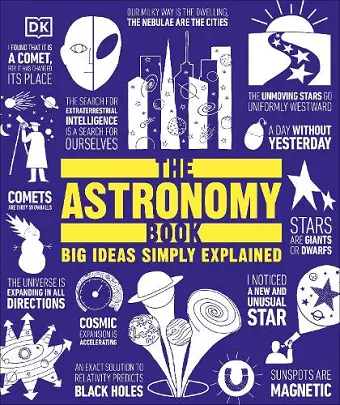 Big astronomy ideas, simply explained
Learn about planets, stars and black holes in The Astronomy Book.

Part of the fascinating Big Ideas series, this book tackles tricky topics and themes in a simple and easy to follow format. Learn about Astronomy in this overview guide to the subject, brilliant for beginners looking to learn and experts wishing to refresh their knowledge alike! The Astronomy Book brings a fresh and vibrant take on the topic through eye-catching graphics and diagrams to immerse yourself in.

This captivating book will broaden your understanding of Astronomy, with:

- More than 100 big astronomical ideas, theories and discoveries
- Packed with facts, charts, timelines and graphs to help explain core concepts
- A visual approach to big subjects with striking illustrations and graphics throughout
- Easy to follow text makes topics accessible for people at any level of understanding

The Astronomy Book is the perfect introduction to the story of our ideas about space, time, and the physics of the cosmos, aimed at adults with an interest in the subject and students wanting to gain more of an overview. Here you'll discover more than 100 of the most important theories and discoveries in the history of astronomy and the great minds behind them. If you've ever wondered about the key ideas that underpin the wonders of the universe and the great minds who uncovered them, this is the perfect book for you.

Your Astronomy Questions, Simply Explained

How do we measure the universe? Where is the event horizon? What is dark matter? If you thought it was difficult to learn the science of celestial objects and phenomena, The Astronomy Book presents key information in an easy to follow layout. Learn ancient speculations about the nature of the universe, through the Copernican Revolution, to the mind-boggling theories of recent science such as those of Albert Einstein and Stephen Hawking, with superb mind maps and step-by-step summaries. And delve into the work of the scientists who have shaped the subject, with biographies of key astronomers such as Ptolemy, Copernicus, Galileo, Newton, Hubble, and Hawking.

The Big Ideas Series

With millions of copies sold worldwide, The Astronomy Book is part of the award-winning Big Ideas series from DK. The...
ISBN: 9780241225936
Dimensions: 240mm x 202mm x 26mm
Weight: 1147g
352 pages