The Crime Book
Big Ideas Simply Explained
Format:Hardback
Publisher:Dorling Kindersley Ltd
Published:3rd Apr '17
£19.99
Available for immediate dispatch.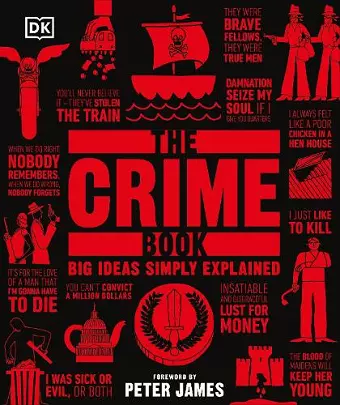 All the big ideas from the most criminal of minds, simply explained.
Learn about the world's most notorious cons, heists, and murders in The Crime Book.

Part of the fascinating Big Ideas series, this book tackles tricky topics and themes in a simple and easy to follow format. Learn about Crime in this overview guide to the subject, brilliant for novices looking to find out more and true crime experts wishing to refresh their knowledge alike! The Crime Book brings a fresh and vibrant take on the topic through eye-catching graphics and diagrams to immerse yourself in.

This captivating book will broaden your understanding of Crime, with:

- More than 100 ground-breaking accounts of true crime
- Packed with facts, charts, timelines and graphs to help explain core concepts
- A visual approach to big subjects with striking illustrations and graphics throughout
- Easy to follow text makes topics accessible for people at any level of understanding

The Crime Book is a captivating introduction to the world's most notorious criminal cases, aimed at adults with an interest in the subject and students wanting to gain more of an overview. Here you'll discover more than 100 sinister accounts of true crime through exciting text and bold graphics.

Your Crime Questions, Simply Explained

This fresh new guide explores the most twisted accounts of crime and criminology in history. If you thought it was difficult to learn about the most prolific wrongdoings and the criminals behind them, The Crime Book presents key information in a clear layout. From outlaws like pirates, bandits, and highwaymen, to serial killers and the cyber criminals of the 21st century, discover the worst offences through superb mind maps and step-by-step summaries.

The Big Ideas Series

With millions of copies sold worldwide, The Crime Book is part of the award-winning Big Ideas series from DK. The series uses striking graphics along with engaging writing, making big topics easy to understand.
For a wide-ranging take on true crime illustrated with infographics, The Crime Book is a bloody, engrossing history of criminology, from bandits and serial killers to 21st century cyber predators. Famous cases include Jack The Ripper, the Black Dahlia murder and Bonnie and Clyde. * Crime Scene *
Like other Dorling Kindersley books, the layout is what jumps out at you ... we think it will make a great gift for anyone who loves crime fiction. It seems a perfect reference tool for authors who need a little inspiration or who want to ground their work with a few facts from the world of true crime ... Crime fiction author Peter James adds the cherry on top with his foreword. * Crime Fiction Lover *
From the 1671 attempt to steal the Crown Jewels to the 2015 Hatton Garden heist, and taking in Burke and Hare, Bonnie and Clyde and the Bandit Queen of Uttar Pradesh, The Crime Book by Dorling Kindersley is an exhaustively researched and lavishly illustrated treasure-trove of malfeasance through the ages and around the world. * The Sunday Times and The Times Crime Club *
ISBN: 9780241298961
Dimensions: 239mm x 202mm x 24mm
Weight: 1142g
352 pages