Spare Parts
A Surprising History of Transplants
Format: Hardback
Publisher: Penguin Books Ltd
Published: 26th Aug '21
£18.99
Available, normally delivered within 3-6 days.
This hardback is available in another edition too: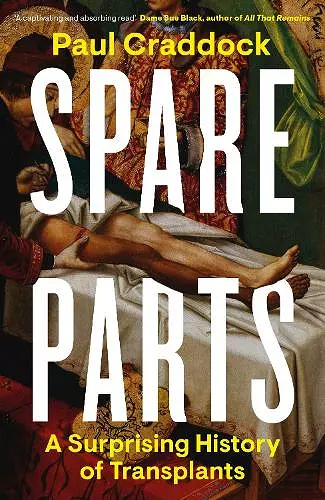 A DAILY MAIL BOOK OF THE WEEK

'Spare Parts is a fascinating read filled with adventure, delight and surprise' RAHUL JANDIAL, surgeon author of 'Life on a Knife's Edge'

'This is a joyful romp through a fascinating slice of medical history' WENDY MOORE, author of 'The Knife Man'
___

How did an architect help pioneer blood transfusion in the 1660s?
Why did eighteenth-century dentists buy the live teeth of poor children?
And what role did a sausage skin and an enamel bath play in making kidney transplants a reality?

We think of transplant surgery as one of the medical wonders of the modern world. But transplant surgery is as ancient as the pyramids, with a history more surprising than we might expect. Paul Craddock takes us on a journey - from sixteenth-century skin grafting to contemporary stem cell transplants - uncovering stories of operations performed by unexpected people in unexpected places. Bringing together philosophy, science and cultural history, Spare Parts explores how transplant surgery constantly tested the boundaries between human, animal and machine, and continues to do so today.

Witty, entertaining and at times delightfully macabre, Spare Parts shows us that the history - and future - of transplant surgery is tied up with questions about not only who we are, but also what we are, and what we might become. . .
A fascinating book * Daily Mail *
Compelling -- Christopher Hart * The Sunday Times *
The charm of Spare Parts comes from situating these landmarks in a wider history of ideas * Spectator *
A thrilling and often terrifying ride through transplantation and the theories and techniques that made it possible . . . tantalizing -- Robert Sullivan * The New York Times *
Anyone interested in the history of surgery will find much to amaze and startle in Paul Craddock's Spare Parts: A Surprising History of Transplants * Independent *
Excellent . . . Much has been written about this subject, but with Spare Parts Paul Craddock has achieved something unique: a serious, entertaining and thoroughly researched work that usefully sets the history of transplantation in the context of the evolution of ideas about the human body -- Thomas Morris * TLS *
Craddock combines meticulous scholarship with wry wit in lucid prose which is all the more powerful for being understated . . . Spare Parts is a triumph * Roger Kneebone, author of 'Expert' *
I read Spare Parts with my mouth open, my eyes popping and my brain fizzing. It's a fascinating exploration of just how far humans will go to stay on the right side of death. I can't think of any other book whose pages will make you laugh, gasp, grimace and wince. Spare Parts is a triumph of medical story-telling * Michael Brooks, author of 'The Quantum Astrologer's Handbook' and 'Science(ish)' *
This is a fascinating and sure-footed exploration of the medical, historical and mythological landscape in which humans use parts from each other to make themselves whole. With compassion and insight, Paul Craddock elucidates vital questions about what it means to be human and to realise our dreams of survival * Dr Emily Mayhew, author of 'Wounded' and 'The Four Horsemen' *
This is a captivating and absorbing read that surprises on every page whether it be from prosthetic noses of the 16th Century to modern day bio-printing and stem cell technology * Professor Dame Sue Black, author of 'All That Remains' *
Paul Craddock's book is a veritable tour de force, a tantalising journey through human efforts in understanding science, medicine, personal beliefs and ourselves over the past centuries . . .Packed with stories which bring to life the personalities, the heroes and villains, and, with benefit of hindsight, the sometime frankly incredulous ideas, we get a unique and inspiring tapestry of events . . . A thoroughly good read * Barry Fuller, Professor of Surgical Sciences at UCL Medical School *
This compelling and impeccably researched history of transplant surgery puts you right at the heart of the gruesome action. An enthralling read * Richard Hollingham, author of 'Blood and Guts' *
A riveting journey through the story of anatomical alchemy, Spare Parts is a fascinating read filled with adventure, delight and surprise * Rahul Jandial, surgeon and author of 'Life on a Knife's Edge' *
Spare Parts is such a pleasure to read, filled with so many fascinating characters and stories that seem almost too crazy to be real; I found myself chuckling, shaking my head and yet proud to be a part of this field. This is a must read for anyone that has ever been touched by transplantation or the gift of donation, a book that makes us proud of our macabre past and excited about what can only be a limitless future * Josh D Mezrich, author of 'How Death Becomes Life' *
Stuffed with eccentric characters and questionable experiments, this is a joyful romp through a fascinating slice of medical history * Wendy Moore, author of 'The Knife Man' *
A perfect blend of history, science and humanity on a thrilling journey around old and new parts of the human body * Matt Morgan, author of 'Critical' *
Spare Parts uncovers the gripping birth of sharing body parts, and significantly, tells us all of our current 'good ideas and innovations' have been thought of and tested already - we are simply adding to the mix. This visceral book offers us an unparalleled historical treatise, as the world of complex transplantation continues to unravel and change * Daniel Saleh, award-winning consultant plastic and reconstructive surgeon *

With curious and clinical precision ... Craddock raises questions about how we relate to one another, what stories we choose to privilege and who gets to tell them
* Irish Times *
By turns
delightful and disturbing
, even the most seasoned of medical history buffs will be
astonished
by
Spare Parts
. A
thoroughly engrossing read that I couldn't put down
.
Hit that order button -- you won't regret it
* Lindsey Fitzharris, author of The Butchering Art *
An
accessible and wide-ranging
account . . . Amid the toe-curling descriptions of vivisected dogs and doomed trial runs at human-to-human tooth transplants are
hopeful and inspiring
accounts of how farmers and embroiderers shared their knowledge with medical practitioners . . .
Thoroughly researched and appealingly digressive
, this
fascinating
medical and cultural history sheds light on what it means to be human * Publishers Weekly *
ISBN: 9780241370254
Dimensions: 240mm x 162mm x 31mm
Weight: 536g
320 pages