This is a special Signed First Edition, and has very limited quantity available
Bournville Signed First Edition
From the bestselling author of Middle England
Format:Paperback
Publisher:Penguin Books Ltd
Published:31st Aug '23
£9.99
Available to order, but very limited on stock - if we have issues obtaining a copy, we will let you know.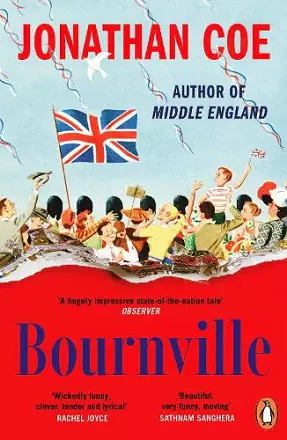 From the bestselling, award-winning author of Middle England comes a profoundly moving, brutally funny and brilliantly true portrait of Britain told through four generations of one family

In Bournville, a placid suburb of Birmingham, sits a famous chocolate factory. For eleven-year-old Mary and her family in 1945, it's the centre of the world. The reason their streets smell faintly of chocolate, the place where most of their friends and neighbours have worked for decades. Mary will go on to live through the Coronation and the World Cup final, royal weddings and royal funerals, Brexit and Covid-19. She'll have children and grandchildren and great-grandchildren. Parts of the chocolate factory will be transformed into a theme park, as modern life and the city crowd in on their peaceful enclave.

As we travel through seventy-five years of social change, from James Bond to Princess Diana, and from wartime nostalgia to the World Wide Web, one pressing question starts to emerge: will these changing times bring Mary's family - and their country - closer together, or leave them more adrift and divided than ever before?

Bournville is a rich and poignant new novel from the bestselling, Costa award-winning author of Middle England. It is the story of a woman, of a nation's love affair with chocolate, of Britain itself.

'A wickedly funny, clever, but also tender and lyrical novel about Britain and Britishness and what we have become' Rachel Joyce

'It is miraculous how, in his new novel, Coe has created a social history of postwar Britain as we are still living it. Bournville is a beautiful, and often very funny, tribute to an underexamined place and also a truly moving story of how a country discovered tolerance' Sathnam Sanghera, bestselling author of Empireland
With his third novel in four years, Coe is on a roll; he tracks the fortunes of a family through snapshots of communal experiences, from the Queen's coronation through the 1966 World Cup to pandemic lockdown, in a moving, compassionate portrait of individual and national change * Guardian, Best Fiction of 2022 *
The way Coe starkly captures the paranoia and fear of the early days of the pandemic is impressive and he has written what he calls a "faithful account" of the death of his mother during lockdown. It makes an intensely affecting finale to a fine novel. * Independent, Best Book of the Year *
Few contemporary writers can make a success of the state of the nation novel: Jonathan Coe is one of them * New Statesman *
Epic in scope, but personal in resonance -- Elizabeth Day
Coe's interwoven paeans to the lives of those rooted in the very centre of the UK - The Rotter's Club and Middle England among them - blend comedy, tragedy and social commentary in enjoyably memorable fashion, and his latest, Bournville, is no exception. . . Coe's particular gift is to understand how nostalgia, regret and an apprehension of what the future will bring might make us more, not less, empathetic to the frailties of those around us * FT, Best Audiobooks of the Year *
Very tempting * The Times *
In this affecting generational saga, framed by the pandemic and structured by seven milestone broadcasts, Jonathan Coe - known for his state-of-the-nation novels - once again takes the temperature of Britain * FT, Best Books of 2022 *
At heart Bournville is a novel designed to make you think by making you laugh, and the seriousness of the subject matter is tempered throughout by the author's piercing eye for the more ludicrous elements of human nature * New Statesman *
A compelling social history that's sprinkled throughout with Coe's inimitable humour, love and white-hot anger * Evening Standard *
A hugely impressive state-of-the-nation tale * Observer *
British novelists love to diagnose the state of the nation. Few do it better than Jonathan Coe, who writes with warmth and subversive glee about social change and the comforting mundanities it imperils * Spectator *
This charming read is as warming, rich and comforting as a mug of hot chocolate * The Times *
This is another eminently readable Coe, full of believable characters and fizzing dialogue. And it couldn't be more timely * Big Issue *
Coe has the great gift of combining engaging human stories with a deeper structural pattern that gives the book its heft * Guardian *

Set in Coe's native
Midlands and told through the
lives of four generations of one
family, beginning with 11-year-old
Mary in 1945, Bournville is a
poignant, clever and witty portrait
of social change and how the
British see themselves.
* Radio Times, Best Books of the Year *
Bournville
is
Jonathan Coe's most ambitious novel yet
. . . a novel about people and place.
Entertaining and often poignant, it presents a captivating portrait of how Britons lived then and the way they live now
* Economist *
A book of things blended together: comedy with tragedy, England's past with its present, and cocoa solids with vegetable fat . . .
the best fictional portrayal of lockdown that I've read
* Irish Times *
Told with
compassion, steadiness, decency and always a glint in the eye, this is a novel that both challenges and delights. For anyone who has felt lost in the past six years, it is like meeting an ally
-- Rachel Joyce, author of Miss Benson's Beetle
Full of vibrant characters and fabulous dialogue, which switches from laugh-out-loud funny to extremely poignant
* Independent *
The changing face of postwar Britain is brilliantly captured
* FT *
As the latest in J Coe's Unrest sequence,
Bournville
is one of the most
warm-hearted, brilliant and beguiling
of his State of the Nation novels. To show three generations of an ordinary Midlands family, their paths taken and not taken, their friends, lovers, jobs, achievements and losses; to interweave this with 75 years of national history - and to do so with such a lightness of touch is a tremendous achievement.
All the absurdities of our nation wrapped up in something as bitter, sweet, and addictive as a bar of the best Bournville chocolate
-- Amanda Craig, author of The Golden Rule
Affectionate, full of good humour, and often moving, this is Coe at his best.
* Crack Magazine *
Slips down a treat
* Daily Mail *
Coe is an
eminently readable
novelist * Daily Mail *
For all the novel's satirical tang and historical sweep, it's at root
a tender portrait
of apparently simple folk trying to fathom the mystery of their own personalities * Spectator *
A tender portrayal of the state of the nation through the prism of family relationships * Woman & Home *
There is much to enjoy here, as in all Coe's novels . . . an intelligent criticism of our shared history since 1945
* Scotsman *
[Coe] has a huge talent for balancing
humour
with
poignancy
* Book of the month, Good Housekeeping *
ISBN: 9780241517406-SF
Dimensions: 198mm x 129mm x 22mm
Weight: 255g
368 pages