Darling
A razor-sharp, gloriously funny retelling of Nancy Mitford's The Pursuit of Love
Format:Paperback
Publisher:Penguin Books Ltd
Published:4th May '23
£9.99
Available for immediate dispatch.
This paperback is available in another edition too: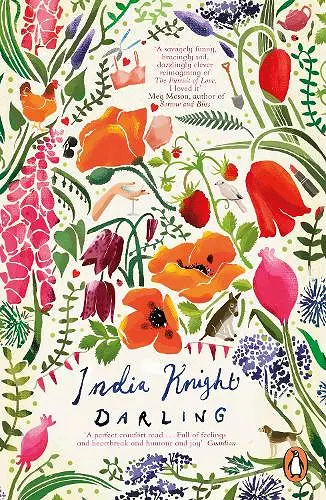 Marooned in a sprawling farmhouse in Norfolk, teenage Linda Radlett feels herself destined for greater things. She longs for love, but how will she ever find it? She can't even get a signal on her mobile phone. Linda's strict, former rock-star father terrifies any potential suitors away, while her bohemian mother, wafting around in silver jewellery, answers Linda's urgent questions about love with upsettingly vivid allusions to animal husbandry.

When Linda eventually moves to London, she doesn't want to marry 'a man who looks like a pudding', as her good and dull sister Louisa has done, and marries the flashy, handsome son of a UKIP peer instead. But love, and her new life in London, are not quite what she expected . . .
It takes a brave author to attempt a contemporary reimagining of such a beloved novel. Luckily, India Knight [...] has courage and talent in spades ... It's beautifully and meticulously done, echoing the detail of the original plot as far as feasible, but with contemporary twists ... Knight is warmer than Mitford, and more comforting * Sunday Times *
Fans of Nancy Mitford's The Pursuit Of Love will adore this brilliant contemporary take ... The writing is as sharp, the details as perfect, the jokes as funny as [the] original * Daily Mail *
The delight is in the details. Knight's are bang on, and there's joy in spotting them ... There's heart as well as humour: it was, and remains, a sincere romance ... Pursuit of Love diehards can rest easy: your blood vessels are safe with this faithful, fiercely funny homage * Spectator *
In less talented hands, Knight's retelling of this classic novel might have gone horribly wrong. But Darling is a treat, with whip-smart dialogue, larger-than- life characters, witty observations and a heart-breaking twist ... Fans will love Knight's clever re-imagining of this classic tale - and new readers will relish the chance to discover the glorious Radletts * Daily Express *
What could have been a disaster - a modern reimagining of Nancy Mitford's superlative comedy of manners The Pursuit of Love - is an absolute triumph. Romantic, clever and oh-so funny * The i Paper, What We're Reading *
A perfect comfort read: the kind of book you take into the bath and keep reading even when the water has gone cold, a one-sitting, dark-at-four joy ... Darling is a very human book, full of feelings and heartbreak and humour and joy -- Ella Risbridger * Guardian *
Beguiling reimagining ... Spry and wryDarling is delicious * Mail on Sunday, Best New Fiction *
[A] lively modern update of a passionately loved classic ... A sizzling modern-day comedy of manners. Plenty of Mitfordian wit but with Ukip peers and mobile phones * The Times, Best Fiction to Read This Autumn *
I found myself tearing through, beguiled by Knight's faithful channelling of Radlett ways, wiles and speech patterns ... Reinventing anything so beloved is a formidable challenge, and Knight has risen to it admirably * The Bookseller *
A modern retelling of Nancy Mitford's beloved The Pursuit of Love ... Knight nails the wit and satire * Grazia *
Sheer brilliance. Darlingis hilarious and heartbreaking and vivid and and clever and utterly compulsive - I absolutely loved it * Francesca Segal, author of Mother Ship *
Total escapist bliss. A joyous updating of the Mitford classic. I loved every page * Sabine Durrant, author of Finders Keepers *
A savagely funny, bracingly sad, dazzlingly clever reimagining of The Pursuit of Love. I loved it * Meg Mason, author of Sorrow and Bliss *
A triumph! Brilliantly done, faithful but imaginative, tremendously romantic and very funny. Meeting the Radlett family again in the 21st century was an absolute a treat, rather like hearing a new arrangement of beloved old carol and hearing it anew, with trumpets * Nina Stibbe, author of Reasons to be Cheerful *
Darling is a black forest gateau of a book: rich characters, sumptuous prose, delicious dialogue, and layered throughout with sharp wit and intelligence (which are even better than the cherry liqueur the gateau calls for). Somehow, India Knight's writing manages to be hilarious, melancholy, insightful, and romantic all at the same time. Treat yourself to this novel * Katherine Heiny, author of Early Morning Riser *
ISBN: 9780241955055
Dimensions: 196mm x 126mm x 22mm
Weight: 200g
288 pages