When We Were Birds
Format: Paperback
Publisher: Penguin Books Ltd
Published: 9th Feb '23
£9.99
Available, normally delivered within 3-6 days.
This paperback is available in another edition too: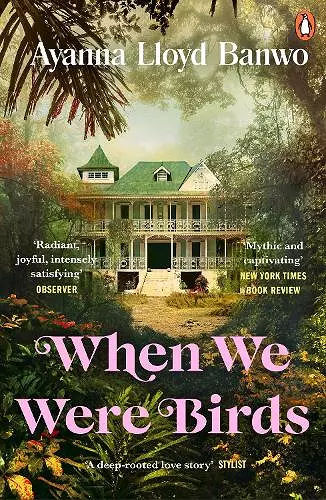 Mesmerising, mythic and timeless, an unmissable debut novel for fans of Arundhati Roy, Toni Morrison and Monique Roffey

Longlisted for the Authors' Club Best First Novel Award 2023
Longlisted for the Jhalak Prize 2023
Longlisted for the BOCAS Prize 2023

'BELIEVE THE HYPE' Stella

'A searing symphony of magic and loss, love and hope' Marlon James

'A mesmerising love story, achingly tender' Bolu Babalola

Darwin is a down-on-his-luck gravedigger, newly arrived in the Trinidadian city of Port Angeles to seek his fortune, young and beautiful and lost. Estranged from his mother and the Rastafari faith she taught him, he is convinced that the father he never met may be waiting for him somewhere amid these bustling streets.

Meanwhile in an old house on a hill, where the city meets the rainforest, Yejide's mother is dying. And she is leaving behind a legacy that now passes to Yejide: the power to talk to the dead. The women of Yejide's family are human but also not - descended from corbeau, the black birds that fly east at sunset, taking with them the souls of the dead.

Darwin and Yejide both have something that the other needs. Their destinies are intertwined, and they will find one another in the sprawling, ancient cemetery at the heart of the island, where trouble is brewing...

Rich with magic and wisdom, When We Were Birds is an exuberant masterpiece that conjures and mesmerises on every line. Ayanna Lloyd Banwo weaves an unforgettable story of loss and renewal, darkness and light; a triumphant reckoning with a grief that runs back generations and a defiant, joyful affirmation of hope.

'Exceptional' Jacob Ross

'Exquisite' Avni Doshi

'It's a knockout, and Ayanna Lloyd Banwo is a star' Niven Govinden

'When We Were Birds marks the emergence of a distinctive and powerful voice' Pat Barker, author of The Silence of the Girls
This magical tale of a Trinidadian gravedigger searching for a father he never met proves we should believe the hype * Stella, Sunday Telegraph *
Luminous, gripping, packed with drama, colour and tension... A thoroughly original and emotionally rich examination of love, grief and inheritance... Like the vultures which escort dead souls to the afterlife, Ayanna Lloyd Banwo's novel takes flight and soars * Economist *
Tender and lonely and powerful... A love letter to Trinidad [and] a vivid debut about romance and loss in the Caribbean... It also centres another kind of love: the complexity of mothering and its beautiful and terrible consequences... Lloyd Banwo conjures an aching sexual energy, places the lovers in deliciously paced jeopardy and takes the tale to an agreeably thundery climax * Guardian *
Beguiling, mesmerising, vibrantly alive... There's a lovely dreaminess to the prose and a heart-stopping romance alongside the supernatural magic but it's a novel firmly rooted in the nitty gritty of life * Daily Express *
Soulful, haunting, a deep-rooted love story... Uniquely tackling themes of grief, identity and acceptance, Ayanna Lloyd Banwo's rhythmic prose builds tension at every step... A tale of finding one's self * Stylist *
Lyrical, powerful, thought-provoking... This is a book about the histories we try to erase and the importance of reckoning with them. It is about 'small lives'; about honouring deaths that have gone 'unclaimed', 'unremembered', 'unmourned' * Irish Independent *
Suffused with myth and magic, eerie, enchanting... The atmosphere is intensely conjured, with squalling storms, luscious food and sinister acts by night... In the Trinidad of Ayanna Lloyd Banwo, the departed are never gone * Sunday Telegraph *
Mythic and captivating, electric, breathtaking... The anchor of this story is Trinidad itself. Banwo roots the reader in its traditions and rituals, in the sights and sounds and colours and smells of fruit vendors, fish vendors, street preachers and schoolchildren, in the glorious matriarchy by which lineage is upheld * New York Times Book Review *
Rich and rhythmic, triumphant and joyous... An enchanting exploration of love and loss, a ghost story whose characters are haunted by their ancestral responsibilities... I only wish I could have basked in the beauty of [the love story] for longer * New Statesman *
A searing symphony of magic and loss, love and hope, where in the middle of death, love comes shiny, sparkling and alive. This book might just heal you -- Marlon James, author of 'Black Leopard, Red Wolf'
Exceptional. The originality of its premise, the power and beauty of its prose, the depth of its explorations of what it means to love and be loved... When We Were Birds is about the silver cord of memory and blood and history that binds a family of women even after death. I loved this book -- Jacob Ross, author of 'Black Rain Falling'
A fabulous journey to a fictionalised Trinidad, where reality and imagination, the living and the dead converge... Lovers of the magical realism of Gabriel Garcia Marquez or Isabel Allende will feel right at home... A warm, vibrant and ultimately, uplifting debut * Sunday Independent *
Combining the richness of myth with razor-sharp observation of contemporary life, When We Were Birds marks the emergence of a distinctive and powerful voice -- Pat Barker, author of 'The Silence of the Girls'
I was spellbound! A gorgeous, fantastical story that deftly weaves the earthly and ethereal and melds their boundaries. Womanhood and life within death is told through magical realism. A mesmerising love story that is achingly tender -- Bolu Babalola, author of 'Love in Colour'
A rich mixture of the real and fantasy landscapes of Trinidad... Lloyd Banwo gives both [protagonists] an authentic voice, and we feel their conflicts and urges deeply. As the novel rushes them towards its dramatic conclusion, you almost wish for more time with them and the enigmatic world she has created * i paper *
A beautifully rich and alluring love story... When We Were Birds is a mesmerizing work of fiction, embedded with timeless, mythic magic and wisdom. A stunning new voice in fiction, Banwo's tale is a standout from the crowd * Daily Hive *

Heart-warming and heart-breaking, fantastical and familiar, with characters that burrow their way into your heart and mind with their tragedies and triumphs, When We Were Birds is the kind of story that makes you want to spread your arms open wide, embrace the sky, and take flight in your own little way. It is glorious
-- Robert Jones Jr, author of 'The Prophets'
Magical, enchanting, majestic... Infused with the lush and terrible beauty of the Trinidadian landscape, When We Were Birds weaves dreams and apparitions, religion and myth, into a story of love in its many manifestations
-- Barbara Jenkins, author of 'De Rightest Place'
An eloquent and breathtaking novel from an irresistible new voice.
The words are there on the page and then whoop! Suddenly they are right in the centre of your heart. Ayanna Lloyd Banwo writes on the wings of love and death -- Tessa McWatt, author of 'The Snow Line'
A moving and fervent meditation on belief, love, family and the transitionary power of death,
Banwo's spirited, finely wrought prose draws you in and doesn't let go.
When We Were Birds marks a distinctive, bold and truthful new voice in literature.
Long may she fly -- Courttia Newland, author of 'A River Called Time'
I absolutely loved it, and I'm sure everyone who picks it up will love it too. When We Were Birds has a similar power and depth to This One Sky Day. It is a love story between two outsiders but also a love letter to language itself, full of myth but deeply grounded in reality. I cannot wait to read what Ayanna writes next!
-- Anna Ellory, author of 'The Puzzle Women'
Ayanna Lloyd Banwo is one of those rare voices you come across once in a long while - strong, confident and necessary. She reminds us what we should expect from great writing:
the daring to take chances and to experiment with language and form -- Helon Habila, author of 'Travellers'
Set in a Trinidad both magical and real, and written in a rich demotic;
so much more than a love story
-- Louise Kennedy, author of 'Trespasses'
Uplifting, engaging, expansive: this was just the book I needed.
In a voice infused with the rhythms of Trinidad and Tobago,
Banwo has crafted the perfect love story
, one that moves with deftness between the furies of urban poverty and the gentle infinities of the afterlife. The hard-won peace and redemptive love in this story are real, and something we need more of in the world -- Kawai Strong Washburn, author of 'Sharks in the Time of Saviours'
A vibrant and immersive exploration of the bonds that connect us to the past and to each other. Here, history reverberates and intoxicates.
Ayanna Lloyd Banwo has swept me off my feet - she writes with the confidence and skill of prize-winning greats like Marilynne Robinson, Toni Morrison, and Isabel Allende
-- Megan Bradbury, author of 'Everyone is Watching'
It's a knockout, and Ayanna Lloyd Banwo is a star. I want to read everything she writes.
Deep with magic, superstition, grit and heart, [and] a powerful conduit to our ownership of personal heritage -- Niven Govinden, author of 'This Brutal House'
A shining new light on the literary scene. When We Were Birds is a novel reminiscent of old folklore tales, woven with myths, ghosts and love, and told with a powerful voice that is simply unforgettable
-- Ronali Collings, author of 'All the Single Ladies'
Stunning, lyrical, original. A work of real power and beauty, a story of magic and love, the living and the dead in Trinidad, this novel had me spellbound.
I was with Yejide and Darwin all the way -- Zoe Somerville, author of 'The Night of the Flood'
Ayanna Lloyd Banwo's voice is haunting, and When We Were Birds is a novel of exquisite detail that opens up the liminal space between folklore and the world we inhabit
-- Avni Doshi, author of 'Burnt Sugar'
Haunting, beautiful and sharply observed. A story that gets under your skin, with characters that burrow into your heart. I adored it
-- Sara Nisha Adams, author of 'The Reading List'
Ayanna Lloyd Banwo's electric, musical prose draws us in -
we follow Darwin and Yejide as they slip in and out of incredible worlds. This is
a story fluttering between dark and light, life and death, hollowing out a place in us all for love
-- Richard Georges, author of 'Make Us All Islands'
Authentic, stirring, magical - a book that will haunt you long after you finish reading it.
Full of intricate details and rhythmic prose, it explores the complexities of love and legacy, the struggles of life and the rituals of death -- Shakirah Bourne, author of 'In Time of Need'
A love story, a ghost story and a coming-of-age story, all masterfully woven into one. I loved it
-- Claire Adam, author of 'Golden Child'
This wonderfully original debut novel unspools at the stormy crossroads that separate the living and the dead...
Banwo has created a unique world expansive enough to contain a ghost story, a love story, a mysterious mythology, and a thoughtful examination of how family bonds keep us firmly rooted to our pasts...
[She] deftly weaves the realistic and the fantastic into a strange and compelling tapestry, a world readers will happily return to, even if they don't usually gravitate toward fantasy
* Kirkus *
[A] love story threaded through with supernatural events and dangerous secrets * Daily Mail *
ISBN: 9780241991633
Dimensions: 198mm x 129mm x 17mm
Weight: 202g
288 pages