Fierce Appetites
Lessons from my year of untamed thinking
Format:Paperback
Publisher:Penguin Books Ltd
Published:2nd Mar '23
£10.99
Available for immediate dispatch.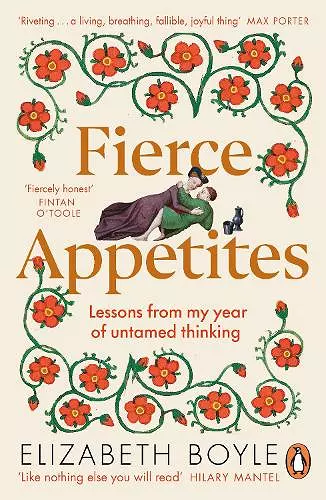 'Like nothing else you will read' Hilary Mantel

Top 25 History Books of the Year, The Times - the perfect gift for book lovers this Christmas!


Every day a beloved father dies. Every day a lover departs. Every day a woman turns forty.

All three happening together brings a moment of reckoning.

Medieval historian Elizabeth Boyle made sense of these events the best way she knew how - by immersing herself in the literature that has been her first love and life's work for over two decades.

Fierce Appetites is the exhilarating and deeply humane result. Not only does Elizabeth Boyle write dazzling accounts of ancient stories, familiar and obscure, from Ireland and further afield, but she uses her historical learning to grapple with the raw and urgent questions she faces, questions that have bedevilled people in every age. She writes on grief, addiction, family breakdown, the complexities of motherhood, love and sex, memory, class, education, travel (and staying put) with unflinching honesty, deep compassion and occasional dark humour.

Fierce Appetites is captivating and original - as an insight into the mind and heart of a groundbreaking scholar, and as a wise and reassuring account of what it is to be human.
_____________________

'Wonderful . . . I laughed. I cried. I was blown away'The Times

'Pure nectar for the imagination'Irish Examiner

'Unusual, arresting and genuinely enriching' Irish Times

'I loved this luminous, radical book about bodies in time. It is a deeply personal history, that simultaneously brings medieval myth and poetry to breathing, bleeding life. An education for the mind and the heart' Clare Pollard

'Highly original . . . engagingly candid [and] thought-proviking' Irish Independent

'An eloquent plea for the value of curiosity and the life of the mind, standing up the robustness of scholarship against the frailty of individuals, the resilience of myth against brittle daily preoccupations. It's an agile story, irreverent, capacious and constantly surprising: like nothing else you will read' Hilary Mantel

'Bracingly honest, fiery, funny, scholarly, Fierce Appetites really is a wildly good book' Hilary Fannin

'Extremely intriguing . . . I found myself completely absorbed' Ryan Tubridy

'I absolutely...
A book of blazing honesty that allows all the gorgeous complexity of the past into our messy present to remind us we've always been like this -- Max Porter
Really REALLY good -- Siobhán McSweeney
Boyle has the skill to move us between the raw and the refined, the mind and the body, the past and the present, the mundane and the marvellous without ever losing control of her dark materials -- Fintan O'Toole
An astounding piece of writing -- David Perry
Just as brilliant and hard to define as everyone says it is. You should read it. You will both learn things and be entertained -- Jan Carson
An eloquent plea for the value of curiosity and the life of the mind, standing up the robustness of scholarship against the frailty of individuals, the resilience of myth against brittle daily preoccupations. It's an agile story, irreverent, capacious and constantly surprising: like nothing else you will read -- Hilary Mantel
Pure nectar for the imagination, and it's my book of 2022 -- Clodagh Finn * Irish Examiner *
Bracingly honest, fiery, funny, scholarly,Fierce Appetites really is a wildly good book -- Hilary Fannin
I just love it -- John Connolly
Unusual, arresting and genuinely enriching -- Sharon Arbuthnot * Irish Times *
Highly original . . . engagingly candid [and] thought-provoking -- Martina Devlin * Irish Independent *
I loved this luminous, radical book about bodies in time. It is a deeply personal history, that simultaneously brings medieval myth and poetry to breathing, bleeding life. An education for the mind and the heart -- Clare Pollard
Fiercely smart, strange, surprising -- Jennifer O'Connell * Irish Times *
Extremely intriguing . . . I found myself completely absorbed. Fascinating -- Ryan Tubridy
Everything is illuminated, magnified, revisioned: sexual desire, motherhood, family. Her writing is unorthodox, unnerving, and very exciting -- Tanya Shadrick, author of The Cure for Sleep
An outstanding achievement. Fierce Appetites defies easy categorization, is brilliantly written and simply deserves to be read -- Darach Ó Séaghdha
I absolutely loved this utterly original book. Immersing myself in Elizabeth Boyle's considerable brain was a true privilege, and the way she uses medieval narratives to unpick her own present was endlessly surprising and beautiful. I read it in two sittings, devouring her perspective on life, love, loss -- Clover Stroud
[A] marvellous, astonishing, funny, moving, wise, reflective, deeply scholarly, fascinating book -- Aidan O'Sullivan
All twelve essays are freighted with that fierceness the title trumpets * RTÉ Guide *
This book is extraordinary . . . a wonderful work of women's memoir -- Sinéad Crowley
ISBN: 9780241992432
Dimensions: 198mm x 129mm x 21mm
Weight: 245g
352 pages