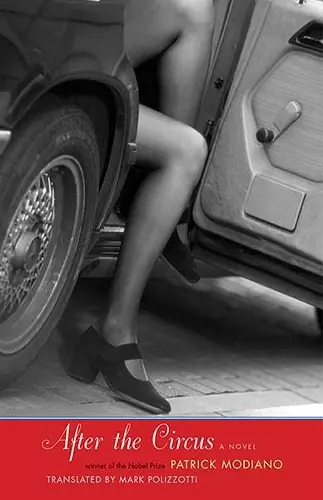 A classic novel from recent Nobel Prize winner Patrick Modiano, now available to English-language readers in a superb new translation
 
"Modiano at his best."—Barbara Hoffert, Library Journal (starred review)
 
One of the hallmarks of French author Patrick Modiano's writing is a singular ability to revisit particular motifs and episodes, infusing each telling with new detail and emotional nuance. In this evocative novel the acclaimed author takes up one of his most compelling themes: a love affair with a woman who disappears, and a narrator grappling with the mystery of a relationship stopped short.
 
Set in mid-sixties Paris, After the Circus traces the relationship between the narrator, a young man not quite of legal age whose parents are absent, and the slightly older, enigmatic married woman he first glimpses while both are being questioned by the police. Jean and Gisèle make their uncertain way into each other's company and hearts, but Jean soon finds himself in the ominous presence of the woman's unsavory associates—and drawn into their mysterious activities while adrift in Paris. Who are these people? What are they up to? Are they real, or simply evoked? Part romance, part detective story, this mesmerizing book fully demonstrates Modiano's signature use of atmosphere and suggestion as he investigates the perils and the exhilaration of young love.
"Mr. Modiano's novels are pervaded by a sexual and moral ambivalence and by social and political ambiguity. Improbable aristocrats, likeable eccentrics, would-be actresses, circus performers and cabaret workers—no one is ever who they appear to be. And Paris features as a character in her own right, refusing to surrender the secrets of her past."—The Economist

"A timely glimpse at [Modiano's] fixations. . . . In Mark Polizzotti's spare and elegant translation, the writing conveys a sense of dreamy unease in which the real, the hypothesized, and the half-forgotten blend into a shimmering vagueness."—Sam Sacks, Wall Street Journal

"Elegant . . . quietly unpretentious, approachable. . . . Though enigmatic and open-ended, Modiano's remembrances of things past and his probings of personal identity are presented with a surprisingly light touch. He is, all in all, quite an endearing Nobelist."—Michael Dirda, Washington Post

"Mr. Modiano writes clear, languid, and urbane sentences in Mr. Polizzotti's agile translation. . . . These novellas have a mood. They cast a spell."—Dwight Garner, New York Times

"[After the Circus] transposes Modiano's favorite themes into a taut, hard-boiled crime story. . . . Modiano is writing metaphysical mystery stories, in which the search for answers is never afforded an easy solution. The more of Modiano's work you read, the more familiar and inevitable his peculiar set of obsessions starts to feel—which is one sign of a major writer."—Adam Kirsch, Daily Beast

"This brief, polished, ultimately poignant story is classic Modiano . . . superbly lean . . . moody, even noir . . . smart and strangely moving. . . . Modiano at his best."—Barbara Hoffert, Library Journal (starred review)

"After the Circus is a little masterpiece in the French minimalist and ironic noir tradition, reminiscent of Godard's Breathless or Truffaut's Shoot the Piano Player."—Colin Nettelbeck, Australian Book Review

"At its opaque centre, this is the story of two lovers pitting themselves against the world in the vein of Faulkner's The Wild Palms or Hemingway's A Farewell to Arms. . . . In keeping with the territory, Modiano's syntax is closer to Hemingway than Faulkner. A simple sentence can hold a beautiful heaviness. . . . The overall effect is like staring through the shutters of a gambling den and watching a seedy mystery unfold."—Nick Major, Glasgow Herald

"Modiano's understated prose, which is beautifully translated from the French by Mark Polizzotti, truly captures the exhilaration and confusion of young love. . . . It's a wonderful read, the kind of novel you can get completely caught up in as it transports you to another time and place, helped in part by the lovely languid writing and the dreamlike recollection of a different era."—Reading Matters

"After the Circus is a beautifully detailed evocation of an era and a state of mind. . . . Modiano is a master at exploring the emotions that resonate and remain with us. After the Circus is an excellent place to start if you want to discover this most private and subtle of French authors. If you already like his work, this new translation will only increase your admiration."—Shoshi Ish-Horowicz, Jewish Renaissance

"What makes the novel distinctive is its atmosphere of mystery and elusiveness… gripping throughout."—David Herman, Jewish Chronicle


ISBN: 9780300215892
Dimensions: 197mm x 127mm x 16mm
Weight: 227g
216 pages