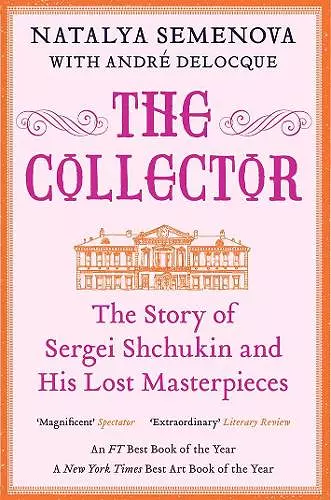 A fascinating life of Sergei Shchukin, the great collector who changed the face of Russia's art world

Sergei Shchukin was a highly successful textiles merchant in the latter half of the nineteenth century, but he also had a great eye for beauty. He was one of the first to appreciate the qualities of the Impressionists and Post-Impressionists and to acquire works by Cézanne, Matisse, and Picasso. A trailblazer in the Russian art world, Shchukin and his collection shocked, provoked, and inspired awe, ridicule, and derision among his contemporaries.
 
This is the first English-language biography of Sergei Shchukin, written by art historian Natalya Semenova and adapted by Shchukin's grandson André Delocque. Featuring personal diary entries, correspondence, interviews, and archival research, it brings to light the life of a man who has hitherto remained in the shadows, and shows how despite his controversial reputation, he opened his collection to the public, inspiring a future generation of artists and changing the face of the Russian art world.
"The story it tells is magnificent" —Duncan Fallowell, The Spectator

"Art history of novelistic scope and atmosphere"— Jackie Wullschlager, Financial Times, (Books of the Year 2018)

"Ms. Semenova and Mr. Delocque trace the intricate story of how Shchukin built his collection and carefully arranged its presentation in the Trubetskoy Palace."—E.A. Carmean Jr., Wall Street Journal

"The French avant-garde paintings assembled by the Russian collector Sergei Shchukin in the early 1900s were exhibited in the West, specifically Paris, for the first time two years ago. Now comes the complex story of Shchukin as an alternately fearless and anxious collector; a successful textile merchant; and a doting husband and father. . . . The book shows the interiors of Shchukin's Moscow palace lined with paintings (by van Gogh, Gauguin, Matisse and Picasso) whose vivid (digitalized) colors against the grisaille rooms still shock."—Roberta Smith, New York Times, "Best Art Books of 2018"

"For more than 15 years, Shchukin's paintings (a breathtaking assemblage of Monets, Cézannes, Gauguins, Van Goghs, Matisses and Picassos) had caused as much outrage and derision in Moscow as praise and admiration: according to one newspaper, the paintings were simply an "excretion of manners and viscous muck". In their biography of the collector, the art historian Natalya Semenova and Shchukin's grandson André Delocque show that overcoming difficulties was nothing new to him. . . They transmit the daring of the man and his determination to face down naysayers." —Michael Prodger, The Sunday Times

 
"This fast-paced and painstakingly researched book provides unique testimony of a supremely agile and intellectually curious patron, who from the edges of Europe injected precious energy into the vanguard of modern art." —Rosalind P Blakesley, Literary Review

"This thoroughly researched biography restores Shchukin to his rightful place in art history." —The Lady

"Art history, politics, money, tragedy and familial piety coincide in this detailed study of the life of the patron of perhaps the greatest contemporary collection of modern art ever made: the stuttering, Francophiliac, Muscovite billionaire textile merchant Sergei Shchukin (1854-1936)." —Marina Vaizey, Oldie

"Sergei Shchukin combined vast financial power with a humble readiness to submit to his 'inner trembling' before works of art. The Collector is a momentous work of excavation and restitution, which brilliantly evokes the life of a great Russian family, through times of exuberant acquisition and devastating loss."—Rachel Polonsky, author of Molotov's Magic Lantern

 

"Semenova and Delocque tell the gripping story of Sergei Shchukin, a merchant whose wealth and artistic intuition led to an immense and unparalleled panopticon of works by Cézanne, Gauguin, Matisse, Monet, Picasso. The Collector follows the biographical trajectory – family, education, cultural ambience – of this latter-day Maecenas. The authors demonstrate how the Shchukin collection served as a major source of inspiration to the Russian avant-garde and how, in spite of emigration, war, revolution and ideological aggression, it became one of the Soviet Union's most prized artistic possessions."—John E. Bowlt, author of Russian Art of the Avant-Garde

"With the publication of this admirable book, the first up-to-date, in-depth study in English, we can at last fully understand Sergei Shchukin's seminal importance as an art collector, not only in the early career of Henri Matisse, but in the meteoric rise of the Moscow avant-garde on the eve of 1917.  For this we have to thank Natalya Semenova.  Her painstaking research during the decades of Soviet neglect has resulted in the resurrection of a truly remarkable individual, whose life story she tells here with all the aplomb that came to be associated with Shchukin himself."—Rosamund Bartlett, author of Tolstoy: A Russian Life


ISBN: 9780300254815
Dimensions: unknown
Weight: 356g
304 pages