A Cursed Inheritance
Book 9 in the DI Wesley Peterson crime series
Format:Paperback
Publisher:Little, Brown Book Group
Published:7th Dec '17
£9.99
Available to order, but very limited on stock - if we have issues obtaining a copy, we will let you know.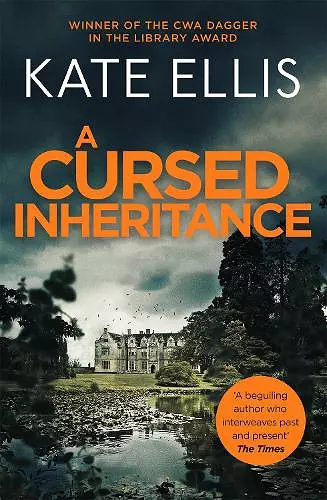 The ninth gripping mystery in the DI Wesley Peterson series by award-winning crime writer Kate Ellis.The brutal massacre of the Harford family at Potwoolstan Hall in Devon in 1985 shocked the country and passed into local folklore. And when a journalist researching the case is murdered twenty years later, the horror is reawakened.
Sixteenth century Potwoolstan Hall, now a New Age healing centre, is reputed to be cursed because of the crimes of its builder, and it seems that inheritance of evil lives on as DI Wesley Peterson is faced with his most disturbing case yet. As more people die violently, Wesley needs to discover why a young woman has transformed a dolls house into a miniature reconstruction of the massacre scene. And could the solution to his case lie across the Atlantic Ocean, in the ruined remains of an early English settlement in Virginia USA? When the truth is finally revealed, it turns out to be as horrifying as it is dangerous...
The guesswork goes on until the end in the latest of this excellent series * The Good Book Guide *
The guesswork goes on until the end in the latest of this excellent series * The Good Book Guide *
Star author. Unputdownable * Bookseller *
Star author. Unputdownable * Bookseller *
A gripping read * Best Magazine *
A gripping read * Best Magazine *
A beguiling author who interweaves past and present * The Times *
A beguiling author who interweaves past and present * The Times *
Traditional detective fiction with a twist - fans will love it * Scotland on Sunday *
Traditional detective fiction with a twist - fans will love it * Scotland on Sunday *
Skilfully weaves past and present into a seamless narrative * The Scotsman *
Skilfully weaves past and present into a seamless narrative * The Scotsman *
ISBN: 9780349418957
Dimensions: 196mm x 129mm x 24mm
Weight: 250g
368 pages