Sedating Elaine
'a riotous rollercoaster of hilarity, tenderness and beautiful craziness'
Format:Hardback
Publisher:Little, Brown Book Group
Published:5th May '22
£14.99
Available for immediate dispatch.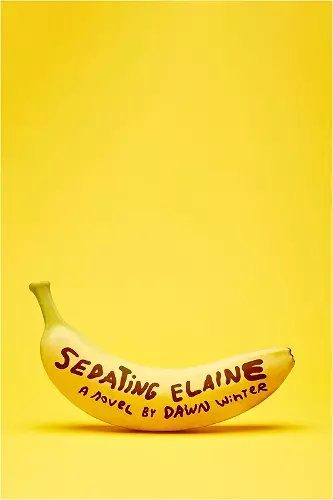 An unforgettable, darkly funny novel from a brilliant new talent, perfect for fans of Otessa Moshfegh, Taffy Brodesser-Akner and Kate Davies
Longlisted for the Comedy Women in Print Prize

'tender, vicious, hilarious, exhilarating, devastating and HOPEFUL'
Daisy Buchanan

'my favourite kind of debut novel'
Caroline O'Donoghue

'a riotous rollercoaster of hilarity, tenderness and beautiful craziness that kept me hooked from the start'
Sara Lawrence, Daily Mail

Frances was not looking for a relationship when she met Elaine in a bar. She was, in fact, looking to drown her sorrows and nurse a broken heart. But somehow, Elaine ended up in Frances's bed and never left.

Now, faced with mounting pressure from her drug dealer to access some cash, Frances comes up with a terrible idea - she asks Elaine to move in with her. Unfortunately, this makes Elaine even more sex-crazed and maniacal with love. Frances fears she may never escape the relationship, so, given no choice, she makes the obvious decision: she will sedate Elaine.
Sedating Elaine is a brilliantly quirky, surreally funny story of a woman who comes up with the craziest idea ever for clearing her debts. In Frances, Dawn Winter has created an intriguingly headstrong yet vulnerable character with an astonishing talent for making the worst possible life-decisions. I laughed, cringed and held on to the edge of my seat as Frances' hare-brained scheme hurtled along like a runaway train heading for a precipice. A thoroughly entertaining read! -- Sarah Haywood
As soon as I read the synopsis for Sedating Elaine I was hooked - it's tender, vicious, hilarious, exhilarating, devastating and HOPEFUL. The vibe is Amy Sedaris x Eleanor Oliphant. I LOVED it. -- Daisy Buchanan
In Dawn Winter's knockout debut, Sedating Elaine, Frances owes money to a drug dealer and, with no way of getting it, contrives to have her obnoxiously upbeat, generationally wealthy girlfriend, Elaine, move in with her so she can shake her down for money... The prose, like Frances, is sprightly and dry. Crisp. Delivered with a shrug... Frances is funny and winning... You find yourself rooting for the drugging to go off without a hitch * New York Times *
It's not often I root for a depressive villain hellbent on doping up their girlfriend, but there's so much in Dawn's book that's painfully relatable to a lot of people - building up exes into demigods, irrational hatred for perfectly sweet-natured rebounds, general frustration with life and not really understanding how unresolved trauma can still manipulate you. Although it's a bonkers premise, Sedating Elaine is an emotionally charged story that's beautifully told - I was very impressed by the writing: lovely and thoughtful but also deliciously catty, as well as engrossing, compelling, and darkly funny with well-drawn characters whose complexities come as naturally as breathing in and out . . . an enjoyable riot of a novel -- Justin Myers
The story of a savage anti-heroine that feels part Hitchcock fantasy, part Patrick Bateman. Brutal, funny, and genuinely shocking in places, Sedating Elaine is my favourite kind of debut novel: in that you can tell it was written by someone with an acid drive to write something they have never read anywhere before -- Caroline O'Donoghue
Sedating Elaine is a delightfully unhinged romp through romantic debacle, jaw-dropping decisions, and an emotional quagmire of guilt and longing. In this deft debut, Dawn Winters has created a modern, madcap comedy of errors that ultimately offers a touching lesson in forgiveness. Utterly bonkers and as darkly comic as it gets, Sedating Elaine is a brilliant, bingeable read -- Rachel Yoder, author of NIGHTBITCH
Sedating Elaine is a tasty caffeinated jolt that grabs you from page one and races you to a surprisingly moving conclusion - I couldn't turn the pages fast enough. Dawn Winter's dazzling wit is beautifully coupled with a natural ability to explore difficult themes like loss and forgiveness. A winning debut -- Steven Rowley, bestselling author of LILY AND THE OCTOPUS
'Brash and engaging' * Kirkus *
Winter's sharp debut blends humor and emotional reflections with an exploration of trauma, substance abuse, and dysfunctional relationships . . . Written in moving and candid prose, this takes an unflinching look at what troubled people are capable of, and what they might need to be healed. The result is amusing and touching in equal parts' * Publisher's Weekly *
Sedating Elaine has everything I crave in a novel: a delightfully subversive premise; a narrator with her life in shambles; and a voice that crackles with heart and wit. What really kept me turning the pages, though, was Winter's unexpected and poignant look at loss and grief. I loved this book -- Grant Ginder, author of THE PEOPLE WE HATE AT THE WEDDING
Electric prose paired with a sharp-edged wit, on its surface SEDATING ELAINE is an off-kilter bop that will make you sweat and flip pages. However, the true victory of Winter's debut is its unblinking desire to capture humanity in all itscrooked beauty. Frances is a narrator who reminds us to look past people's rough exteriors and consider their vulnerable insides -- Jean Kyoung Frazier, author of PIZZA GIRL

Sharply observed, morally chaotic, in moments both madcap and elegiac, Sedating Elaine does the surprising work of putting human emotional damage on display first for laughs, and then for love, if the reader's heart can bear it
-- Rufi Thorpe, author of THE KNOCKOUT QUEEN
I loved this
clever, funny and slightly mad
debut about love, sex, grief and guilt . . . It's
a riotous rollercoaster of hilarity, tenderness and beautiful craziness
that kept me hooked from the start. -- Sara Lawrence * Daily Mail *
Hilarious, tender, crazy and beautiful -- Wendy Holden * Irish Daily Mail *
ISBN: 9780349727240
Dimensions: 218mm x 140mm x 30mm
Weight: 400g
272 pages