Demon Copperhead
Winner of 2023 Pulitzer Prize for Fiction
Format:Paperback
Publisher:Faber & Faber
Published:4th May '23
£9.99
Available for immediate dispatch.
We're hosting an event related to this title! Find out more below: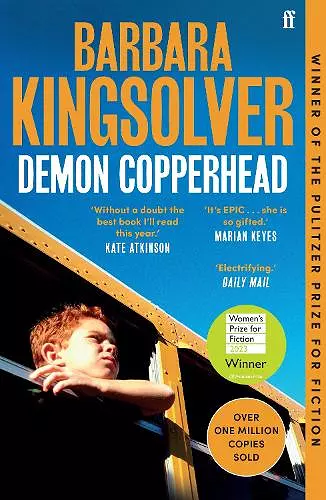 This instant classic is a masterpiece in storytelling from one of the worlds best-loved novelists. A once-in-a-generation novel it breaks and mends your heart in the way only the BEST fiction can.
To immerse yourself in a Kingsolver novel is to put yourself in the hands of a master.' ***** 'A must read and heart-opening book.' ***** 'This book is not to be missed.' ***** 'Amazingly complex.A masterful recasting of David Copperfield, narrated by an Appalachian boy whose wise, unwavering voice relates his encounters with poverty, addiction, institutional failures and moral collapse-and his efforts to conquer them. - the Pulitzer SHORTLISTED FOR THE WOMEN'S PRIZE 2023 SHORTLISTED FOR THE ORWELL PRIZE FOR POLITICAL FICTION THE MULTI-MILLION COPY SELLING AUTHOR BOOK AT BEDTIME ON BBC RADIO 4 AN OPRAH BOOK CLUB PICK WITH OVER 26,000 5* REVIEWS 'Extraordinary.' OPRAH 'She means to save us by telling us stories. . . She comes closer than anyone else I know.' ANN PATCHETT 'Electrifying. . . Every sentence here sizzles.' Daily Mail 'It's EPIC. Righteously angry, DEEPLY moving and exquisitely written.' MARIAN KEYES ____________ Demon Copperhead is a once-in-a-generation novel that breaks and mends your heart in the way only the best fiction can. Demon's story begins with his traumatic birth to a single mother in a single-wide trailer, looking 'like a little blue prizefighter.' For the life ahead of him he would need all of that fighting spirit, along with buckets of charm, a quick wit, and some unexpected talents, legal and otherwise. In the southern Appalachian Mountains of Virginia, poverty isn't an idea, it's as natural as the grass grows. For a generation growing up in this world, at the heart of the modern opioid crisis, addiction isn't an abstraction, it's neighbours, parents, and friends. 'Family' could mean love, or reluctant foster care. For Demon, born on the wrong side of luck, the affection and safety he craves is as remote as the ocean he dreams of seeing one day. The wonder is in how far he's willing to travel to try and get there. Suffused with truth, anger and compassion, Demon Copperhead is an epic tale of love, loss and everything in between. 'Legit about to get an 'I'd rather be reading Demon Copperhead' sticker for my Nissan Murano.' ROB DELANEY ____________ What readers are saying: ***** 'An amazing, beautifully written story I cannot wait to recommend to everyone I know.' ***** 'Powerful and brilliant. To immerse yourself...
ISBN: 9780571376483
Dimensions: 198mm x 129mm x 33mm
Weight: 458g
560 pages