The Amazons
Lives and Legends of Warrior Women across the Ancient World
Format:Paperback
Publisher:Princeton University Press
Published:19th Feb '16
£14.99
Available to order, but very limited on stock - if we have issues obtaining a copy, we will let you know.
This paperback is available in another edition too: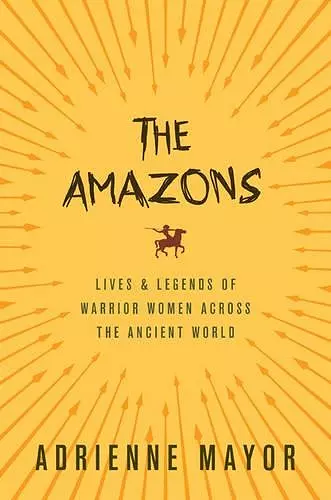 Amazons--fierce warrior women dwelling on the fringes of the known world--were the mythic archenemies of the ancient Greeks. Heracles and Achilles displayed their valor in duels with Amazon queens, and the Athenians reveled in their victory over a powerful Amazon army. In historical times, Cyrus of Persia, Alexander the Great, and the Roman general Pompey tangled with Amazons. But just who were these bold barbarian archers on horseback who gloried in fighting, hunting, and sexual freedom? Were Amazons real? In this deeply researched, wide-ranging, and lavishly illustrated book, National Book Award finalist Adrienne Mayor presents the Amazons as they have never been seen before. This is the first comprehensive account of warrior women in myth and history across the ancient world, from the Mediterranean Sea to the Great Wall of China. Mayor tells how amazing new archaeological discoveries of battle-scarred female skeletons buried with their weapons prove that women warriors were not merely figments of the Greek imagination. Combining classical myth and art, nomad traditions, and scientific archaeology, she reveals intimate, surprising details and original insights about the lives and legends of the women known as Amazons. Provocatively arguing that a timeless search for a balance between the sexes explains the allure of the Amazons, Mayor reminds us that there were as many Amazon love stories as there were war stories. The Greeks were not the only people enchanted by Amazons--Mayor shows that warlike women of nomadic cultures inspired exciting tales in ancient Egypt, Persia, India, Central Asia, and China. Driven by a detective's curiosity, Mayor unearths long-buried evidence and sifts fact from fiction to show how flesh-and-blood women of the Eurasian steppes were mythologized as Amazons, the equals of men. The result is likely to become a classic.
Winner of the 2016 Sarasvati Award for Best Nonfiction Book in Women and Mythology, Association for the Study of Women & Mythology 2015 Silver Medal Winner in the Independent Publisher Book Awards, World History category Selected for The New York Times Book Review's "The Year in Reading" 2016 Shortlisted for the 2014 London Hellenic Prize One of Foreign Affairs' Best Military, Scientific, and Technological Books of 2015 Selected for American Scientist's Science Book Gift Guide 2014 "In her quest to separate reality from mythology, Mayor left few stones unturned, even examining the graves of women with war wounds and mummified tattoos. She skillfully presents her findings with wit and conviction in this superbly illustrated book"--Lawrence D. Freedman, Foreign Affiars "Fluidly written and exhaustively researched, this fascinating book lit up my mind and my sense of humanity, not just with women in it, but under it, above it, flinging out constellations and atoms; carving out grand canyons hand-in-hand with men and beasts and glaciers, too."--Neko Case, singer-songwriter, New York Times Book Review "The Amazons is elegantly written, nicely illustrated and will no doubt excite a lot of attention."--Simon Goldhill, Times Literary Supplement "Mayor specializes in connecting artifacts--paintings, sculptures, coins, bones, weapons, clothing, fossils--with the more diffuse evidence found in literature, lore and legend ... in order to illuminate the lives of the ancient warrior women... Impressive investigative work ... fascinating."--James Romm, London Review of Books "[A] fascinatingly detailed account."--Emily Wilson, Wall Street Journal "Mayor (The Poison King) looks at ancient writings and archeological evidence to argue that yes, 'Amazons' were based on real nomadic women, though much different from the way ancient Greeks or contemporary audiences imagine them... Mayor speculates on the origin of such misconceptions in ancient writings and art, smartly suggesting that, though Amazons are usually depicted heroically in Greek art and mythology, the male-centric Greeks perhaps struggled to understand a society based on equality between the sexes... Her expertise shines throughout."--Publishers Weekly "An encyclopedic study of the barbarian warrior women of Western Asia, revealing how new archaeological discoveries uphold the long-held myths and legends. The famed female archers on horseback from the lands the ancient Greeks called Scythia appeared throughout Greek and Roman legend. Mayor tailors her scholarly work to lay readers, providing a fascinating exploration into the factual identity underpinning the fanciful legends surrounding these wondrous Amazons... Mayor clears away much of the man-hating myths around these redoubtable warriors. Thanks to Mayor's scholarship, these fearsome fighters are attaining their historical respectability."--Kirkus Reviews "A must-read for anyone interested in either Amazonian myth or history."--Fred Poling, Library Journal "No one before has ever marshalled the full sweep of evidence as Mayor does here... The result is a book as erudite as it riveting, one that is surely destined to serve as the definitive work on the subject."--Tom Holland, Literary Review "There are myriad myths surrounding the Amazons, but which are based on truth? ... This is the question which Adrienne Mayor seeks to answer in her hugely informative and entertaining Encyclopaedia Amazonica."--Natalie Haynes, Independent "[A] lively and engaging exploration ... vivid, compelling and detailed ... a rich compendium."--Lloyd Llewellyn Jones, Times Higher Education "A beautiful book... The Amazons by Adrienne Mayor is required reading."--Anna Meldolesi, Corriere della Sera "Driven by a detective's curiosity, Mayor unearths long-buried evidence and sifts fact from fiction to show how flesh-and-blood women of the Eurasian steppes were mythologized as Amazons, the equals of men. The result is likely to become a classic."--Peter Konieczny, History of the Ancient World blog "Mayor writes elegant, jargon free, frequently witty prose."--Barry Baldwin, Fortean Times "If Adrienne Mayor had merely applied her rigorous scholarship and poetic charm to documenting the shifting image of Amazons in classical, medieval and post-Renaissance European culture, she would have written an important contribution to ancient history. But she has achieved much more. By painstaking research ... she has broken down the often impenetrable walls dividing western cultural history from its eastern equivalents... Mayor opens up new horizons in world storytelling and feminist iconography... There may not be Amazon dolls in today's toyshops, but a good substitute would be to read this wonderful book with your children and show them its pictures."--Edith Hall, New Statesman "For anyone who thinks Amazons were as mythical as centaurs or sphinxes, this pleasurable book proves that misconception is wondrously wrong... Mayor's beautifully illustrated book, truly encyclopedic on all things Amazonian, reclaims the historic image of these dauntless figures in the heroic frame they deserve."--Fran Willing, Bust.com "Mayor's book is popular history at its best. Much of her archaeological evidence is new -- such as her descriptions of 'Scythian' female graves with horses and weapons. She chooses wonderful illustrations which makes the book enjoyable and easy to read."--Zenobia blog "Clearly, with this clever, systematic and engaging work by Mayor, Amazons got their classic book. And it is a riveting read, too."--Ephraim Nissan, Fabula "Mayor's fascinatingly readable book convincingly argues that many of their characteristics may have derived from real nomadic womenwarriors of antiquity... It represents a remarkable scholarly breakthrough: no one will ever be able to discuss the Amazon myths again without taking into account the historical evidence she provides."--Tassos A. Kaplanis, Journal of Historical Geography "Adrienne Mayor has written an ambitious 'Encyclopedia Amazonica' as she calls her book, a kind of compendium of information about the Amazons... Her charming and seamless style can certainly provoke a reader's interest in the still distant and unknown terra incognita of the Black Sea and Caucasus regions and their nomadic life."--Eleni Boliaki, Bryn Mawr Classical Review "I can't ... begin to say how great it is to have a book like this, because it's exactly the kind of book I like. Not one that just dismisses old stories as being too tall or made up, but really gives them the benefit of the doubt and tries to correlate and reconcile them with hard evidence. This is brilliantly achieved in Amazons... This in many ways is an exhaustive study, every facet that could be thought of has been included, and very little left out."--Adventures in Historyland "Mayor writes well, and not without dry humour, and although hardly given to the sensational, the sheer depth and breadth of her research and discoveries carry you along. You won't devour this in a sitting, just as you wouldn't eat a whole gooey gateau at once, but each slice of book is appetising enough to keep you coming back for more."--Lynn Picknett, Magonia Review of Books
ISBN: 9780691170275
Dimensions: unknown
Weight: 482g
544 pages