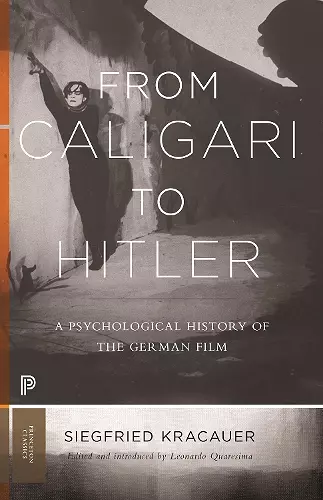 An essential work of the cinematic history of the Weimar Republic by a leading figure of film criticism

First published in 1947, From Caligari to Hitler remains an undisputed landmark study of the rich cinematic history of the Weimar Republic. Prominent film critic Siegfried Kracauer examines German society from 1921 to 1933, in light of such movies as The Cabinet of Dr. Caligari, M, Metropolis, and The Blue Angel. He explores the connections among film aesthetics, the prevailing psychological state of Germans in the Weimar era, and the evolving social and political reality of the time. Kracauer makes a startling (and still controversial) claim: films as popular art provide insight into the unconscious motivations and fantasies of a nation.

With a critical introduction by Leonardo Quaresima which provides context for Kracauer's scholarship and his contributions to film studies, this Princeton Classics edition makes an influential work available to new generations of cinema enthusiasts.
"The thesis of this unusually interesting book is that the German films of the twenties were filled with premonitions of the German totalitarianism of the thirties."—Nation
"One of the great works of film history, this look at early German cinema, first published in 1947, is still a must-have for cineastes and scholars alike."—H. J. Kirchhoff, Toronto Globe and Mail
"The book is an invaluable guide to a golden period of cinema."—Christopher Wood, Times
ISBN: 9780691191348
Dimensions: unknown
Weight: unknown
432 pages