The Extreme Gone Mainstream
Commercialization and Far Right Youth Culture in Germany
Format: Paperback
Publisher: Princeton University Press
Published: 3rd Dec '19
This title is currently unavailable, but we can notify you if and when it becomes available again.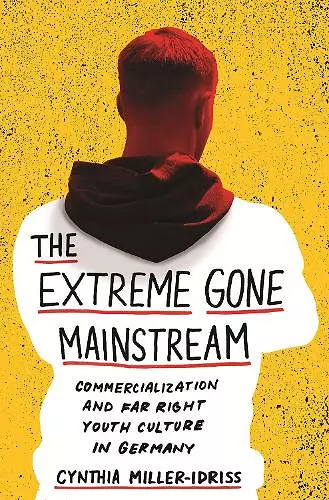 How clothing brands coded with racist and nationalist symbols are bringing extremism into the German mainstream

Far right politics and extremist violence are on the rise across Europe, prompting scholars and policymakers to question why extremism has become so appealing to so many people. Cynthia Miller-Idriss examines how far right ideologies have entered mainstream German culture through commercialized products and clothing laced with extremist, anti-Semitic, racist, and nationalist coded symbols and references. Required reading for anyone concerned about the global resurgence of the far right, The Extreme Gone Mainstream shows how these new brands desensitize consumers to extremist ideas, dehumanize victims, and are virtually indistinguishable from other popular clothing.
"This is a necessary book for anyone wanting to better understand the rituals and strategies being used in far-right cultures as they attempt to bring xenophobic, fascistic ideologies to the mainstream."---Louie Dean Valencia-Garcia, EuropeNow
"This book comes at a time that could hardly be more important. Miller-Idriss opens up a completely new approach to understanding the processes of violent radicalization through subcultural products. The Extreme Gone Mainstream will surely become a standard work in the study of right-wing extremism."—Daniel Koehler, founder and director of the German Institute on Radicalization and De-Radicalization Studies
"Miller-Idriss attacks the burning question of the rise of the far right in Europe from a particularly original angle—the mobilization of everyday consumption by disenfranchised German youth to signal their allegiance with the neo-Nazi movement. The Extreme Gone Mainstream is a brilliant and ambitious contribution to the study of symbolic iconography and youth interpretation of political symbols."—Michèle Lamont, coauthor of Getting Respect: Responding to Stigma and Discrimination in the United States, Brazil, and Israel
"A highly original and innovative work. Miller-Idriss has written an extraordinarily rich, well-argued, and compelling book that breaks new ground both in theories of culture and scholarship on the far right. The Extreme Gone Mainstream is a model for future research in the social scientific study of material culture."—Kathleen M. Blee, author of Inside Organized Racism: Women in the Hate Movement
"This book is unique in its scope, original in its focus, and magisterial in its execution—a tour de force of research that tells us how the right inserts itself into the fabric of everyday life. Miller-Idriss writes clearly and with verve."—Mabel Berezin, author of Illiberal Politics in Neoliberal Times: Culture, Security, and Populism in the New Europe
ISBN: 9780691196152
Dimensions: unknown
Weight: unknown
312 pages