An Unhallowed Grave
Book 3 in the DI Wesley Peterson crime series
Format:Paperback
Publisher:Little, Brown Book Group
Published:7th Apr '11
£9.99
Available to order, but very limited on stock - if we have issues obtaining a copy, we will let you know.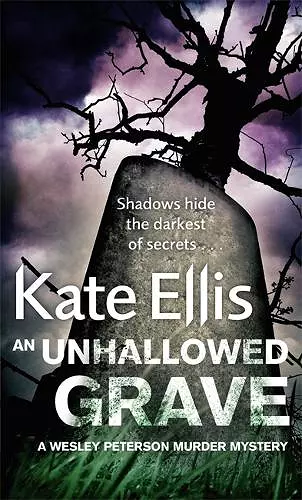 * www.kateellis.co.uk * www.piatkusbooks.net
The third Wesley Peterson Crime novel by Piatkus favourite Kate Ellis
When the body of Pauline Brent is found hanging from a yew tree in a local graveyard, DS Wesley Peterson immediately suspects foul play. Then history provides him with a clue. Wesley's archaeologist friend, Neil Watson, has excavated a corpse at his nearby dig - a young woman who, local legend has it, had been publicly hanged from the very same tree before being buried on unhallowed ground five centuries ago.
Wesley is now forced to consider the possibility that the killer knows the tree's dark history. Has Pauline also been 'executed' rather than murdered, and, if so, for what crime? To catch a dangerous killer Wesley has to discover as much as he can about the victim. But Pauline appears to have been a woman with few friends, no relatives and a past she has carefully tried to hide . . .
Praise for Kate Ellis:
A beguiling author who interweaves past and present * The Times *
Haunting * Independent *
I loved this novel . . . a powerful story of loss, malice and deception
The chilling plot will keep you spooked and thrilled to the end * Closer *
ISBN: 9780749953140
Dimensions: 131mm x 199mm x 22mm
Weight: 226g
320 pages