From The Dead
Format:Paperback
Publisher:Little, Brown Book Group
Published:9th Jul '20
£8.99
Available for immediate dispatch.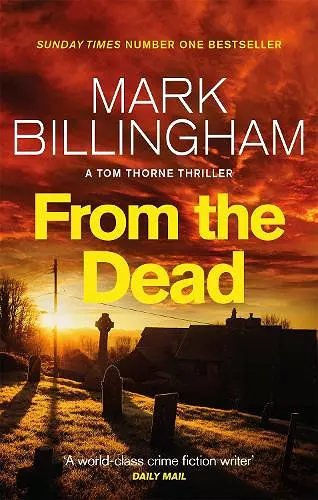 * Major nationwide consumer marketing campaign *Building on the success of the Thorne TV-tie ins for Sky One, we will really push the character of DI Thorne *3rd party partnerships to raise awareness and increase readership
A gripping, relentlessly paced crime masterpiece, From the Dead goes deep into a seemingly unsolvable mystery, and provides the most shocking case yet in the dark, dangerous career of Tom Thorne
The ninth book in the Tom Thorne series, from bestselling author Mark Billingham.

It has been a decade since Alan Langford's charred remains were discovered in his burnt-out car. His wife Donna was found guilty of conspiracy to murder her husband and served ten years in prison.

But just before she is released, Donna receives a nasty shock: an anonymous letter containing a photo of her husband. The man she hates with every fibre of her being - the man she paid to have murdered - seems very much alive and well.

How is it possible that her husband is still alive? Where is he? Who sent the photo, and why?

DI Tom Thorne becomes involved in a case where nothing and no one are what they seem. It will take him much further from his London beat than he has ever been before - and closer to a killer who will do anything to protect his new life.
________________

The outstanding new Tom Thorne thriller, THEIR LITTLE SECRET, is out now!
'While Billingham has well and truly mastered the modern police procedural, the thing that sets him apart from the crowd is not just his emotional insight, but the way he invariably packs such a heart-wrenching punch... Billingham's most desperately gripping read yet * Mirror *
As fictional detectives go, Thorne is one of the most believable and Billingham's deserved status as a world-class crime fiction writer will surely be confirmed when a new television series based on some of his novels is aired this autumn * Daily Mail *
Billingham is well aware that we're au fait with most police procedural scenarios and is always working to ring clever and inventive changes on the formula...the tension is fine-tuned with all the usual skill * Daily Express *
Most fictional sleuths are flawed but invariably triumphant; Billingham is unusually willing to show his series hero making blunder after blunder * Sunday Times *
Short-listed for Theakston's Old Peculier Crime Novel of the Year 2011 (UK)
ISBN: 9780751540031
Dimensions: 132mm x 211mm x 33mm
Weight: 342g
496 pages