Operation Sunshine
Format:Paperback
Publisher:Little, Brown Book Group
Published:5th Dec '13
£8.99
Available for immediate dispatch.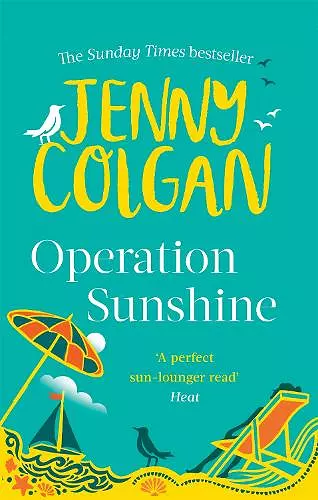 Sun, sea and laughter abound in this warm, bubbly tale by the Sunday Times bestselling author of Meet Me at the Cupcake Cafe (winner of the 2012 Melissa Nathan Award for Comedy Romance) and Welcome to Rosie Hopkins' Sweetshop of Dreams (RNA Romantic Novel of the Year Award 2013 winner). The perfect summer read.
The ever-popular novels of Sunday Times bestselling sensation, Jenny Colgan, are given a beautiful contemporary new look in this re-issue series.
'Nobody does get-away-from-it-all romance like Jenny Colgan' Sunday Express

Sun, sea and laughter abound . . .

'A total joy' Sophie Kinsella
'Gorgeous, glorious, uplifting' Marian Keyes
'Irresistible' Jill Mansell
'Just lovely' Katie Fforde
'Naturally funny, warm-hearted' Lisa Jewell
'A gobble-it-all-up-in-one-sitting kind of book' Mike Gayle
___

Evie is desperate for a holiday - a good one. Not only because she's been working all hours as a receptionist for two high-powered plastic surgeons, but also because every holiday she's ever been on has involved sunburn, arguments and projectile vomiting - sometimes all three at once. Why can't she have a normal holiday like everyone else: peaceful beaches, glorious sunshine and (fingers crossed) some much-needed sex?

So when Evie's employers invite her to attend a conference with them in the beautiful South of France, she can't believe her luck. At last, the chance to hob nob with the rich and glamorous, to party under the stars, to live life as she'd always dreamt of it. It's the holiday of a lifetime - but things don't happen in quite the way Evie imagines . . .
___

Why readers ADORE Jenny Colgan

'Her books are so compelling that you can feel the cool breeze on your face, smell the salty air'
'Her descriptions of scenery (and food!) are beautiful'
'I wish her places were real'
'Her books are so good I want to start over as soon as I have finished'
'There's something so engaging about her characters and plots'
'Her stories are just so fabulous'
'She brings her settings and characters so vividly to life'
'The woman is just magic'
Sheer indulgence from start to finish * Sophie Kinsella *
Operation Sunshine sizzles . . . A perfect read * Louise Bagshawe *
A Jenny Colgan novel is as essential for a week in the sun as Alka Seltzer, aftersun and far too many pairs of sandals * Heat *
The perfect summer sunbather, easy to read, packed with gags and truths * Irish News *
Fast-paced, funny, poignant and well observed * Daily Mail *
Sweeter than a bag of jelly beans . . . had us eating up every page * Cosmopolitan *
One for those lazy afternoons at the beach * Take a Break *
ISBN: 9780751551068
Dimensions: 199mm x 138mm x 20mm
Weight: 218g
320 pages