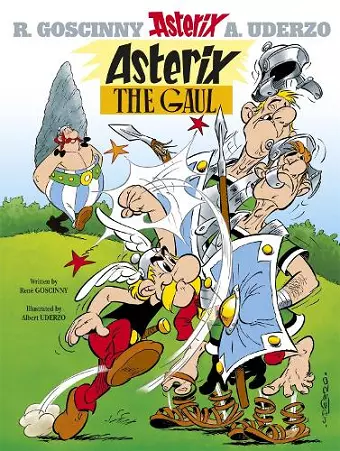 The first album chronicling the much-loved adventures of Asterix and friends.
The latest action-packed adventure from our indomitable Gauls, Asterix and the Griffin, is out now!

The year is 50BC, and all Gaul is occupied. Only one small village of indomitable Gauls still holds out against the invaders. But how much longer can Asterix, Obelix and their friends resist the mighty Roman legions of Julius Caesar? Anything is possible, with a little cunning plus the druid Getafix's magic potions! Their effects can be truly hair-raising...
As for the English adaptations of Asterix, they represent a real triumph of the translator's art. Anthea Bell and Derek Hockridge have finessed every allusion and tweaked every joke, so that their cascading English verbal wit seems to come straight from the heart of the original books -- Boyd Tonkin * THE INDEPENDENT *
A cartoon drawn with such supreme artistry, and a text layered with such glorious wordplay, satire and historical and political allusion that no reader should ever feel like they've outgrown it...It is absurd that these wonderful books were ever out of print, and it's great to have them back -- Andrew Mueller * TIME OUT *
If you're new to the indomitable Gauls, our favourite is Asterix in Britain, for its wry wit lampooning the Brits * IRELAND ON SUNDAY *
There are plenty of Latin quips and snippets of Roman history, but enough low puns to make the stories as enjoyable as ever * EVENING STANDARD *
ISBN: 9780752866055
Dimensions: 291mm x 217mm x 6mm
Weight: 232g
48 pages