Aphasia
Format:Hardback
Publisher:Oneworld Publications
Published:7th Jan '21
£14.99
Available for immediate dispatch.
This hardback is available in another edition too: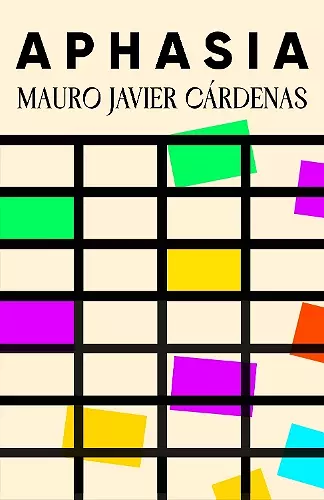 Nostalgia collides head-first with regret as a man comes to terms with his dysfunctional Colombian family, and with what it means to be an immigrant in today's America
A modernist tour de force from an exhilarating new talent
'Monumental, funny, potent, and fresh' Carlos Fonseca, author of Natural History
Antonio is living a double life – and doing a pretty good job of it. By day he's Antonio, mild-mannered database analyst, recent divorcé and father of two. In private, however, he spends hours on seedy pick-up websites or combing fiction and film for the solutions to his problems.
And then, Antonio's sister goes missing. 
Her disappearance forces Antonio to confront not only his own troubled past, but his mother's decision to leave Colombia with two young children in tow, his ex-wife's obsessive, unhappy relationship with her homeland and, ultimately, the reason for his sister's despair. 
Propulsive and freewheeling, bold and hilarious, Mauro Javier Cárdenas' second novel is a daring examination of identity in a world that seems determined to fragment us. 
'Mauro Javier Cárdenas has knocked down the novel as we know it, and built a cathedral out of the debris. Aphasia is monumental, funny, potent, and fresh. It marks a new beginning.'
* Carlos Fonseca, author of Natural History *
'Mauro Javier Cárdenas's Aphasia batters at the limits of guilt, of masculinity, of love and promiscuity, of the American family and English syntax.'
* Nicole Krauss, author of Forest Dark *
'Brainy and decadent, playful and outrageous, Aphasia marks the comeback of the Self in a spiraling trip into contemporary manhood and the Latin American spirit that will render you speechless.'
* Pola Oloixarac, author of Dark Constellations *
'Long, breathless sentences dizzying and richly packed with memories, connections, and literary references. Cárdenas undercuts the idea of a single, stable identity and suggests the self as a many-layered work in progress... Fans of the author's inventive, ambitious debut novel will find the same sardonic intelligence, paired here with a deep humanity... Original, richly felt, deftly written.' 
* Kirkus (starred review) *
'In the follow-up to his wildly ambitious debut novel, The Revolutionaries Try Again (2016), Cárdenas again deploys his sense of invention and irreverence, jettisoning conventional paragraph and dialogue breaks and embracing long-running sentences that delight in playful exasperation... [Aphasia] will appeal to fans of Latin American fiction that navigates the bleeding edge of experimentation.'
-- Booklist
'Buckle up, kids, Cárdenas is taking us on a bumpy ride. A mild-mannered bank clerk, who wishes to be a novelist, meditates on memory, loss, family, and other things both real and imagined. Aphasia is an avalanche of language, perfect for readers of Thomas Bernhard and Lucy Ellmann's Ducks, Newburyport.'
-- Book Culture
'Excellent... Aphasia's spirit is one of blending and border collapse... [It] dramatizes our ability to occupy multiple narratives at once – and proves that literature itself can do the same.'
-- High Country News
'A rollercoaster of a run... [A] worthy journey and universal themes emerge... It's the 'as it's happening' narration style that makes Cárdenas's new work so innovative and exciting to read.'
-- Chicago Review of Books
'Thrilling... A writer of originality who makes the English language sound like music.'
-- KCRW's Bookworm
"What I don't transcribe I will forget," Antonio, the protagonist of this roving novel, remarks. A Colombian divorcé living in Los Angeles, he obsessively documents the stories of those he encounters. He spends nights with women he meets on a sugar-daddy Web site and makes notes of their childhood stories the mornings after. He records his mother's childhood recollections and the ramblings of his sister, who suffers from schizophrenia, and whose experience of abuse at the hands of their father haunts them both. The result is a collage-like meditation on the ephemeral. "I have come to define happiness collectively," Antonio reflects, "and it's ridiculous, given that most adult relationships end anyway."
-- New Yorker
'Threads are woven together in an often-dazzling performance akin to a DJ's mashup, in which two different songs can be heard separately as well as together... Cárdenas's deft characterization of Antonio's confused, troubled masculinity is one of the novel's most impressive achievements.'
-- Southwest Review
'As exhilarating as it is dizzying... Postmodern and flamboyant, rich and daring... Cárdenas is a new force to be reckoned with in Latin American fiction.'
-- Morning Star
'[Antonio] writes down his erratic, erudite thoughts in a rush of breathless, brainy, convoluted sentences… The relentless restlessness of the prose reveals the fragility of [Antonio's] past and the possibilities of a more stable future as a better brother and more involved parent.'
-- Daily Mail
'Modern, psychological, and very poignant...[Aphasia] has made a strong impression on its readers, myself included.' 
-- Sounds and Colours
'Reading the boldly inventive and fast paced novel Aphasia, is like road tripping through a warm country with your smartest friend; it might be one of the best trips you are likely to take this year.'  
-- New York Journal of Books
'Cárdenas is able to achieve a kind of dramatic momentum while also maintaining clarity and recognition for the reader... Seriously impressive.'
-- American Book Review
'Pacy, dense and enlivening... Vividly, colourfully assembled, sensitive to the small contradictions and failings of our lives and histories, Aphasia reminds us not so much that we contain multitudes as that multitudes contain us.'
-- ABC Arts, Austr
ISBN: 9780861540099
Dimensions: 216mm x 135mm x 19mm
Weight: unknown
208 pages