A History of Delusions
The Glass King, a Substitute Husband and a Walking Corpse
Format:Paperback
Publisher:Oneworld Publications
Published:1st Jun '23
£10.99
Available for immediate dispatch.
This paperback is available in another edition too: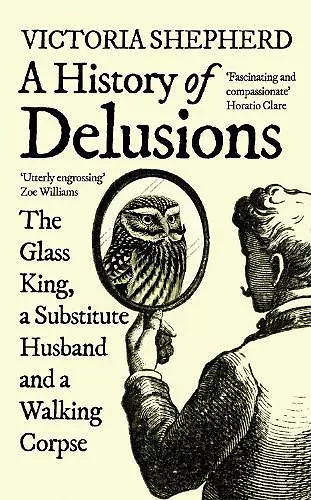 The extraordinary worlds created in our minds
A curious history of the strange, wonderful and sometimes terrifying worlds created by our minds.
'An utterly engrossing book.' ZOE WILLIAMS
For centuries we've dismissed delusions as something for doctors to sort out behind locked doors. But delusions are more than just bizarre quirks – they hold the key to collective anxieties and traumas.
In this groundbreaking history, Victoria Shepherd uncovers stories of delusions from medieval times to the present day and implores us to identify reason in apparent madness.
Discover how the King of France – thinking he was made of glass – was terrified he might shatter... and he wasn't alone...
Uncover the peculiar case of the dozens of Victorian women who tried to convince their physicians that they were, in fact, dead.
And learn how after the Emperor met his end at the Battle of Waterloo, an epidemic of 'Napoleons' piled into France's asylums.
<
'A varied and thought-provoking journey.'
--
The Times
'Fascinating and compassionate.'
-- Horatio Clare, author of
Heavy Light
'Riveting case histories grounded in context and narrated with novelistic verve and impressive authority.'
-- Julie Kavanagh, author of
The Irish Assassins
'An utterly engrossing book. It reaches through layers of mania and the distance of centuries to connect you completely to its subjects, such that you miss them when they're gone.'
-- Zoe Williams
'Meticulously researched… this is a good time to take delusions seriously.'
--
Daily Express
'A humane and thoughtful account.'
-- Washington Post
'This absorbing study… Shepherd goes beyond formal, detached accounts by physicians, trying instead to get a glimpse of whole human beings whose lives unravelled through trauma into delusional thinking… a humane, attentive exploration of locked-in worlds inhabited by people whose mental certainties could be both comforting and terrifying.'
--
BBC History Magazine
'A timely reminder that nothing is new, just how we deal with it. Shepherd's evocative descriptions take you from seventeenth-century Oxford to twentieth-century Paris with detail as rich as the stories she uncovers. Thought-provoking as well as deeply informative.'
-- Annie Gray, author of
Victory in the Kitchen
'Each chapter opens with a compelling portrait of someone whose life was consumed, even destroyed, by a false idea… Poignant... By looking back on historical examples of the phenomenon, Shepherd shows both the mistakes and triumphs of the past, which should inform more compassionate, dignified treatment of the mentally ill in the future. From fourteenth-century England to twentieth-century France, A History of Delusions examines the thin, blurry line between sanity and insanity.'
* Foreword Reviews *
'In this bewitching debut, Shepherd adapts her BBC Radio 4 series of the same name, providing a delightfully strange account of delusions… Reminiscent of Oliver Sacks, Shepherd opts for empathy over prurience, highlighting the humanity of her subjects and lucidly drawing out the dream logic by which their delusions operate. This is a wondrous reminder of the intricacy and paradox of the human mind.'
-- Publishers Weekly, Books of the Week
'Fascinating and bizarre, these thoughtful case studies serve as escape hatches into the past, revealing the historical preoccupations that may have given rise to these delusions.'
*
Publishers Weekly
, Summer Reads 2022 *
'Confidently and pacily, and with an intimate tone driven by the book's incarnation as a BBC Radio 4 series, Shepherd unpacks each case story to identify the reasons behind the purported loss of reason… Through these histories Shepherd aims to build our own connection with, and understanding of, people whose delusions may on first encounter seem bizarre: through the stories they tell themselves, they perhaps tell us – at a time that often seems out of joint, even deranged – about the stories we tell ourselves.'
-- Dr Philip Sidney, Catholic Herald
'A compelling series of individual case studies… fascinating… Shepherd is an excellent guide, offering concise accounts of specific diagnoses and a particularly absorbing account of the work of French asylum doctor Philippe Pinel… we close the book convinced of her central message: delusions are not signs of madness, but "important and compelling" phenomena.'
-- Fortean T
ISBN: 9780861545308
Dimensions: 198mm x 129mm x 26mm
Weight: unknown
352 pages