Open Throat
Format:Hardback
Publisher:Pan Macmillan
Published:27th Jul '23
£14.99
This title is due to be published on 27th July, and will be despatched as soon as possible.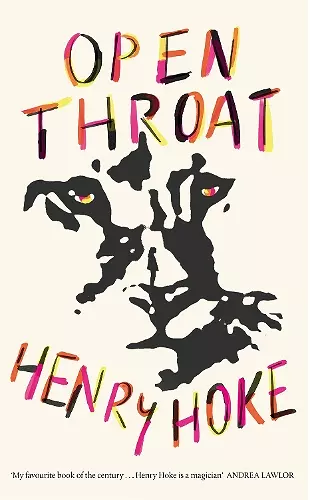 A mountain lion is on the brink of starvation in the urban landscape of Los Angeles. As it observes the city's perilous beauty and confronts climate change, inequality and love, the animal asks itself: Does it want to eat a human, or become one?
One of ELLE's Best Summer Books of 2023. Named a Most Anticipated Book by Buzzfeed, LitHub and LGBTQ Reads 2023.

'Open Throat is a blinding spotlight beam of a book that I was completely unable and unwilling to put down. I am not convinced Henry Hoke isn't a mountain lion.' - Catherine Lacey, author of Pew

I've never eaten a person but today I might . . .

A queer and dangerously hungry mountain lion lives in the drought-devastated land under the Hollywood sign. Lonely and fascinated by the voices around them, the lion spends their days protecting a nearby homeless encampment, observing hikers complain about their trauma and, in quiet moments, grappling wtih the complexities of their own identity.

When a man-made fire engulfs the encampment, the lion is forced from the hills down into the city the hikers call 'ellay'. As they confront a carousel of temptations and threats, the lion takes us on a tour that spans the cruel inequalities of Los Angeles. But even when salvation finally seems within reach, they are forced to face down the ultimate question: do they want to eat a person, or become one?

Feral and vulnerable, profound and playful, Open Throat is a universal journey through a wondrous and menacing world. This is a marvel of storytelling that brings the mythic to life.
Open Throat is a blinding spotlight beam of a book that I was completely unable and unwilling to put down. I am not convinced Henry Hoke isn't a mountain lion. -- Catherine Lacey, author of Pew
I didn't know I would feel such attachment to a mountain lion when I started reading, but in Henry Hoke's talented hands, they become an instantly memorable and endearing protagonist. * Buzzfeed *
Henry Hoke's narrator is the most credible animal witness to human behavior since Robert Bresson's Balthazar. Original, fun and completely awakening, Open Throat is a devastating portrait of LA today. -- Chris Kraus, author of I Love Dick
Open Throat feels like a comic book and a really good one; it feels the inside of animals, specifically one animal, a mountain lion, and with them we desire blood and I can't tell you how it ends but I love knowing a mountain lion so much. The beauty and tragedy of all of nature is in this character. Open Throat is a fierce writing act. Henry Hoke makes it true. -- Eileen Myles, author of For Now
In this fantastical, deeply moving, and original adventure--also an unforgettable reckoning with contemporary Los Angeles--Henry Hoke introduces an animal whose life is more than just survival: they are full of longing, regret, memory, sadness, and astute observation. -- Brontez Purnell, author of 100 Boyfriends
Open Throat is an instant cult classic and a bloody masterpiece. Rhythmically brilliant, heart-wounding, and scathingly funny, I'm in love with a mountain lion and in awe of this book. -- Melissa Broder, author of The Pisces
The premise alone makes Henry Hoke's startling achievement worth the purchase . . . Philosophical and heartfelt, Open Throat is the ultimate immersion into the mind of an unlikely protagonist. -- Lauren Puckett-Pope * ELLE *
My favorite book of this century so far! I keep putting off writing this blurb because every time I pick up Open Throat I re-read it and fall back in love with this gay-ass big cat and then I have to spend the whole rest of the day thinking about mountain lions and humans and sex and bodies and death and climate change and bad dads and NY v LA and what is even possible in this world.Henry Hoke is a magician. -- Andrea Lawlor, author of Paul Takes the Form of a Mortal Girl
Wholly original, inventive, and surprising on every level. It affirms the capaciousness of the novel as a form. I wish more books took the kinds of chances Open Throat does. -- Diane Cook, author of the Booker Prize finalist novel The New Wilderness
If like many people you are sick of human protagonists that are often nihilistic, self-destructive, fundamentally lonely people, then perhaps you would prefer Open Throat, which is narrated by a similarly lonely mountain lion who lives in the Hollywood Hills. -- i-D, 'fiction to be excited for in 2023' 
Open Throat is a fable for our times that cements Henry Hoke as an essential voice in experimental and deliciously queer fiction. * Electric Literature *
I defy you to hear the premise of this sophomore novel from the always-interesting Henry Hoke and not immediately smash that preorder button . . . a playful, poignant, tragicomic delight. * Lit Hub *
Inspired by a real lion who famously lived in Hollywood, this hilarious and touching tale is blazingly original and really rather brilliant. * The Bookseller, Editor's Choice *
Playful [and] provocative . . . By turns funny and melancholy, this is a thrilling portrait of alienation. * Publisher's Weekly *
Compassionate, fierce, and bittersweet, this is an unforgettable love letter to the wild. * Kirkus *
ISBN: 9781035007752
Dimensions: unknown
Weight: unknown
176 pages