Rewriting the Rules
An Anti Self-Help Guide to Love, Sex and Relationships
Format:Paperback
Publisher:Taylor & Francis Ltd
Published:14th Mar '18
£18.99
Available for immediate dispatch.
This paperback is available in another edition too: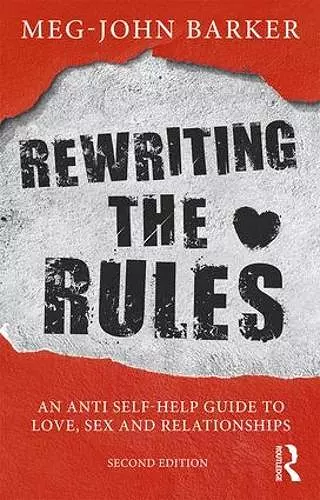 We live in a time of uncertainty about relationships. We search for The One but find ourselves staying single because nobody measures up. We long for a happily-ever-after but break-up after break-up leave us bruised and confused.
Rewriting the Rules: An Anti Self-Help Guide to Love, Sex and Relationships is a friendly guide through the complicated - and often contradictory - advice that's given about sex and gender, monogamy and conflict, break-up and commitment. It asks questions about the rules of love, such as which to choose from all the rules on offer? Do we stick to the old rules we learnt growing up, or do we try something new and risk being out on our own? And what about the times when the rules we love by seem to make things worse, rather than better?
This new edition, updated throughout, considers how the rules are being 'rewritten' in various ways - for example in monogamish and polyamorous relationships, different ways of understanding sex and gender, and new ideas for managing commitment and break-up where economics, communities, or child-care make complete separation impossible. This book considers how the rules are being 'rewritten' in various ways, giving you the power to find an approach that best fits your situation.
"Who gets to write the rules about love and sex and relationships? Meg John Barker tells us that you do. Each of you. Each of us. And then goes on to show us a wide variety of choices of how you might choose to connect with others. Your choices. Whatever choices you have made so far in your life, you have to read this book. Then you can quit questioning yourself and take on the freedom - and responsibility - of living by your own vision, with those you love, as entirely your self."
Dossie Easton, Marriage & Family Therapist, Co-author of The Ethical Slut
"To tackle the dos and don'ts that flood intimate relationships advice, Meg Barker's sharp, insightful, open-minded and friendly guide is here to help you navigate the mazes of modern love. Meg's pen is like a benevolent friend who's hand you don't want to let go. Hold on to Rewriting the Rules."
Esther Perel, Author of Mating in Captivity
ISBN: 9781138043596
Dimensions: unknown
Weight: 454g
382 pages
2nd edition