This is a special Signed Indie Exclusive Edition, and has very limited quantity available
Skandar and the Phantom Rider Signed Indie Exclusive Edition
the spectacular sequel to Skandar and the Unicorn Thief, the biggest fantasy adventure since Harry Potter
Format:Hardback
Publisher:Simon & Schuster Ltd
Published:27th Apr '23
£12.99
Available for immediate dispatch.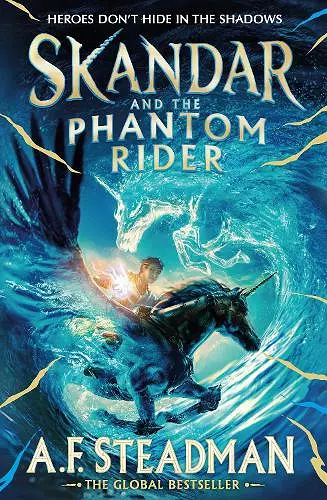 Don't miss this second book in the international bestselling SKANDAR series, an unmissable adventure for readers age 9 to 99 and fans of Harry Potter, Percy Jackson and Eragon.
HEROES AND UNICORNS AS YOU'VE NEVER SEEN THEM BEFORE. The epic adventure continues . . .

This Exclusive Signed Special Edition comes with bonus colour map artwork.

The Island shall have its revenge . . .

Skandar Smith has achieved his dream to train as a unicorn rider.

But as Skandar and his friends enter their second year at the Eyrie, a new threat arises. Immortal wild unicorns are somehow being killed, a prophecy warns of terrible danger, and elemental destruction begins to ravage the Island.

Meanwhile, Skandar's sister, Kenna, longs to join him – and Skandar is determined to help her, no matter what. As the storm gathers, can Skandar discover how to stop the Island tearing itself apart – before it's too late for them all?

Get ready for more action, unforgettable characters, and mesmerizing world building. Be one of the first to join the adventure – OUT NOW!

'Epic, unforgettable and endlessly exciting, Steadman's masterful sequel soars even higher than her debut.' – Aisling Fowler, author of the Fireborn series

Praise for Skandar and the Unicorn Thief, the first book in the SKANDAR series:

'Steadman has a vast imagination, her world-building is a joy, the battle scenes are thrilling and her characters charm.' – The Times Children's Book of the Week
'Pacy, enthralling and epic, a gripping read.' – Louie Stowell, author of Loki and Otherland
'A dazzling feat of imagination. I loved every breathless moment of it!' – Cat Doyle, author of The Storm Keeper's Island and co-author of Twin Crowns
'The best book I've ever read.' – Patrick, age 10
'My book of the year. Not since Harry Potter have I felt this excited about a series. Readers are sure to be clamouring for the next book. You'll never look at unicorns the same way again, nor will you want to!' – Dominique Valente, author of the Starfell series
'Never have unicorns been so ferocious, fearsome and thrilling! A fantastically gripping read!' – Laura Ellen Anderson, author of Amelia Fang and Rainbow Grey
'A magnificent book. I raced through it – at turns enthralled, delighted, amazed. It's everything I could have wanted and more. No doubt this book is going to fly.' – Hannah Gold, author of The Last Bear
'Skandar and the Unicorn Thief brims with wild adventure, fierce sky battles, elemental magic, ferocious unicorns and...
Epic, unforgettable and endlessly exciting, Steadman's masterful sequel soars even higher than her debut. -- Aisling Fowler, author of the Fireborn series
ISBN: 9781398502918-SIE
Dimensions: 162mm x 241mm x 36mm
Weight: 655g
416 pages