Only the Dead
James Reece 6
Format:Paperback
Publisher:Simon & Schuster Ltd
Published:16th May '23
£9.99
Available for immediate dispatch.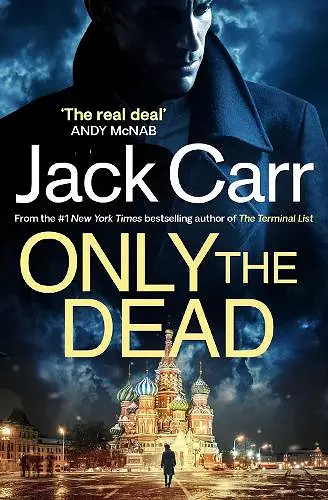 From the #1 New York Times bestselling author Jack Carr, this high-adrenaline thriller ripped from the headlines sees Navy SEAL James Reece facing a devastating global conspiracy prepared over the course of forty years.
**NOW AN AMAZON PRIME TV SERIES STARRING CHRIS PRATT** 

'Take my word for it, James Reece is one rowdy motherf***er. Get ready!' CHRIS PRATT

JAMES REECE IS BACK 

1978, Rhode Island:
A freshman senator is gunned down, sending shockwaves through Washington that are still reverberating over four decades later.  
Now: 
In a world on the brink of war, facing rampant inflation, political division and shocking assassinations, a secret cabal of global elites are ready to assume control. And with the world's most dangerous man locked in solitary confinement, the conspirators believe the final obstacle to complete domination has been eliminated. They're wrong.  
From the firms of Wall Street to the corridors of power in Washington, DC and Moscow, secrets from the past have an uncanny ability to rise to the surface, and with the odds stacked against him, James Reece is on a deadly mission generations in the making. But for a man on the warpath, odds are not important . . . 
Intoxicating and timely, Only the Dead cements Jack Carr as 'a rare gut-punch writer, full of grit and insight' (Gregg Hurwitz, New York Times bestselling author). Fans of Tom Clancy's Jack Ryan, Lee Child's Jack Reacher or Vince Flynn's Mitch Rapp will love the James Reece series!Praise for Jack Carr:
'A propulsive and compulsive series. Jack Carr's James Reece is the kind of guy you'd want to have in your corner. A suspenseful and exhilarating thrill-ride. Jack Carr is the real deal' 
Andy McNab
'This is seriously good . . . the suspense is unrelenting, and the tradecraft is so authentic the government will probably ban it – so read it while you can!' 
Lee Child
'With a particular line in authentic tradecraft, this fabulously unrelenting thrill-ride was a struggle to put down' 
Mark Dawson
'Gritty, raw and brilliant!' 
Tom Marcus
'So powerful, so pulse-pounding, so well-written – rarely do you...
ISBN: 9781398508286
Dimensions: 198mm x 130mm x 35mm
Weight: unknown
576 pages