Saha
The new novel from the author of Kim Jiyoung, Born 1982
Format:Paperback
Publisher:Simon & Schuster Ltd
Published:17th Aug '23
£9.99
Available for immediate dispatch.
This paperback is available in another edition too: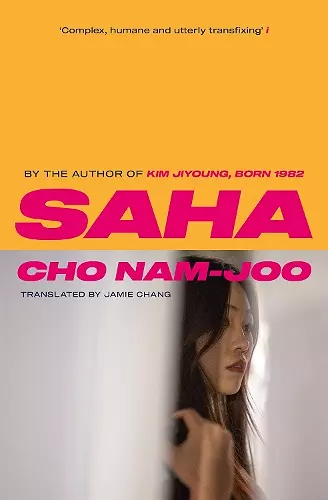 From the author of international bestseller Kim Jiyoung, Born 1982

''Cho's complex, humane, and by its end utterly transfixing novel shows that it is in community that we find resilience.' i newspaper

'Like Bong Joon-ho's Academy Award-winning film Parasite and the popular Netflix series Squid Games, Saha points to the increasing inequality and lack of social mobility in South Korea. ... With global inequality on the rise, Saha's theme of human dignity quashed by the interests of mega-corporations resonates widely.' Guardian

'[A]n affecting portrait of people doing their best to survive in a world that would rather pretend they didn't exist.' New York Times

In a country called 'Town', Su is found dead in an abandoned car. The suspected killer is presumed to come from the Saha Estates.
 
Town is a privatised country, controlled by a secretive organisation known as the Seven Premiers. It is a society clearly divided into the haves and have-nots and those who have the very least live on the Saha Estates. Among their number is Jin-Kyung, a young woman whose brother, Dok-yung, was in a relationship with Su and quickly becomes the police's prime suspect. When Dok-yung disappears, Jin Ky-ung is determined to get to the bottom of things. On her quest to find the truth, though, she will uncover a reality far darker and crimes far greater than she could ever have imagined.
 
At once a dystopian mystery and devastating critique of how we live now, Saha lifts the lid on corruption, exploitation and government oppression, while, with deep humanity and compassion, showing us the lives of those who, through no fault of their own, suffer at the hand of brutal forces far beyond their control.

Praise for Kim Jiyoung, Born 1982 

'It describes experiences that will be recognisable everywhere. It's slim, unadorned narrative distils a lifetime's iniquities into a sharp punch.' The Sunday Times
 
'A ground-breaking work of feminist fiction' Stylist
 
'Along with other socially critical narratives to come out of Korea, such as Bong Joon-ho's Oscar-winning film Parasite, her story could change the bigger one.' The Guardian
 
'This witty, disturbing...
ISBN: 9781398510029
Dimensions: 198mm x 130mm x 15mm
Weight: unknown
240 pages