Hell of a Book
WINNER of the National Book Award for Fiction
Format: Paperback
Publisher: Orion Publishing Co
Published: 26th Jan '23
£9.99
Available, normally delivered within 3-6 days.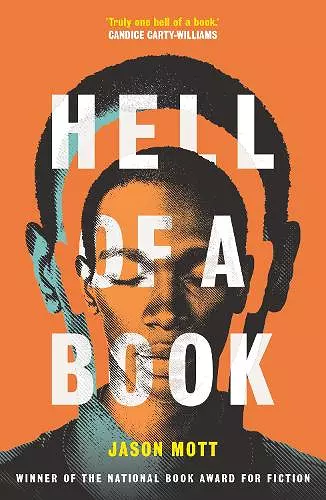 An astounding work of fiction - resoundingly powerful, endlessly quotable and funny as hell - with its sights set on getting to the heart of racism in America.
WINNER - NATIONAL BOOK AWARD FOR FICTION 2021
AN ENTERTAINMENT WEEKLY 'MUST READ'
A TODAY SHOW BOOK CLUB PICK
*
Discover this astonishing work of fiction from award-winning, NEW YORK TIMES bestselling author Jason Mott.

'Powerful, timely and provocative' ABI DARÉ, author of GIRL WITH A LOUDING VOICE

'Jason Mott truly has written one hell of a book.' CANDICE CARTY-WILLIAMS, author of QUEENIE

This is a true story.
An author goes on a book tour for his new bestseller which, as people keep telling him, is one hell of a book.
This is a coming-of-age story.
One morning, he meets The Kid: a young Black boy who looks just like the one he keeps seeing on the news. And The Kid wants him to tell his story.
This is a sad story.
It's the story of a boy who spent most of his life trying to hide. And it may not be that different from the story of our author.
This is a love story.
But to find out why, you'll have to read this for yourself.
Brilliant and inventive ... You'll cry tears of laughter. * The Sunday Times *
Beautiful and deeply moving . . . I'd go as far as to say it's an important book and everyone should read it. * Imran Mahmood *
For all its moments of levity, Mott has written a deadly serious story ... Hell of a Book offers a disturbing portrait of a nation that's been lying to itself all its years. In this way, the novel feels like a plea - intense, moving, urgent, and vital. * Washington Independent Review of Books *
In a structurally and conceptually daring examination of art, fame, family and being black in America, Mott somehow manages the impossible trick of being playful, insightful and deeply moving, all at the same time. A highly original, inspired work that breaks new ground * National Book Award Judges *
How to possibly describe Mott's fourth novel without simply borrowing from its moniker? It is, after all, a hell of a book. * Entertainment Weekly *
Hell of a Book more than lives up to its title. Playful, searching, raw and necessary, this writing, this voice, this novel twisted me up and turned me inside out, dazzled me, surprised me and moved me * Charles Yu, author of Interior Chinatown *
A black author embarks on a cross-country book tour to promote his new book, but he's followed by a (possibly imaginary) child. The author's story is intertwined with the narrative of Soot, a young black boy living in a rural town. Mott has written a clever meditation on race and violence in America. * New York Post *
Maddening, disorienting and illuminating * Booklist *
Powerful, timely and provocative * Abi Daré *

Hell of a Book consistently proves itself to be more than the sum of its parts: a farce that provokes contemplation, a publishing parody that rings true; an honest and emotive meditation on systematic racial injustice and the myriad ways in which it breaks the human soul. Sharp, funny, evocative and never anything less than utterly poignant, Mott's novel chronicles the experience and cost of racism for black Americans with a clarity that is justifiably unsettling. Hell of a Book is distinctly American tale of racial trauma told with a dry, almost painful humour that scrapes at the reader's heart.
* Irish Times *
A twisty and startling narrative about the blurry lines between reality and fiction * TIME Magazine *
Hilarious and moving, thoughtful and madcap . . . a hell of an accomplishment. * Jonathan Evison, author of West of Here and Small World *
A dizzying yet dazzling exploration of exploration itself. * Kiese Laymon, author of How to Slowly Kill Yourself and Others in America *
A profound exploration of love, friendship, and racial violence . . . A story that is at once a paean to familial love and friendship and a reckoning with racism and police violence. By turns playful and surprising and intimate, a moving meditation on being Black in America. * Kirkus Reviews *
Stunning . . . Mott's poetic, cinematic novel tackles what it means to live in a country where Black people perpetually "live lives under the hanging sword of fear." Absurdist metafiction doesn't get much better. * Publisher's Weekly *
ISBN: 9781398704664
Dimensions: 196mm x 128mm x 28mm
Weight: 240g
336 pages