The War Came To Us
Life and Death in Ukraine
Format:Hardback
Publisher:Bloomsbury Publishing PLC
Published:20th Jul '23
£20.00
Available for immediate dispatch.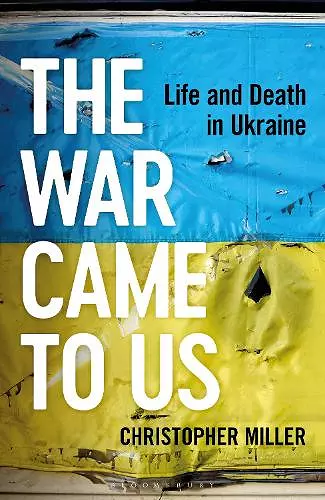 A breathtaking exploration of Ukraine's past, present and future, and a heartbreaking account of the war against Russia, written by the leading journalist of the conflict.
'Vivid… Shocking… [Miller] brings a seasoned, personal perspective to his account of both the 16-month conflict and its wider roots.'Daily Telegraph'A beautiful blend of memoir, reportage and history...superb.'Irish Times'...powerful and insightful...Miller provides a human dimension to a bloody conflict.' Kirkus ReviewsA breathtaking exploration of Ukraine's past, present, and future, and a heartbreaking account of the war against Russia, written by a leading journalist who has lived and worked in Ukraine for over a decade. When Russian President Vladimir Putin launched his unprovoked, full-scale invasion of Ukraine just before dawn on 24 February 2022, it marked his latest and most overt attempt to brutally conquer the country, and reshaped the world order. Christopher Miller, the Ukraine correspondent for the Financial Times and a foremost journalist covering the country, was there on the ground when the first Russian missiles struck and troops stormed over the border. But the seeds of Russia's war against Ukraine and the West were sown more than a decade earlier. This is the definitive, inside story of its long fight for freedom. Told through Miller's personal experiences, vivid front-line dispatches and illuminating interviews with unforgettable characters, The War Came To Us takes readers on a riveting journey through the key locales and pivotal events of Ukraine's modern history. From the coal-dusted, sunflower-covered steppe of the Donbas in the far east to the heart of the Euromaidan revolution camp in Kyiv; from the Black Sea shores of Crimea, where Russian troops stealthily annexed Ukraine's peninsula, to the bloody battlefields where Cossacks roamed before the Kremlin's warlords ruled with iron fists; and through the horror and destruction wrought by Russian forces in Bucha, Bakhmut, Mariupol, and beyond. With candor, wit and sensitivity, Miller captures Ukraine in all its glory: vast, defiant, resilient, and full of wonder. A breathtaking narrative that is at times both poignant and inspiring, The War Came To Us is the story of an American who fell in love with a foreign place and its people — and witnessed them do extraordinary things to escape the long shadow of their former imperial ruler and preserve their independence.
A beautiful blend of memoir, reportage and history...superb: a pulsing, immersive narrative of boots-on-the-ground reporting. The War Came To Us is an important book, and a testament to the importance of quality journalism.Miller is dogged in his reporting, and a fine writer. He has the right amounts of courage, intellectual honesty, chutzpah, self-effacing humour and talent, reminding this reader of AJ Liebling's superlative collection of second World War writings. * Irish Times *
A vivid, engaged and engaging series of vignettes and impressions of the period up to the early days of the war... What a passionate, colourful journey –by turns inspiring and horrifying – it turns out to be. * the Guardian *
Vivid… Shocking… [Miller] brings a seasoned, personal perspective to his account of both the 16-month conflict and its wider roots. * Daily Telegraph *
An eye-opening and deeply touching inside story of the country's long fight for freedom against Russian aggression. * Waterstones *
Christopher Miller has been an indispensable guide to what's been really happening in Ukraine for a decade or more, and his writing has helped show the world the true face of a country that is too often lied about. * Oliver Bullough, bestselling author of Butler to the World, Moneyland and The Last Man in Russia *
When I want to know what is happening in Ukraine, I turn first to Chris Miller's reporting. Whether it's the latest information from the front lines of Russia's war against Ukraine, insightful analysis on political manoeuvrings in Kyiv, or understanding into what the average Ukrainian is thinking about current events, Miller always has the inside track. Now in his riveting book The War Came to Us, this foremost expert on the region takes us back over the last 12 years, providing the history, the culture and the context to help us understand where Ukraine is today and what might come next. A must-read for those who want to get beyond the headlines. * Marie Yovanovitch, former U.S. ambassador to Ukraine and author of The New York Times bestseller Lessons From The Edge: A Memoir *
Christopher Miller knows Ukraine with unmatchable depth and a fierce intimacy — way before it became the eye of the global storm he was living and studying in this critical country. There isn't a village he hasn't visited and a front line he hasn't crossed. The world is belatedly waking up to the importance of Ukraine. And Miller is the ultimate guide. * — Peter Pomerantsev, author of This Is Not Propaganda and Nothing Is True And Everything Is Possible *
A penetrating account of the reality of Putin's war on Ukraine... With powerful stories and insightful background, Miller provides a human dimension to a bloody conflict. * Kirkus - starred review *
War correspondent Miller's heart-pounding debut describes in gritty detail the frontline fighting and key events preceding Russia's full-scale invasion of Ukraine…this is frontline reporting at its finest. * Publishers Weekly *
Written with love, respect, and the critical eye of a reporter, the book evinces deep dedication to an adopted homeland... The War Came to Us is a detailed, personal, and engaging account of recent transformative events in Ukraine's history. * Foreword *
Fascinating. * Timothy Garton Ash *
It's Chris' capacity for both narrative restraint and warm-hearted, unpretentious observations of his surroundings that make him stand out among many chroniclers of modern Ukraine in both its horror and its glory. * Natalia Antonova website *
…Christopher Miller brings the war and its impact on Ukraine's people back to the front page, sparing no details, and in so doing provides one of the best and most insightful narrative histories yet published of the war against Ukraine… * Diplomatic Courier *
ISBN: 9781399406857
Dimensions: unknown
Weight: unknown
400 pages