North Woods
Format:Hardback
Publisher:John Murray Press
Published:19th Sep '23
Currently unavailable, our supplier has indicated it should be available around 19th October 2023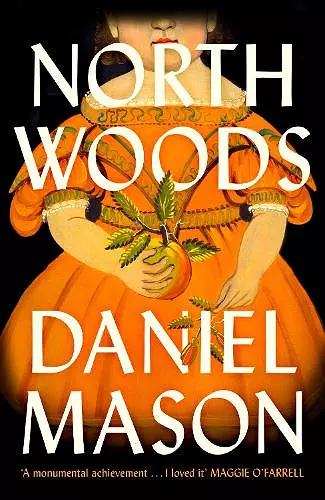 The 'spellbinding' American epic
'Truly outstanding' Mail on Sunday

'Mason teases out the joy and meaning in the sometimes small lives of his characters. North Woods has been heaped with praise and hype, and deservedly so. This is a book that treats life as a miracle and demands the proper awe from its readers' Antonia Senior, The Times

'This is a time-spanning, genre-blurring work of storytelling magic . . . The only constants are the land and Mason's genius' Washington Post

'Daniel Mason's latest novel is one of those rare books that truly deserves the description "spellbinding" ' Observer

'A tapestry at once intimate and epic' TLS

'Utterly beguiling' Scotsman

'Extraordinary characters . . . a tour de force' Independent, Best Books for Autumn

'Epic . . . weaves a Cloud Atlas-style narrative of humanity under pressure and nature under threat' Guardian, 2023's Biggest Books

FOUR CENTURIES. A SINGLE HOUSE DEEP IN THE WOODS OF NEW ENGLAND.

A young Puritan couple on the run. An English soldier with a fantastic vision. Inseparable twin sisters. A lovelorn painter and a lusty beetle. A desperate mother and her haunted son. A ruthless con man and a stalking panther. Buried secrets. Madness, dreams and hope.

All are connected. The dark, raucous, beautiful past is very much alive.

Exhilarating, daring and playful, NORTH WOODS will change the way you see the world.

'A monumental achievement . . . I loved it' Maggie O'Farrell

'Ambitious, alive, and lush with generosity . . . an immersive sprint through time' Tess Gunty
Daniel Mason's latest novel is one of those rare books that truly deserves the description "spellbinding" * Observer *
This is a brave and original book, which invents its own form. It is both intimate and epic, playful and serious. To read it is to travel to the limits of what the novel can do * Guardian *
Epic . . . weaves a Cloud Atlas-style narrative of humanity under pressure and nature under threat * Guardian, 2023's Biggest Books *
Creates a tale of sensory obsession to rank with Patrick Suskind's Perfume . . . Shows us what is possible when a writer lets his hair down * Financial Times *
An enthralling novel * The Economist *
'This is a time-spanning, genre-blurring work of storytelling magic . . .The only constants are the land and Mason's genius' * Washington Post *

Adopting a variety of styles and literary forms, and written in elegant prose, this is a virtuoso
performance. All human life and nature is here. Truly outstanding
* Mail on Sunday *
Deliciously chimeric
* Telegraph *
Stunning
* Good Housekeeping, Book of the Month *
Narrative expertise is supported by rich characterisation: in chapter after chapter, Mason swiftly realises his compelling, varied cast . . .
It seems almost a magic trick, the way in which Mason knits his lives into a single tale
.
He links their stories together with a satisfying subtlety that never fails to surprise and delight
. . . and he brings well-earned surprises that had me, on more than one occasion, gasping with shock * Sunday Times *
Mason may not yet be a household name, but his readers tend to be evangelical about his talent - and little wonder . . . Mason has the
born storyteller's gift
of knowing how to reignite your interest in a new scenario even as you're mourning the one just gone * Daily Mail *
Epic, playful, polyphonic . . .
Daniel Mason's formal innovation and narrative depth combine to transcendent effect, illustrating the wondrous ways in which we are rooted in our surroundings and history * Culture Whisper *
Mason follows the inhabitants of a secluded western Massachusetts home and their tragedies across centuries in
this spectacular ghost story
. . . [He] interleaves his crystalline prose with enchanting and authentic-seeming historical documents . . .
Each arc is beautifully, heartbreakingly conveyed, stitching together subtle connections across time. This astonishes
* Pulbishers Weeky, starred review *
Virtuosic, astonishing, gorgeously vivid
-- Alison O'Keeffe * Bookseller *
The story of a house, the humans who inhabit it, the ghosts who haunt it, and the New England forest encompassing them all . . .
Readers will find themselves in an entrancing fictional realm where the human, natural, and supernatural mingle, all captured in the author's effortlessly virtuosic prose
. . . Throughout, this loose and limber novel explores themes of illicit desire, madness, the occult, the palimpsest of human history, and the inexorable workings of the natural world (a passage recounting the fateful mating of an elm bark beetle is unforgettable), all
handled with a touch that is light and sure
. Like the house at its center, a book that is
multitudinous and magical.
* Kirkus *
A magisterial mosaic . . .
truly triumphant
* Booklist *
Mason teases out the joy and meaning in the sometimes small lives of his characters.
North Woods has been heaped with praise and hype, and deservedly so. This is a book that treats life as a miracle and demands the proper awe from its readers
* Antonia Senior, The Times *
North Woods
is a monumental achievement of polyphony and humanity. Relating the narrative of an entire country via a single plot of land, it sweeps the reader through hundreds of years and an array of protagonists with a deft, heartbreaking, idiosyncratic zeal. I loved it. * Maggie O'Farrell *
North Woods
is a sui generis work of pure brilliance, an epic written with a miniaturist's precision. Daniel Mason has unearthed, in the centuries-spanning history of a single New England home, a universal story of loss and reclamation. This is the best book I've read in ages * Anthony Marra, New York Times bestselling author of MERCURY PICTURES PRESENTS *
Ambitious, alive, and lush with generosity,
North Woods
is an immersive sprint through time. It offers an inventive portrait of the individual and the collective, a vivid history of a cabin and a country, inhabiting each of its characters with a compassion that took my breath away. I emerged from this book as though from an enchanted forest, covered in leaves and changed by what I had seen there. Electrifying * Tess Gunty, author of THE RABBIT HUTCH *
ISBN: 9781399809283
Dimensions: unknown
Weight: unknown
384 pages