The Business Book
Big Ideas Simply Explained
Format:Hardback
Publisher:Dorling Kindersley Ltd
Published:3rd Feb '14
£19.99
Available to order, but very limited on stock - if we have issues obtaining a copy, we will let you know.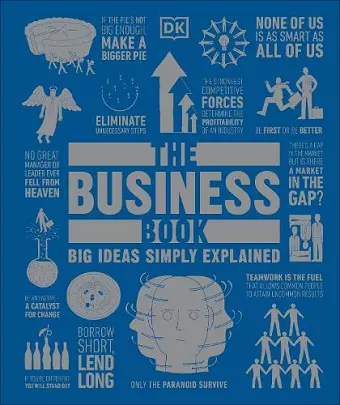 Learn about concepts, management, and commerce in The Business Book.

Part of the fascinating Big Ideas series, this book tackles tricky topics and themes in a simple and easy to follow format. Learn about Business in this overview guide to the subject, brilliant for beginners looking to learn and experts wishing to refresh their knowledge alike! The Business Book brings a fresh and vibrant take on the topic through eye-catching graphics and diagrams to immerse yourself in.

This captivating book will broaden your understanding of Business, with:

- Up to 100 quotations from the great business thinkers and gurus
- Packed with facts, charts, timelines and graphs to help explain core concepts
- A visual approach to big subjects with striking illustrations and graphics throughout
- Easy to follow text makes topics accessible for people at any level of understanding

The Business Book is the perfect introduction to key theories that have shaped the world of business, management, and commerce, aimed at adults with an interest in the subject and students wanting to gain more of an overview. Here you'll discover every facet of business management, including alternative business models, with real-life examples from the marketplace. If you've ever wondered about the stages of business strategy, from start-up to delivering the goods, this is the perfect book for you.

Your Business Questions, Simply Explained

This book introduces the would-be entrepreneur and general reader alike to the work of great commercial thinkers, leaders, and gurus. Learn about the hurdles facing every new business, such as finding a gap in the market, securing finance, employing people, and creating an eye-catching brand. If you thought it was difficult to learn about the world of commerce, The Business Book presents key information in a clear layout. Learn the ideas of seminal business thinkers, such as Malcolm Gladwell's "tipping point", Michael Porter's "five forces", and Meredith Belbin's theories on effective teamwork, with superb mind maps and step-by-step summaries.

The Big Ideas Series

With millions of copies sold worldwide, The Business Book is part of the award-winning Big Ideas series from DK. The series uses striking graphics along with engaging writing, making big topics easy to understand.
ISBN: 9781409341260
Dimensions: 240mm x 202mm x 25mm
Weight: 1141g
352 pages