Black Summer
Format:Paperback
Publisher:Little, Brown Book Group
Published:12th Dec '19
£9.99
Available for immediate dispatch.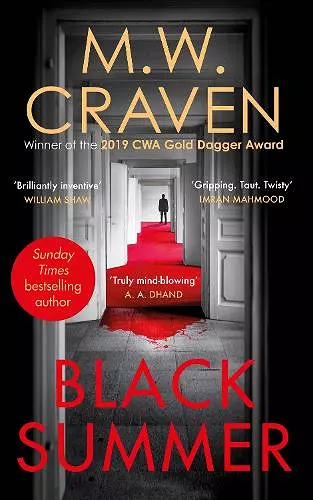 A dark and twisted crime novel, this is the eagerly anticipated follow up to The Puppet Show from award-winning author M. W. Craven.
'A brutal and thrilling page-turner' The Sun

'Compelling' Heat

'The best pure mystery plot of the year'Morning Star

'Gleefully gory and witty, with a terrific sense of place'Sunday Mirror
______________________

After The Puppet Show, a new storm is coming . . .

Jared Keaton, chef to the stars. Charming. Charismatic. Psychopath . . . He's currently serving a life sentence for the brutal murder of his daughter, Elizabeth. Her body was never found and Keaton was convicted largely on the testimony of Detective Sergeant Washington Poe.

So when a young woman staggers into a remote police station with irrefutable evidence that she is Elizabeth Keaton, Poe finds himself on the wrong end of an investigation, one that could cost him much more than his career.

Helped by the only person he trusts, the brilliant but socially awkward Tilly Bradshaw, Poe races to answer the only question that matters: how can someone be both dead and alive at the same time?

And then Elizabeth goes missing again - and all paths of investigation lead back to Poe.

The gripping new thriller in the Washington Poe series from M. W. Craven, winner of the CWA Gold Dagger Award for best crime novel of 2019.

*Longlisted for the Crime Writers Association Gold Dagger 2020*

Praise for MIKE CRAVEN

'Dark, sharp and compelling' PETER JAMES

'Fantastic' MARTINA COLE

'Britain's answer to Harry Bosch' MATT HILTON

'A powerful thriller from an explosive new talent' DAVID MARK

'Truly mind-blowing' A. A. Dhand

'A book thatshines with tension, wit and invention' William Shaw

'Washington Poe - a rising giant in detective fiction' Alison Bruce

'A twisty thriller with a killer plot Ed James

'I loved this book!' Jo Jakeman

'One of the best British crime novels I've read in a long time . . . Simply an unputdownable page-turner' Nick Oldham

'Grabs you from the very first page. A dark and brilliantly twisted crime thriller' Colin Falconer

'Dark and twisted...
Dark, sharp and compelling -- Peter James on The Puppet Show
A book that shines with tension, wit and invention -- William Shaw
A thrilling curtain-raiser for what looks set to be a great new series -- Mick Herron on The Puppet Show
Mike Craven is a forceful new voice in British crime fiction -- Caro Ramsay
Gripping. Taut. Twisty -- Imran Mahmood
Dark and twisted in all the right places. Poe is a great mix of compelling, complex & charismatic, and well on his way to becoming one of the standout characters in crime fiction -- Robert Scragg
Fantastic -- Martina Cole on The Puppet Show
I cannot recall the last time I binge read a novel in 36 hours . . . truly mind-blowing -- A. A. Dhand
So dark and twisty -- Elly Griffiths
Satisfyingly twisty and clever and the flashes of humour work well to offer the reader respite from the thrill of the read -- Michael J. Malone
A powerful thriller from an explosive new talent. Tightly plotted, and not for the faint-hearted! -- David Mark on The Puppet Show
In Tilly and Poe, MW Craven has created a stand-out duo who are two of the most compelling characters in crime fiction in recent years. They deserve to join the ranks of Holmes and Watson, Rebus and Clarke, Hill and Jordan -- Fiona Cummins
Washington Poe is a name destined to be spoken by crime fiction enthusiasts everywhere: Britain's answer to Harry Bosch . . . a wickedly, twisting and turning, mystery that will have readers breathlessly turning the pages until the final shocking conclusion -- Matt Hilton on The Puppet Show
This book is twisted and dark and I loved it - not sure what that says about me -- Simon Toyne on The Puppet Show
A brilliant start to what promises to be a fantastic series; get it now or kick yourself for missing out -- Graham Smith on The Puppet Show
Washington Poe - a rising giant in detective fiction -- Alison Bruce
A twisty thriller with a killer plot, backed up by solid research with characters you'll want to keep spending time with -- Ed James
One of the best British crime novels I've read in a long time. It's a great, brilliantly researched plot, not so much a whodunnit, more how the hell can that be? Simply an unputdownable page-turner -- Nick Oldham
Grabs you from the very first page. A dark and brilliantly twisted crime thriller, bringing back the inimitable Washington Poe and Tilly Bradshaw. You have to leave your fingerprints all over it -- Colin Falconer
Dark, thrilling and unputdownable with sharply drawn characters that stride off the page -- Victoria Selman
ISBN: 9781472127495
Dimensions: 196mm x 126mm x 30mm
Weight: 280g
416 pages