The Curator
The new must-read thriller from the winner of the CWA Best Crime Novel of 2019
Format:Paperback
Publisher:Little, Brown Book Group
Published:10th Dec '20
£8.99
Available for immediate dispatch.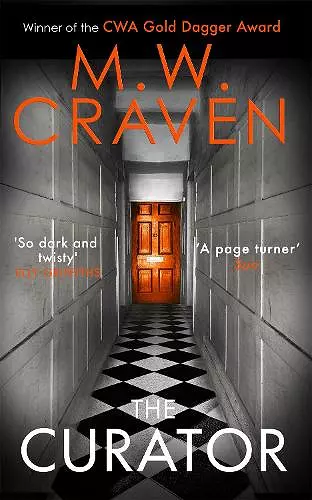 A dark and twisted crime novel, this is the eagerly anticipated follow up to The Puppet Show and Black Summer
'Dark, sharp and compelling' PETER JAMES

'Fantastic' MARTINA COLE

'Britain's answer to Harry Bosch' MATT HILTON

'If you haven't read M W Craven yet, now is the time to start' Abir Mukherjee
______________________

It's Christmas and a serial killer is leaving displayed body parts all over Cumbria. A strange message is left at each scene: #BSC6

Called in to investigate, the National Crime Agency's Washington Poe and Tilly Bradshaw are faced with a case that makes no sense. Why were some victims anaesthetized, while others died in appalling agony? Why is their only suspect denying what they can irrefutably prove but admitting to things they weren't even aware of? And why did the victims all take the same two weeks off work three years earlier?

And when a disgraced FBI agent gets in touch things take an even darker turn. Because she doesn't think Poe is dealing with a serial killer at all; she thinks he's dealing with someone far, far worse - a man who calls himself the Curator.

And nothing will ever be the same again . . .

Praise for Black Summer:

'Truly mind-blowing' A. A. Dhand

'A book thatshines with tension, wit and invention' William Shaw

'Washington Poe - a rising giant in detective fiction' Alison Bruce

'A twisty thriller with a killer plot Ed James

'I loved this book!' Jo Jakeman

'One of the best British crime novels I've read in a long time . . . Simply an unputdownable page-turner' Nick Oldham

'Grabs you from the very first page. A dark and brilliantly twisted crime thriller, bringing back the inimitable Washington Poe and Tilly Bradshaw' Colin Falconer

'Dark and twisted in all the right places.Poe is a great mix of compelling, complex & charismatic, and well on his way to becoming one of the standout characters in crime fiction' Robert Scragg

'In Tilly and Poe, MW Craven has created a stand-out duo who are two of the most compelling characters in crime fiction in recent years. They deserve...
'A thrilling curtain-raiser for what looks set to be a great new series'
Long-listed for CWA Gold Dagger for Best Crime Novel 2021 (UK)
ISBN: 9781472131942
Dimensions: 196mm x 126mm x 30mm
Weight: 280g
400 pages