Mister, Mister
The eagerly awaited new novel from the prizewinning author of In Our Mad and Furious City
Format: Hardback
Publisher: Headline Publishing Group
Published: 25th May '23
£20.00
This title is due to be published on 25th May, and will be despatched as soon as possible..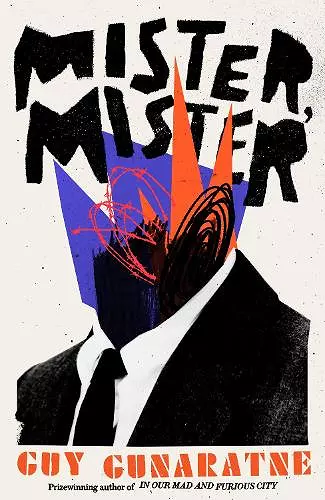 The eagerly awaited follow up to the multi-award winning author of IN OUR MAD AND FURIOUS CITY, MISTER MISTER is the extraordinary 'confession' of a poet and internet sensation, who decides to tell his story, his way, and for the final time
'Enthralling' Guardian Culture Preview
'Imaginative and provocative' ID Books of 2023
'A vital novel of newness and nowness' Raymond Antrobus
'Devastating. The book we will all be reading in 2023' Nikesh Shukla
'A knockout' Big Issue
A New Statesman Best Spring Fiction pick

Idiot, poet, jihadist, son. Who is Yahya Bas? An exuberantly imaginative novel of Britishness and unbelonging from the prizewinning author of In Our Mad and Furious City.

When Yahya Bas finds himself in a UK detention centre after fleeing the conflict in Syria, he has many questions to face. What was he doing in the desert? Why does he hate this country? Why did he write the incendiary verses which turned him into an online sensation and a media pariah?

Mister, his interrogator, wants to keep him locked up. So he decides to tell his life story. On his own terms.
Following a child that East Ham made who becomes the unwitting voice of a generation, Mister, Mister is also the story of a quest for a father and the discovery of another way to live in the shadow of war. Bracing, tender, exuberantly imaginative, this is a novel that onlnaratne could have written.
This devastating new novel from Guy Gunaratne confirms them as a writer at the top of their game. They balance an experimental structure with an indelible voice, exploring global, social politics and resolve with ease. Their use of language, precision, thoughtfulness and humanity, make this is the book you will all be reading in 2023 -- Nikesh Shukla

Gunaratne offers us the study of a young man navigating many identities while searching for security and selfhood. Mister, Mister is a modern testimony of the "British / other" subject as well as an invitation for us, readers, lovers of stories to be defined on our own terms. This is a vital novel of newness and nowness that testifies to the power of fiction that seeks truth
--
-- Raymond Antrobus
Such a sharp and clever book
that absolutely refuses easy interpretation. It's about language and faith and extremism and ideas of home and identity and freedom. But also about the opposite of all that - an undoing of identity.
One of those really refreshing books that truly doesn't feel like anything I've read before
, and one I'm still thinking about -- Anna James
Its the
effervescence and emotional depth
of their writing that make
Mister, Mister
a knockout
* Big Issue *
Most contemporary British novels limit themselves to moving the furniture round a bit, or even just describing the furniture. Mister, Mister tears down the whole house and, from the wreckage, builds a hall of mirrors.
Furious, incredibly bold, beautiful, ugly, heart-breaking and most of all alive
, this is a book which lays waste to your assumptions - whatever they are -- Will Ashon
ISBN: 9781472250230
Dimensions: unknown
Weight: 41g
384 pages