A Good Neighbourhood
The instant New York Times bestseller about star-crossed love...
Format:Paperback
Publisher:Headline Publishing Group
Published:2nd Mar '21
£8.99
Available for immediate dispatch.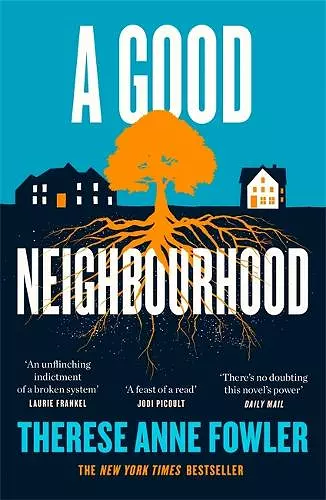 ***THE INSTANT NEW YORK TIMES BESTSELLER***
'There's no doubting this novel's power' Daily Mail
'A feast of a read' Jodi Picoult
_____________________________

Star-crossed love will change two families' lives forever... Therese Anne Fowler's New York Times bestselling novel is perfect for fans of Celeste Ng's Little Fires Everywhere and Mary Beth Keane's Ask Again, Yes.

A forbidden romance is blossoming in the tight-knit community of Oak Knoll.

No one's realised it yet - they've been too busy watching the rich, white Whitman family move into their newly built house. They've been watching Brad Whitman, with his new money and apparently traditional values, fight his neighbour over the historic oak tree dividing their properties.

But what they haven't noticed is that the Whitman girl is falling in love with the biracial boy next door.

It is a love that will shatter the constructs of class and race in this small town.

It is a love that might destroy everything...

*Therese Anne Fowler's new novel, It All Comes Down To This, is available to pre-order now*
_____________________________

Praise for A Good Neighbourhood...

'Compelling, complicated, timely, and smart . . . hard to put down and hard to forget'
LAURIE FRANKEL

'This is a story that will stick with you for a long time'
EMILY GIFFIN

'Smart dialogue, compelling characters and a communal "we" narrator that implicates us all in the wrenching conclusion'
TARA CONKLIN

'A thought provoking and gripping novel - the kind that will have you savouring every page'
CULTUREFLY

'It's the kind of book you tell your friends to read immediately, just so you have someone to talk to about it'
i PAPER

'Fowler's novel culminates with injustices that are painfully easy to imagine because they continue to be a part of our contemporary lived experience'
THE WASHINGTON POST

'Make sure a friend reads it too - you're going to want to talk about this book as soon as you finish it'
GOOD MORNING AMERICA

'Fans of Celeste Ng's Little Fires Everywhere need to read Therese Anne Fowler's A Good Neighbourhood'
POPSUGAR

'Beautiful, compelling and heartbreaking'
GLASGOW HERALD

'This page-turner delivers a thoughtful exploration...
'Therese Anne Fowler has taken the ingredients of racism, justice, and conservative religion and has concocted a feast of a read: compelling, heart-breaking, and inevitable. I finished A Good Neighbourhood in a single sitting. Yes, it's that good.' * Jodi Picoult *
A Good Neighbourhood is my favourite kind of novel - compelling, complicated, timely, and smart. With great humanity, Therese Anne Fowler imparts a full-hearted, unflinching indictment of a broken system and in so doing tells a story hard to put down and hard to forget. * Laurie Frankel, author of This is How It Always Is *
'Compelling and captivating, A Good Neighbourhood left me speechless yet wanting to discuss. This is a story that will stick with you for a long time.' * Emily Giffin, #1 New York Times bestselling author of All We Ever Wanted *
A thought provoking and gripping novel - the kind that will have you savouring every page * CultureFly *
A gripping modern morality tale... Familiar elements - two families, two young lovers, a legal dispute - frame a story that feels both classic and inevitable. But Fowler makes the book her own with smart dialogue, compelling characters and a communal "we" narrator that implicates us all in the wrenching conclusion. * Tara Conklin, New York Times bestselling author of The Last Romantics *
Traversing topics of love, race, and class, this emotionally complex novel speaks to-and may reverberate beyond-our troubled times * Kirkus, starred review *
A rippling story for fans of suspenseful domestic dramas * Booklist *
'This page-turner delivers a thoughtful exploration of prejudice, preconceived notions, and what it means to be innocent' * Publishers Weekly *
An unforgettable, heart-breaking story * Library Journal, starred review *
Prepare for tears and make sure a friend reads it too - you're going to want to talk about this book as soon as you finish it * Good Morning America *
Fowler's writing is beautiful, compelling and heartbreaking * Glasgow Herald *
It's the kind of book you tell your friends to read immediately, just so you have someone to talk to about it * i paper *
There's no doubting this novel's power * Daily Mail *
Check out this contemporary fiction novel if you've ever found yourself wondering what it means to be a good neighbour in modern America * Huffington Post *
Fowler's novel culminates with injustices that are painfully easy to imagine because they continue to be a part of our contemporary lived experience * The Washington Post *
One of the most precise and timely novels of the year * Newsweek *
A provocative, absorbing read * People *
Fans of Celeste Ng's Little Fires Everywhere need to read Therese Anne Fowler's A Good Neighbourhood * PopSugar *
ISBN: 9781472269362
Dimensions: 196mm x 126mm x 24mm
Weight: 230g
320 pages