The Secret Lives of Colour
Format:Paperback
Publisher:John Murray Press
Published:6th Sep '18
£14.99
Available for immediate dispatch.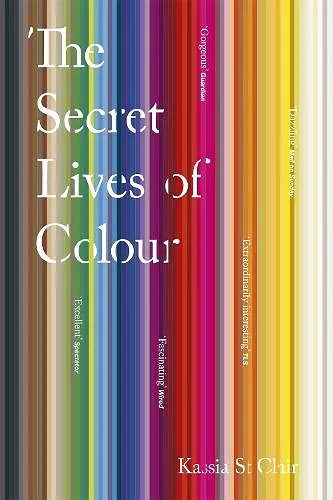 The unforgettable history of colours and the vivid stories behind them in a beautiful multi-coloured volume
THE SUNDAY TIMES BESTSELLER

'A mind-expanding tour of the world without leaving your paintbox. Every colour has a story, and here are some of the most alluring, alarming, and thought-provoking. Very hard painting the hallway magnolia after this inspiring primer.'
Simon Garfield


The Secret Lives of Colour tells the unusual stories of the 75 most fascinating shades, dyes and hues. From blonde to ginger, the brown that changed the way battles were fought to the white that protected against the plague, Picasso's blue period to the charcoal on the cave walls at Lascaux, acidyellow to kelly green, and from scarlet women to imperial purple, these surprising stories run like a bright thread throughout history. In this book Kassia St Clair has turned her lifelong obsession with colours and where they come from (whether Van Gogh's chrome yellow sunflowers or punk's fluorescent pink) into a unique study of human civilisation. Across fashion and politics, art and war, TheSecret Lives of Colour tell the vivid story of our culture.
If you want to fall back in love with colour, read TheSecret Lives of Colour * SUNDAY TELEGRAPH *
A dazzling and vibrant history of colour, from Van Gogh's wilting yellow sunflowers to Turner's deadly green and Picasso's darkest period * MAIL ON SUNDAY *
This is a gorgeous book * GUARDIAN *
Even Farrow and Ball don't know as much about the secret lore of colour as Kassia St Clair... Almost every page throws up an unexpected detail and insight... Extraordinarily full and interesting...An ideal crib and a valuable resource not only for the design-conscious but for students. -- Brian Morton * TIMES LITERARY SUPPLEMENT *
The weirdly fascinating history of your favourite hues from an unwittingly deadly, arsenic-tinged green to Van Gogh's favoured yellow * WIRED *
'An excellent, innovative and idiosyncratic cultural history that will colour your thinking...St Clair writes with style, energy and knowledge, explaining many mysteries succinctly and wittily, such as why a regular tomato is, for example, not red. Tomatoes appear red because that's the very wavelength their skin does not absorb. A 'red' tomato lies to tell the truth.. Snappily designed, with high production values...[The Secret Lives of Colour is] attractive and diverting.' -- Stephen Bayley * SPECTATOR *
Beautiful...See how a single colour can tell different stories across the globe. * DAILY MAIL *
A work of art in its own right... a beautiful tactile book filled with fascinating anecdotes about every colour from blonde to puce. * THE POOL *
Charming * FINANCIAL TIMES *
From pink boys' clothes to blue warpaint; why orange spells danger and other colourful tales * DAILY TELEGRAPH *
Inspiring, compelling and beautifully designed . . . this book will appeal to anyone * THE LADY *

A mind-expanding tour of the world without leaving your paintbox. Every colour has a story, and here are some of the most alluring, alarming, and thought-provoking. Very hard painting the hallway magnolia after this inspiring primer

* SIMON GARFIELD *
A companionable, informative and lively guide to sights so easily taken for granted
* THE ECONOMIST *
A
vivid exploration of the world of colour
and our colourful world . . . St Clair is able to dance effortlessly through an astonishing range of subjects . . . What
The Secret Lives of Colour
offers really is, in some sense,
a flash portrait of human civilisation, a zigzagging and unpredictable exploration of how significantly colour has shaped histories and disciplines, fuelled empires, changed the nature of war and caused species to flourish or face extinction
* CHEMISTRY WORLD *
An irresistible lexicon of colours
* COUNTRY LIVING *
Well-researched and engaging * HOUSE & GARDEN *
Brimming with interesting facts, historical insights and curious tales.
* ELLE DECORATION *
Kassia St Clair is well-placed to observe the important place that colour has in human civilisation and development...
Discursive and anecdotal
... this book holds
many surprises.
Nothing is quite what it seems or how it is seen. * THE OLDIE *
A mix of science lore and delightful bookmaking
,
The Secret Lives of Colour
is for reading, dipping and holding up against your curtains * The Tablet *
Extremely well-researched historically,
each colour story is rich in detail and description
, combining vignettes of historical actors with contextual background ranging from the ancient past to the present day.
For anyone who was ever fascinated by a box of crayons, coloured pencils or the story of people in time, St Clair's book will not disappoint
* Review 31 *
I recommend the book to all creatives - and non-creatives, too!
* Dame Zandra Rhodes *
Beautifully presented
. . . The book is simply about colour. But colour is not simple. The history, geography, politics, scandals and influence of colours are documented here with a knowledgeable voice. With references from Jessica Rabbit to Lord Mountbatten, from Greek poets to slavery, this is
a fascinating read
-- Viv Albertine * GUARDIAN, Book of the Year *
ISBN: 9781473630833
Dimensions: 197mm x 164mm x 26mm
Weight: 537g
336 pages
Illustrated edition