Starling Days
Shortlisted for the 2019 Costa Novel Award
Format:Paperback
Publisher:Hodder & Stoughton
Published:18th Feb '21
£8.99
Available to order, but very limited on stock - if we have issues obtaining a copy, we will let you know.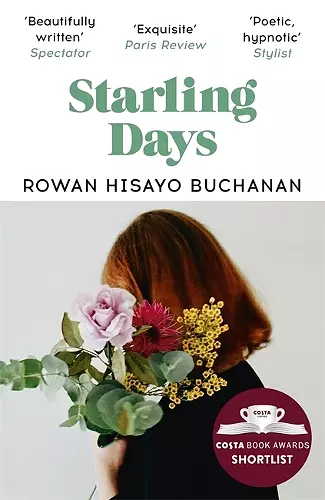 'A singular novel from the poetic and painterly mind of Rowan Hisayo Buchanan.' Sharlene Teo, author of Ponti

'An exquisite rendering of love, sadness, and misunderstanding . . . I want to share this book with everyone I know.' The Paris Review

'A quiet triumph - tenderly and disarmingly exploring the responsibility of love, loneliness, what it is to feel lost' Sophie Mackintosh, author of The Water Cure

Mina is staring over the edge of the George Washington Bridge when a patrol car drives up. She tries to convince the officers she's not about to jump but they don't believe her. Her husband, Oscar is called to pick her up.

Oscar hopes that leaving New York for a few months will give Mina the space to heal. They travel to London, to an apartment wall-papered with indigo-eyed birds, to Oscars oldest friends, to a canal and blooming flower market. Mina, a classicist, searches for solutions to her failing mental health using mythological women. But she finds a beam of light in a living woman. Friendship and attraction blossom until Oscar and Mina's complicated love is tested.
A poetic, hypnotic exploration of mental health...It's a strangely mind-expanding read that's a must for anyone who's struggled with depression or loves someone who does. * Stylist *
Unravelling the truth is one of the considerable pleasures of this beautifully written novel. * Spectator *
The significant thing is that this is a novel that takes depression seriously . . . it is affecting and melancholy . . . Buchanan is a novelist of talent and grace. * Scotland on Sunday *
An exquisite rendering of love, sadness, and misunderstanding . . . Starling Days is an exploration of depression without clear resolution, but it is all the more precious for that refusal. I want to share this book with everyone I know. * Paris Review *
Tender * Daily Mail *
A beautifully weird portrayal of being alone together, millennial ennui, bisexuality and hybrid identity. It captures the brilliance and isolation of big cities as well as the struggle and strength to keep on going. A singular novel from the poetic and painterly mind of Rowan Hisayo Buchanan. * Sharlene Teo, author of Ponti *
Starling Days is a quiet triumph - tenderly and disarmingly exploring the responsibility of love, loneliness, what it is to feel lost, and whether another person, indeed whether any one person, is capable of making us feel found. It illuminates both the difficulties and joys of being with others, but also those of being inside our own skins. * Sophie Mackintosh, author of The Water Cure *
For readers looking for a 'relatable' tale of struggle and survival, the book offers consolation. * Guardian *
ISBN: 9781473638396
Dimensions: 196mm x 126mm x 26mm
Weight: 220g
304 pages