The Silver Arrow
Format:Paperback
Publisher:Bloomsbury Publishing PLC
Published:3rd Feb '22
£7.99
Available for immediate dispatch.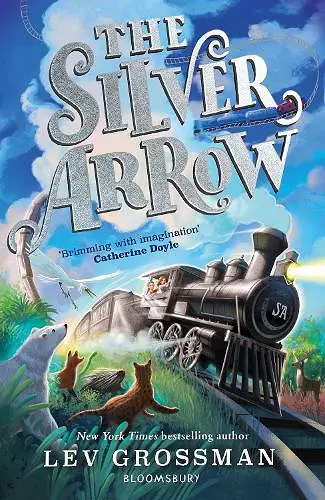 From the author of the New York Times No. 1 bestseller The Magicians comes a timeless children's adventure aboard a magical steam train. Perfect for fans of The Train to Impossible Places, The Chronicles of Narnia and Roald Dahl.
'There's nothing so rare as a fantasy that elicits genuine wonder and that uses marvellous things to enrich a child's appreciation of ordinary ones. Lev Grossman's novel The Silver Arrow is something special.' WALL STREET JOURNAL _ Discover the magical, timeless children's adventure from Lev Grossman, author of The Magicians. Now a New York Times bestseller! When Kate is given a colossal steam train, the Silver Arrow, for her birthday, she can't believe her luck. After eleven years of waiting, adventure has finally found her! Soon the Silver Arrow is whisking Kate and her brother Tom to a magical station where their passengers stand ready to board. From the porcupine to the pangolin, each one is rare and wonderful. But these animals have been waiting a very long time too. Can Kate deliver them home ... before it's too late? _ Lev Grossman's first children's book is a journey you'll never forget: a rip-roaring adventure from desert plains to snow-covered mountains and everything in between. Packed with exciting creatures from the indignant porcupine to the lost polar bear and the adorable baby pangolin, The Silver Arrow is a classic story about saving our endangered animals and the places they live.
Brimming with imagination and hope for the future * Catherine Doyle, bestselling author of The Storm Keeper's Island *
There's nothing so rare as a fantasy that elicits genuine wonder and that uses marvelous things to enrich a child's appreciation of ordinary ones. So Lev Grossman's novel The Silver Arrow is something special. Here is an adventure story for 8- to 12-year-olds that's bursting with life and real feeling, told in a sparkling, informal style that parents will find effortless to read aloud * Wall Street Journal *
This gentle introduction to the complexities of life on this planet is a critical reminder not to despair over the enormity of human responsibility but to face it with joy and marvel at the magic that the world holds. It's a kind and clear message that all children—and their grownups—should take to heart * Booklist *
Both cozy and inspiring, this eco-fable conveys both grim truths and a defiant call to action * Kirkus *
I loved every page. This is middle grade fiction at its best * Ann Patchett *
ISBN: 9781526629395
Dimensions: unknown
Weight: 230g
272 pages