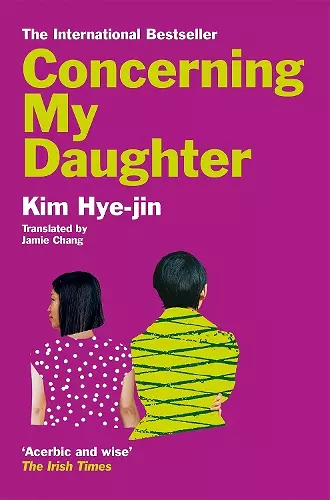 Prize-winning Korean author Kim Hye-Jin's debut confronts familial love, duty, mortality, and generational schism through the incendiary gaze of a tradition-bound mother faced with her daughter's queer relationship.
Told in a brutally honest voice that at times simmers with impotent rage, Kim Hye-jin's Concerning My Daughter taps into the complexities of mother–daughter dynamics, but also the systemic issues and obstacles that LGBTQ communities face in heteronormative societies.
The Prize-winning International Bestseller

When a mother allows her thirty-something daughter to move into her apartment, she wants for her what many mothers might say they want for their child: a steady income, and, even better, a good husband with a good job with whom to start a family.

But when Green turns up with her girlfriend Lane in tow, her mother is unprepared and unwilling to welcome Lane into her home. In fact, she can barely bring herself to be civil. Having centred her life on her husband and child, her daughter's definition of family is not one she can accept. Her daughter's involvement in a case of unfair dismissal involving gay colleagues from the university where she works is similarly strange to her.

And yet when the care home where she works insists that she lower her standard of care for an elderly dementia patient who has no family, who travelled the world as a successful diplomat, who chose not to have children, Green's mother cannot accept it. Why should not having chosen a traditional life mean that your life is worth nothing at all?

In Concerning My Daughter, translated from Korean by Jamie Chang, Kim Hye-jin lays bare our most universal fears on ageing, death and isolation to offer, finally, a paean to love in all its forms.

'An admirably nuanced portrait of prejudice . . . one that boldly takes on the daunting task of humanizing someone whose prejudice has made her cruel.' - The New York Times
An acerbic and wise book. -- Catherine Taylor * Irish Times *
An admirably nuanced portrait of prejudice . . . one that boldly takes on the daunting task of humanizing someone whose prejudice has made her cruel. -- Imogen West Knights * The New York Times *
I can't help but be moved by a story about women meeting, fighting, helping each other, looking after one another, and raising their voices against the prejudice and criticism they are subject to. -- Cho Nam-joo, author of Kim Jiyoung, Born 1982
Concerning My Daughter is one of the best character studies I've read in years - thoughtful, complicated and surprisingly kind, it raises important questions about ageing, family, and both the cost and the value of change. -- Jessie Greengrass, author of An Account of the Decline of the Great Auk and Sight 

Concerning My Daughter is a work that is unafraid of the human body in all its contradictions, at once philosophical and practical in its treatment of the aging body, the gendered body, the body's capacity for acts of caretaking, protest, and love. Urgent, timely, tender.
--
Yoon Choi, author of Skinship
Concerning My Daughter provides desperate narratives of its female characters. It's the story of a mother and a daughter, but it goes beyond the relationship and is also ahead of our time. By accompanying the women's journey overcoming pain and suffering in their lives, we will see our stereotypes broken in the end. The great power smashing our fixed old ideas! This book is filled with such energy.
--
Kyung-sook Shin, author of Please Look After Mom and Violets
ISBN: 9781529057683
Dimensions: 197mm x 130mm x 14mm
Weight: 134g
176 pages