Trust
Winner of the 2023 Pulitzer Prize for Fiction
Format:Paperback
Publisher:Pan Macmillan
Published:1st Jun '23
£9.99
Available for immediate dispatch.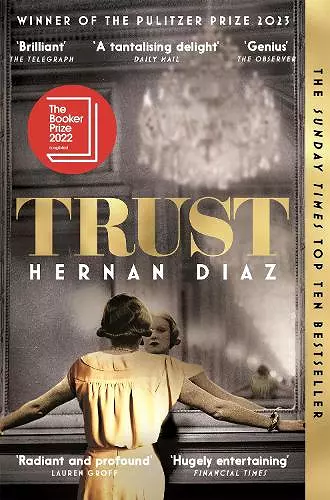 Winner of the 2023 Pulitzer Prize for Fiction.
Winner of the Pulitzer Prize and longlisted for the Booker Prize, Trust is a novel of extraordinary ambition and scope, a sweeping puzzle of a novel about love, power, greed and a quest for the truth that begins in 1920s New York. For fans of Kate Atkinson and Donna Tartt, Trust is already an American classic.
THE SUNDAY TIMES BESTSELLER
WINNER OF THE 2023 PULITZER PRIZE FOR FICTION
LONGLISTED FOR THE BOOKER PRIZE 2022
ONE OF BARACK OBAMA'S FAVOURITE BOOKS OF 2022

Trust is a sweeping puzzle of a novel about power, greed, love and a search for the truth that begins in 1920s New York.

Can one person change the course of history?

A Wall Street tycoon takes a young woman as his wife. Together, they rise to the top in an age of excess and speculation. Now a novelist is threatening to reveal the secrets behind their marriage. Who will have the final word in their story of greed, love and betrayal?

Composed of four competing versions of this deliciously deceptive tale, Trust by Hernan Diaz brings us on a quest for truth while confronting the lies that often live buried in the human heart.

'One of the great puzzle-box novels . . . a page-turner' – The Telegraph
'Genius' – The Observer
'Radiant, profound and moving' – Lauren Groff, author of Matrix
'Metafiction at its best, unpredictable, clever and massively enjoyable' – The Sunday Times
'Enthralling' – Daily Mail
Brilliant . . . Destined to be known as one of the great puzzle-box novels, it's the cleverest of conceits, wrapped up in a page-turner * Telegraph *
Fascinating . . . Diaz could master any genre and Trust is metafiction at its best, unpredictable, clever and massively enjoyable * Sunday Times *
Genius . . . You're propelled forward by the twists and turns of the novel's form, the conviction that Diaz has another trick up his sleeve * Observer *
Diaz is a narrative genius whose work easily encompasses both a grand scope and the crisp and whiplike line. Trust builds its world and characters with subtle aplomb. What a radiant, profound and moving novel -- Lauren Groff, author of Fates and Furies
Sharp and affecting . . . In this literary Rubik's Cube, Diaz provides a viable, and hugely entertaining, argument that once a pen is put to paper an element of veracity is always lost. And when money is thrown into the mix, then the lies really multiply * Financial Times *
A tricksy, tantalising delight . . . Enthralling — delicate, detailed and deliciously stealthy * Daily Mail *
Intricate, cunning and consistently surprising . . . Diaz has the whole literary past at his fingertips . . . [an] exhilarating and intelligent novel * New York Times Book Review *
A sublime, richly layered novel. A story within a story within a story. -- Roxane Gay, author of Bad Feminist
Exquisite . . . A clever, literary kaleidoscope that constantly challenges the realities it puts forward, requiring you to step back, and look again * i *
Destined to become one of the great novels of our time . . . A literary page-turner that offers compulsive reading with exquisite prose . . . Surprising, engrossing and beautifully executed * Irish Times *
Engrossing . . . Diaz perfects different voices with remarkable agility * The Herald *
Through perfectly formed sentences and the skilful unpicking of certainties,Trust creates a great portrait of New York across an entire century of change . . . A work possessed of real power and purpose . . . It's a testament to Diaz's cunning abilities as a writer that you end his book thinking that – if truth is your goal – you might be better off relying on a novelist than a banker * Guardian *
Trust glints with wonder and knowledge and mystery. Its plotlines are as etched and surreal as Art Deco geometry, while inside that architecture are people who feel appallingly real. This novel is very classical and very original: Balzac would be proud, but so would Borges. -- Rachel Kushner, Man Booker-shortlisted author of The Mars Room
A rip-roaring, razor-sharp dissection of capitalism, class, greed, and the meaning of money itself that also manages to be a dazzling feat of storytelling on its own terms . . . Uniquely brilliant . . . exhilarating . . . a novel for the ages. * Vogue *
Immaculate. TRUST is a work of assured virtuosity, lightly-worn wisdom, and immense impact. -- Kiran Millwood Hargrave, Sunday Times bestselling author of The Mercies
That rare jewel of a book - jaw-dropping storytelling against the backdrop of beautiful writing. Amidst all the noise in the world, whole days found me curled up on the couch, lost inside Diaz's brilliance -- Jacqueline Woodson, author of Red at the Bone
A virtuoso performance . . . A spellbinding tale that illuminates the impact of money on all of our lives . . . Trust is that rare thing: a beautifully crafted novel that dares to confront some of our deepest socioeconomic schisms * Oprah Daily *
Like four exquisite dioramas, Diaz has set up all of these stories with great precision to present two fundamental questions: Why do we tell stories? And at what cost are those stories told? . . . A remarkably accessible treatise on the power of fiction. This unquestionably smart and sophisticated novel not only mirrors truth, but helps us to better understand the truth. * Boston Globe *
For all its elegant complexity and brilliant construction, Diaz's novel is compulsively readable . . . A captivating tour de force that will astound readers with its formal invention and contemporary relevance. -- Booklist, starred review
Diaz's Trust exposes the wild power that narrative holds . . . over the economy, historiography, hierarchies, over a person's life, truth, over the reader. A powerful, sinister tale in the form of a nesting doll, around which the modern economy fashions larger and larger macho casings -- Caoilinn Hughes, author of The Wild Laughter
Rich and prismatic . . . Excellent * Wall Street Journal *
An elegant, irresistible puzzle * Washington Post *
Riveting story of class, capitalism, and greed. The result is a mesmerizing metafictional alchemy of grand scope and even grander accomplishment * Esquire *
Trust speaks to matters of the most urgent significance to the present day . . . Cleverly constructed and rich in surprises, this splendid novel offers serious ideas and serious pleasures on every beautifully composed page -- Sigrid Nunez, author of The Friend
Like a tower of gifts waiting to be unwrapped, Trust offers a multitude of rewards to be discovered and enjoyed . . . compelling . . . engrossing . . . a beautifully composed masterpiece * BookPage *
Trust proves that Diaz is a writer of singular talent. This book is a kaleidoscopic dazzler that works as both an engrossing literary mystery and a capitalistic takedown for the ages. Don't miss it. * Chicago Review of Books *
Diaz cleverly weaves the disparate strands together while showing how our shifting perception of the story relates to wealth's ability to "bend and align reality" to its own motives * New Yorker *
Gripping . . . Trust is about the bigger lies we tell about capitalism and individual ability, about our society and ourselves, and about the price we are willing to pay to maintain such illusions * Vulture *
In this glorious puzzle of a novel, perspectives keep shifting and the wealth of one early-twentieth-century family keeps changing its origin-story. What a joy this is to read, suspenseful at every turn, the work of a rare and impressive talent. -- Joan Silber, author of Secrets of Happiness
The audacity and scope of Hernan Diaz's extraordinary novel - a prism, a mystery, a revelation - are brilliantly matched by the quality of his prose. -- Jean Strouse, author of Morgan: American Financier
This masterpiece of a book-within-a-book explores how public perception and reality can get twisted * Good Housekeeping *
Wondrous . . . a kaleidoscope of capitalism run amok in the early 20th century, which also manages to deliver a biography of its irascible antihero and the many lives he disfigures during his rise to the cream of the city's crop. Grounded in history and formally ambitious, this succeeds on all fronts * Publishers Weekly *
Diaz has organized his nesting-doll novel so ingeniously that the tricks merely thrum in the background as the intricate plot unfolds, following a tycoon couple forward to a novel about their "history," then back and forth through diaries, recriminations and reversals. The result shouldn't be missed. * LA Times *
Engrossing . . . Diaz's ingenious new fiction, told in four overlapping parts, challenges conventional story lines of another favorite American theme: capitalism and the accumulation of vast wealth. * Star Tribune *
A dazzling novel about wealth, capitalism and who exactly gets to tell the story. * The Bookseller *
Ingenious, thrilling . . . the novel brilliantly weaves its multiple perspectives to create a symphony of emotional effects . . . A clever and affecting high-concept novel * Kirkus, starred review *
A uniquely layered novel . . . Each page peels back another mystery, making for an utterly riveting read * Buzzfeed *
A novel that unpeels like an onion, upending the story you first hear. The Pulitzer Prize-finalist explores wealth, power, the dynamics of American capitalism, and the nature of truth in an inventive way that stacks up to one engaging, beautiful whole * Daily Beast *
Trust makes a surprisingly un-postmodern case for what the novel can do * The New Yorker *
Long-listed for The Booker Prize 2022 (UK)
ISBN: 9781529074529
Dimensions: 196mm x 130mm x 30mm
Weight: 303g
416 pages