Warrior Queens & Quiet Revolutionaries
How Women (Also) Built the World
Format:Hardback
Publisher:Pan Macmillan
Published:13th Oct '22
£20.00
Available for immediate dispatch.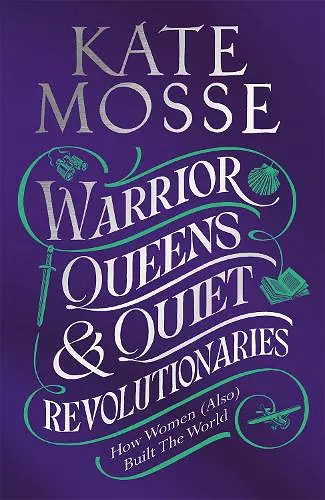 A journey through history of the women who built the world, but whom the world forgot
Warrior Queens & Quiet Revolutionaries is a celebration of unheard and under-heard women's history.

'Excellent . . . bursting with extraordinary women' - Anita Anand
'Brilliant' - Daisy Buchanan

"My hope is that this book will inspire as I have been inspired. It's a love letter to the importance of history and about how, without knowing where we come from - truthfully and entirely - we cannot know who we are."

Within these pages you'll meet nearly 1000 women whose names deserve to be better known: from the Mothers of Invention and the trailblazing women at the Bar; warrior queens and pirate commanders; the women who dedicated their lives to the natural world or to medicine; those women of courage who resisted and fought for what they believed; to the unsung heroes of stage, screen and stadium.

It is global, travelling the world and spanning all periods of time. It is also an intensely moving detective story of the author's own family history as Kate Mosse pieces together the forgotten life of her great-grandmother, Lily Watson, a famous and highly-successful novelist in her day who has all but disappeared from the record . . .

Warrior Queens & Quiet Revolutionaries is accessible and fascinating in its detail. A beautifully illustrated dictionary of women, it is a love letter to family history and a personal memoir about the nature of women's struggles to be heard and their achievements acknowledged. Joyous, celebratory and engaging, it is a book for everyone who has ever wondered how history is made.
One brilliant woman writing about so many other brilliant women, this is a wonderful treasure chest of women's lives, full of wit, verve and emotion . . . Warrior Queens & Quiet Revolutionaries is epic, unputdownable, gripping. I loved it. -- Professor Kate Williams
Exciting, hugely informative and, at times, shocking, Kate Mosse has cleverly woven close family detective work into a powerful panorama of the extraordinary achievements of a wonderful cast of women - both famous and hidden - down the millennia -- Professor Jonathan Phillips
A must have for history lovers and feminists . . . It's personal, detailed and pure joy * Glamour *
Totally fabulous -- Laura Shepherd-Robinson
Don't miss this one! -- Natalie Haynes, bestselling author of Pandora's Jar and Stone Blind
Brilliant -- Daisy Buchanan
Excellent . . . bursting with extraordinary women -- Anita Anand
This book is an inspiration. Make it a gift to your own Warrior Queens and Quiet Revolutionaries, and to the men who support them -- Kathryn Mannix
ISBN: 9781529092196
Dimensions: 243mm x 163mm x 41mm
Weight: 664g
432 pages