Stories From the Tenants Downstairs
Format: Hardback
Publisher: John Murray Press
Published: 19th Jan '23
£16.99
Available, normally delivered within 3-6 days.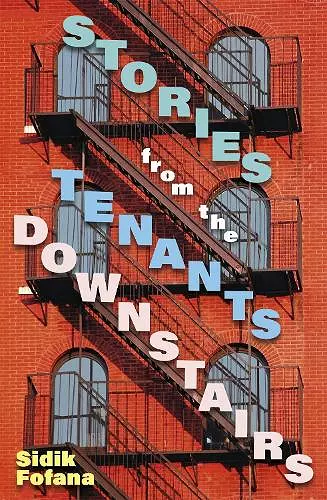 Set in a Harlem high rise, a tight-knit cast of neighbours grapple with their own personal challenges while the forces of gentrification threaten to upend life as they know it
Everybody got a story, everybody got a tale
Question is: Is it despair or prevail?

'Bold, funny and gloriously flawed voices of New York . . . a bravura debut' Observer

'Sidik Fofana has an acute ear and a perfect eye' Lorrie Moore, author of Bark

'Every once in a while a new writer comes along and refreshes our notions of what fiction can do . . . Buy this book, and prepare to be blasted by the brilliance inside' Ben Fountain, author of Beautiful Country Burn Again

Banneker Terrace on 129th and Fred Doug ain't pretty, but it's home. Home to young and old, folk just trying to get by. Cookouts with beer and wings, summertime with souped-up cars bumpin music. People don't come here for the bad; they came here to make a good life.

It is home to Swan down in 6B, reconnecting with his boy Boons, just out of prison. Home to Mimi in 14D, raising Swan's child, doing hair on the side. Home to Quanneisha in 21J, longing to leave but it's where she grew up. Home to Mr Murray in 2E, who has played chess outside on the sidewalk for years. Some of the residents of Banneker have got it together, some can't make rent or pay bills, some are raising kids, some are hustling on the side, all are living.

Stories from the Tenants Downstairs expertly showcases the strengths, struggles and hopes of one Harlem community, who are grappling with the effects of gentrification alongside their own personal challenges. It captures the joy and pain of the human experience and heralds the arrival of a uniquely talented writer.
Bold, funny and gloriously flawed voices of New York . . . a bravura debut * Observer *

Ambitiously voiced and inventively structured . . . The sentences are infused with energy and dark humour, heralding an impressive debut voice and a skilful, pleasing collection
* Sunday Business Post *
Outstanding . . . [Fofana] masterfully paints a portrait of the people most impacted by gentrification
* New York Times Book Review *
Fofana makes us feel viscerally the weight of life's injustice. He doesn't idealize or airbrush his characters, yet he enables us to know their wit, ingenuity, joy, and resilience
* Harpers *
His characters exude life and the different voices stay with the reader long after the book has been shelved
* Boston Globe *
Heralds an indelible, inimitable new literary voice . . . full of humanity and humor and hope, full of insight into the plight of people too often pushed to the margins of America-the-dream . . . not only a great joy to read, it's evocative, essential art
* Mitchell S. Jackson, author of Survival Math and The Residue Years *
Full of tenderness and truth . . . The voices of the residents of Banneker Terrace linger and echo long after the last page. A tremendous debut!
* Deesha Philyaw, author of The Secret Lives of Church Ladies *
Every once in a while a new writer comes along and refreshes our notions of what fiction can do. Sidik Fofana is one of those rare and wonderful writers . . . nothing short of revelatory. Buy this book, and prepare to be blasted by the brilliance inside
* Ben Fountain, author of Beautiful Country Burn Again *
The book I've been waiting for . . . The author knows this community and its predicaments and has assembled a cast that will break your heart but also at times put your heart back together again. Mr. Fofana has an acute ear and a perfect eye, and he doesn't rush. This is important American art
* Lorrie Moore, author of Bark *
A huge canvas of life where every detail has been lovingly rendered. Immersive, artful and moving. A wondrous debut
* Oisín Fagan, author of Nobber *
Stories which are often as funny as they are poignant . . . It's an impressive collection, so confident and assured it's hard to credit that it's Fofana's first
* A Life in Books *
ISBN: 9781529331875
Dimensions: 238mm x 160mm x 26mm
Weight: 420g
224 pages